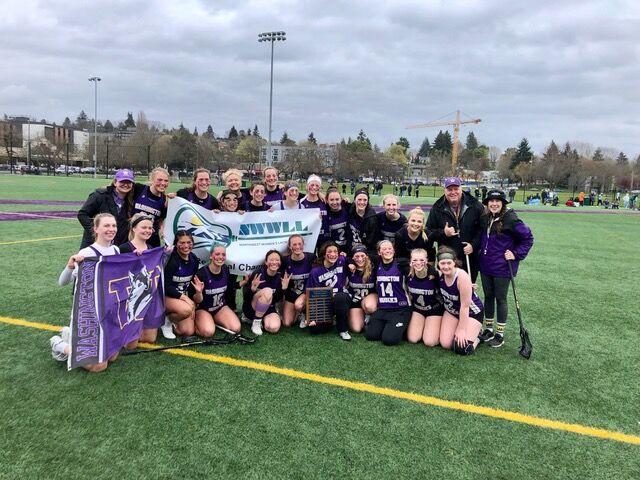 An athletic powerhouse like the University of Washington garners plenty of attention for its cache of top-notch teams.
However, one of these squads at UW has remained relatively under the radar, despite long-standing success; the hardworking members of the UW club women's lacrosse team would like to draw more eyes to their squad, which is currently ranked 18th in the nation.
"What's really awesome about our team [is that] it's a group of 24 girls that are super passionate about the sport and want to take the time out of their day, a couple times a week, to go and play with each other," senior captain and vice president Ellen Goncher said.
The team's latest feat comes after a decisive 13-10 regional championship victory over rival Oregon, a win that will provide a major boost as UW prepares for nationals — set to begin May 4 in Austin.
Senior captain and co-team president Carter Sutherland attributes much of the team's success, which includes going 10-0 and remaining undefeated in league play this season, to the cohesiveness and steadfastness that the unit has fostered together over time.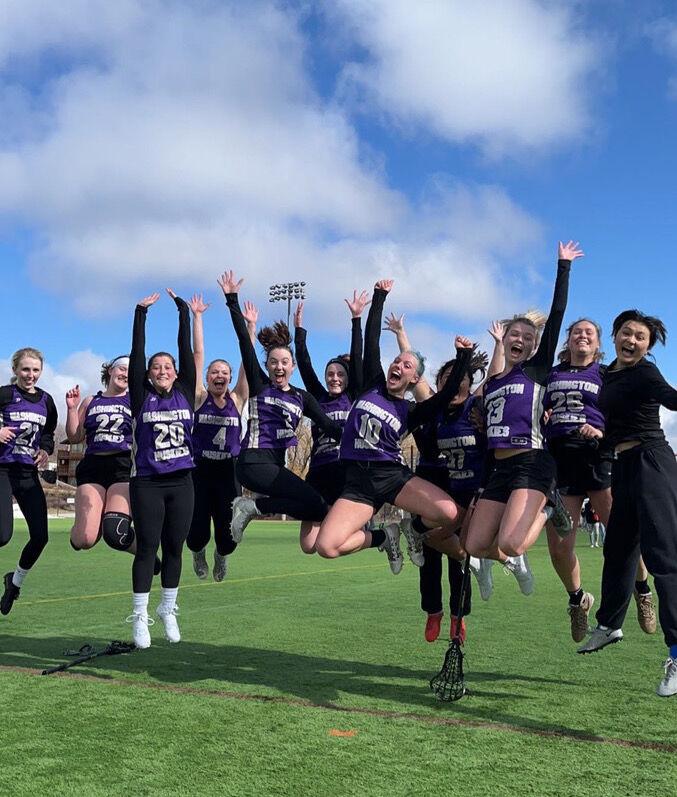 "We really are like a family," Sutherland said. "We travel together, we spend so much time together, [and] we all just really do share a love for lacrosse."
Senior captain and co-team president Kat Peterson agreed, noting that the team has had a certain chemistry that helps members form real connections.
"It's been really cool to see how people can connect and make new friendships," Peterson said. "That's what's great about being on this team, is seeing all the new bonds that people create together; it's really awesome." 
The team has competed at a high level over the years, including multiple appearances at nationals, and Goncher would love to see women's lacrosse become a varsity sport at UW.
"Since we've come into college, a lot of other Pac-12 schools have added them," Goncher said. "Before, it was Stanford — and USC had programs for a little while — and that was kind of it. But since then, Colorado and a bunch of other schools have added [teams]."
The Pac-12 comprises six varsity women's lacrosse teams: USC, Stanford, Arizona State, Colorado, Oregon, and Cal. Despite there not being any recent or tangible efforts to establish a varsity conference team for UW, Goncher still finds the position she and her teammates are in to be auspicious.
"It's great that we at least have a club program to build the sport out in the Pacific Northwest," Goncher said. "I know generally, on the West Coast, the sport has grown so much over the past couple years. We're kind of hoping that there will be a [Division]-I team soon, but until then, we'll have to hold it down."
Though seeing the women's lacrosse team become official in the NCAA is something to look forward to, there are benefits to being a club sport. Sutherland enjoys the fact that she and her teammates can make room for other priorities, while at the same time ensuring that they are competitive.
"It would be awesome to see lacrosse at every college," Sutherland said. "It is also nice for us, in the way that we really do get to focus on academics a lot more, whereas, as a DI athlete, [your sport] is like your whole life. A lot of us are able to be in really challenging majors and really have a school and lacrosse balance."
Players are not only active within the UW lacrosse community, but also involved in growing the game. Several UW women also coach club teams in the summer and fall, and some coach for high school teams throughout the area; and travel is not out of the question for the players. Many have been lucky enough to visit other colleges for games and tournaments.
"Our freshman year, we got to travel to Eugene, [Oregon], and this year, we got to go to Pullman," Peterson said. "[It's been cool] to be able to go to other college campuses."
However, traveling to nationals this year won't be nearly as cheap. According to Goncher, it costs roughly $15,000 to send the team to nationals for one week. To ask that of players who already pay to participate can add unnecessary weight on their shoulders.
"We're a club sport — we don't really get a ton of funding from the school," Goncher said. "We get little things here and there, but we basically fund all on our own, and it's really just a group of people who are super passionate about the sport and want to grow it within Washington and test [ourselves] against teams [from] across the nation. To be able to do that and not put a huge financial burden on our team, it's really important for us to get donations."
For those interested in joining the UW women's lacrosse team next year but aren't sure where to start, fret not, as the team doesn't have any type of formal recruiting process; they just search for those at the university who want to go out on the field and play.
The team usually sets up a station at the RSO fair in the fall, but also has an interest form on their Instagram account for prospective players. Tryouts last a week in November to determine who is a better fit for the travel team versus the practice team.
Those who wish to can donate to the Washington women's lacrosse team here.
Reach reporter Evie Mason at sports@dailyuw.com. Twitter: @eviesmason
Like what you're reading? Support high-quality student journalism by donating here.