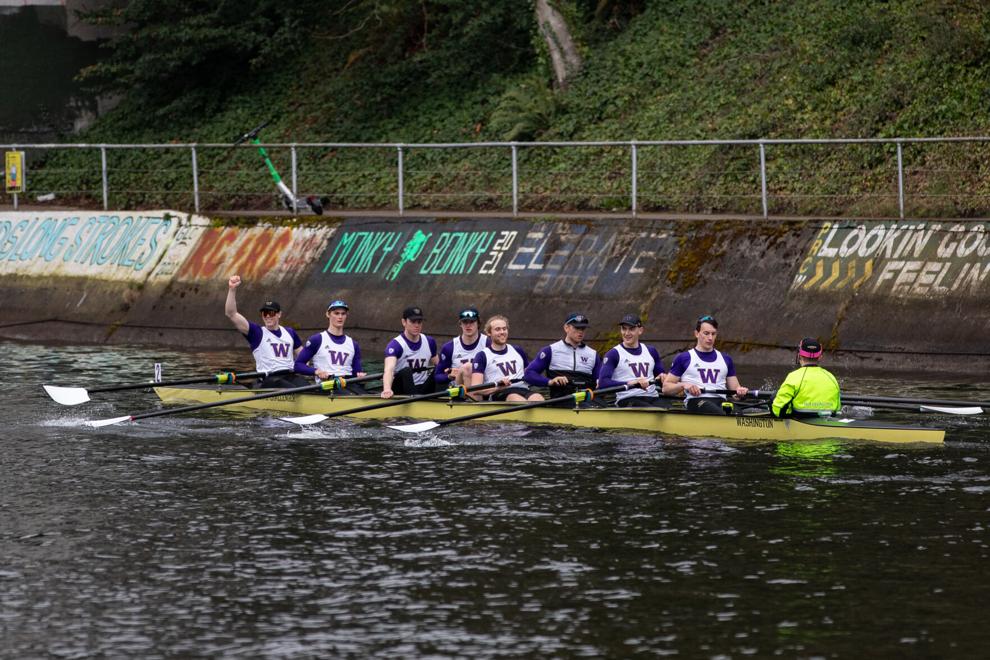 Let the good times roll.
That's the theme surrounding the 36th annual Windermere Cup, scheduled for Saturday, May 7 at Montlake. Competing at the Windermere Cup this year will be both the Washington men's and women's team, the Dutch men's national team, and the British women's national team.
Both national teams were previously scheduled to row at the Windermere Cup in 2020; however, due to COVID-19, both teams had to wait two years for this event, and are eager to get out on the Montlake Cut.
"It's been two years without these kinds of trips, these kinds of regattas for all the lads that we coach," Peter Wiersum, the head coach for the Netherlands, said. "As coaches, we want to give our athletes amazing experiences, so we're really grateful that we can give our athletes this kind of experience this weekend. We're very eager to race UW — we've seen their name on that cup a lot of times and we're very eager to try to do something about that."
This will be the second time that the men's team from the Netherlands has participated in the Windermere Cup, with their first appearance being back in 1994, where they finished in second place. 
For Great Britain's women's team, it will be their fourth time competing, having won the race once and finishing in second during other appearances. 
While the Huskies' men's team is ranked No. 5 in the country, UW men's head coach Michael Callahan noted that there is room for improvement. After a disappointing showing against Cal two weekends ago, the Huskies will look to regain some momentum. 
In order to do that, not only do they have to work on improving the mechanics and technical work of rowing, the Huskies will also have to row as a team instead of as eight individuals in one boat.
"We need more cohesion within the crew," Callahan said. "We have a lot of individuals who are good, and the magic happens when individuals become one, and I don't think we've done that. I think they really want to — it hasn't been a lack of effort — it's almost been too much effort. What we're looking for is a cohesive boat that has some synergy to it."
On the women's side, a major key to the races this weekend will be how healthy the team is. Health has been a major issue for UW's women's team with not only injuries, but also COVID-19 and other illnesses.
"A popular phrase in rowing is 'any boat, any seat, any time,'" UW women's head coach Yasmin Farooq said. "I've never felt like that was more important than this year, where literally at the start of the season … just putting out people who are viable … We raced people who learned how to row this year in the second varsity eight at the beginning of the season." 
While not having your best rowers available can be a drawback, it can also be a positive, since younger, less experienced rowers can show the coaching staff what they're capable of. This helps build their confidence, so that when it is time for them to lead the team, they can lean on these experiences and use them as a confidence boost. 
"The lineups have been evolving constantly — and they still are — so as you're phasing people back in, what's the common denominator?" Farooq said. "Toughness. Seriously, us being able to rely on one another — and the adversity that has been faced and sticking together and then just gutting it — I think that is going to be the key to the whole season. It's different, but looking back at it, we've learned some incredible stuff, and it may be something that really at the end will be beneficial and help us in different ways."
Races get underway at 10:15 a.m. However, Windermere Cup races take place much later, with the women's varsity eight scheduled at 11:30 a.m. and the men's varsity eight at 11:45 a.m.
Reach reporter Nathan Mathisen at sports@dailyuw.com. Twitter: @NathanMathisen
Like what you're reading? Support high-quality student journalism by donating here.