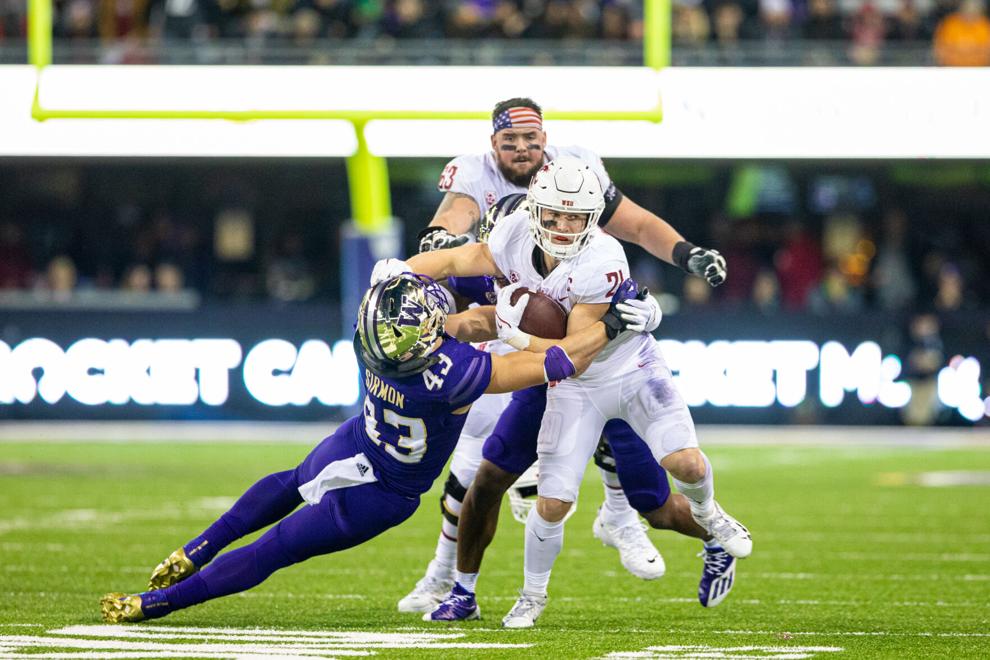 The Washington football team's season ended exactly as it began, with its opponents celebrating on the Husky Stadium turf.
Friday night, instead of a small group of ecstatic Montana fans, it was hundreds upon thousands of the Huskies' cross-state rivals, as the Washington State faithful stormed the field to celebrate the Cougars' first Apple Cup win since 2012. 
After a season of disarray, the tough 40-13 loss closed the book on a season senior tailback Sean McGrew could only find one appropriate word for.
"The words that I want to use, I'm not allowed to say here," McGrew said. "Just chaos. Not really expecting the games to turn out and the season to turn out the way it did at all whatsoever. We had expectations for ourselves and we came up short."
From the first drive of the game to the last, Friday night never looked good for the Huskies (4-8, 3-6 Pac-12). Washington State opened scoring within the first five minutes after running back Max Borghi broke away from Washington's defense for a 32-yard rushing touchdown. 
Freshman quarterback Sam Huard's first collegiate drive ended in negative yards, and Washington didn't come close to scoring during the first quarter. 
WSU then found a field goal to enter the second quarter up 10-0.
Huard threw his first interception of the night with 11:16 left in the second quarter, as the Cougars (7-5, 6-3 Pac-12) capitalized with another score, a field goal to extend the lead to 13-0.
After five minutes, a half-dozen rushing attempts, and a 29-yard completed pass to freshman wide receiver Ja'Lynn Polk, the Huskies finally managed to strike back deep into WSU territory. Senior tailback Kamari Pleasant gave UW its first touchdown, a rushing score from 10 yards away, cutting the WSU lead to 13-7 with under two minutes left in the first half.
But that would be the closest the Huskies got all night, as the Cougars pulled away in the third quarter.
The Huskies couldn't find enough stops as the Cougs' quarterback, Jayden de Laura, connected with his receivers over and over and the run stayed stable. WSU ended the night with 209 rushing yards, and UW ended with just 10. 
In the third quarter, WSU found another rushing touchdown and a third field goal, while Huard threw two more interceptions.
Huard followed his best pass of the night, a 55-yard completion to freshman wideout Rome Odunze, with his third interception. WSU returned it for 60 yards and scored another touchdown to kick off the fourth quarter up 30-7.
Washington tried with one more touchdown, but by then, there was little hope of a comeback. Behind three possessions after its touchdown, the Huskies' loss was practically secured by the fourth. 
WSU continued to push, scoring 10 more points to end the game up 40-13, snapping UW's 86-game streak of allowing no more than 35 points.
De Laura was never sacked and threw for 245 yards with an 84% completion percentage. He ended the night by planting a WSU flag on the UW 50-yard line. 
"It definitely sucks," McGrew said. "Never lost [an Apple Cup] until tonight. It being the last home game for [the seniors] obviously you want to go out with a [win] and go out with keeping that trophy here at home because that's where it belongs. It's just been a crazy season and it would've been nice to end on a positive note."
Even with a shaken up coaching staff and nine years of Apple Cup momentum, nothing changed for the better Friday night, sending the Apple Cup trophy to the other side of the state. 
"You can't win everything," McGrew said. "You can't win every year."
Reach Sports Editor Sydney Nash at sports@dailyuw.com. Twitter: @sydneym_nash
Like what you're reading? Support high-quality student journalism by donating here.