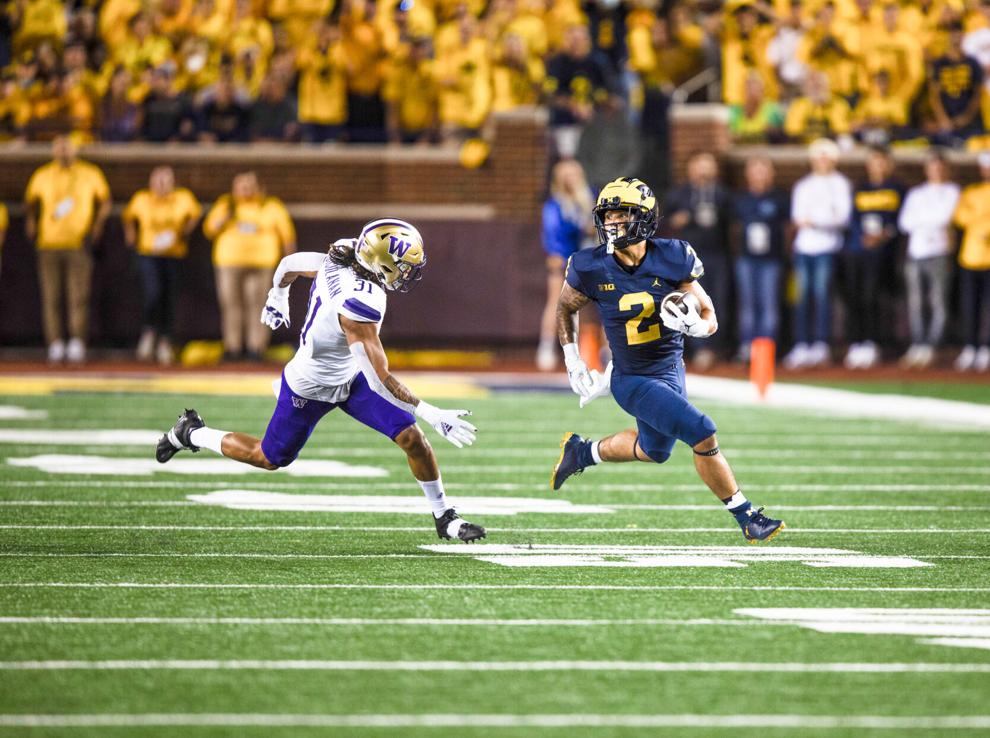 It may have only been a 10 point difference at half, but it might as well have been 100 with the way Washington's offense was performing.
Missed passes and stuffed runs were a common theme, as Washington fell to Michigan, 31-10, in its first road game in nearly 22 months.
Michigan came into the game with the plan of making Washington's redshirt freshman quarterback Dylan Morris beat them with his arm. The Wolverines (2-0) did this by routinely having eight men near the line of scrimmage, daring Washington to throw the ball.
"If they're going to stack everybody in there and we're not having success, we're going to need to throw the football," Washington head coach Jimmy Lake said.
But the Huskies (0-2) didn't completely abandon the run, as it finished the game with 32 total carries. However, because of that eight man box, Washington only ran for 50 yards. Sophomore Richard Newton got the start once again at tailback, carrying the ball 12 times for 24 yards.
With the poor running performances in the last two games, some might wonder if it's time for senior Sean McGrew to get some touches. In the 2020 season, McGrew led Washington in all major rushing categories, but has yet to carry the ball this season.
"Playing time is always earned in practice," Lake said when asked about why McGrew hasn't been playing.
With the eight man boxes, Washington did find some more passing room than it had in its previous game against Montana, but it was still nothing spectacular. Morris threw for 293 yards and one touchdown, completing only 54% of his passes.
While the overall numbers were slightly better, the frustrations were still glaring, with errant passes and poor play calling scattered throughout the game.
On third down, Washington went 7-for-17 and were 1-for-4 on fourth downs. Michigan also controlled the pace of the game, holding the ball on offense for 34 minutes, compared to Washington's 26 minutes of possession.
"What we did in the first half, I don't think we are going to win many games like that," senior wide receiver Terrell Bynum summed up his thoughts on the teams first half performance where they scored zero points.
On the defensive side of the ball, the Huskies tried to keep it close to give their offense a chance, but in the end the Wolverines' run game wore them down. Michigan ran for 343 yards, marking the first time since 2015 against Arizona that Washington allowed more than 300 yards on the ground. 
Washington now starts the season 0-2 for the first time since 2008, where they finished the year 0-12. Washington will look to get back on track with their first win of 2021 as they face Arkansas State Saturday, Sept. 18 at 1:15 p.m.
Reach reporter Nathan Mathisen at sports@dailyuw.com. Twitter: @NathanMathisen
Like what you're reading? Support high-quality student journalism by donating here.