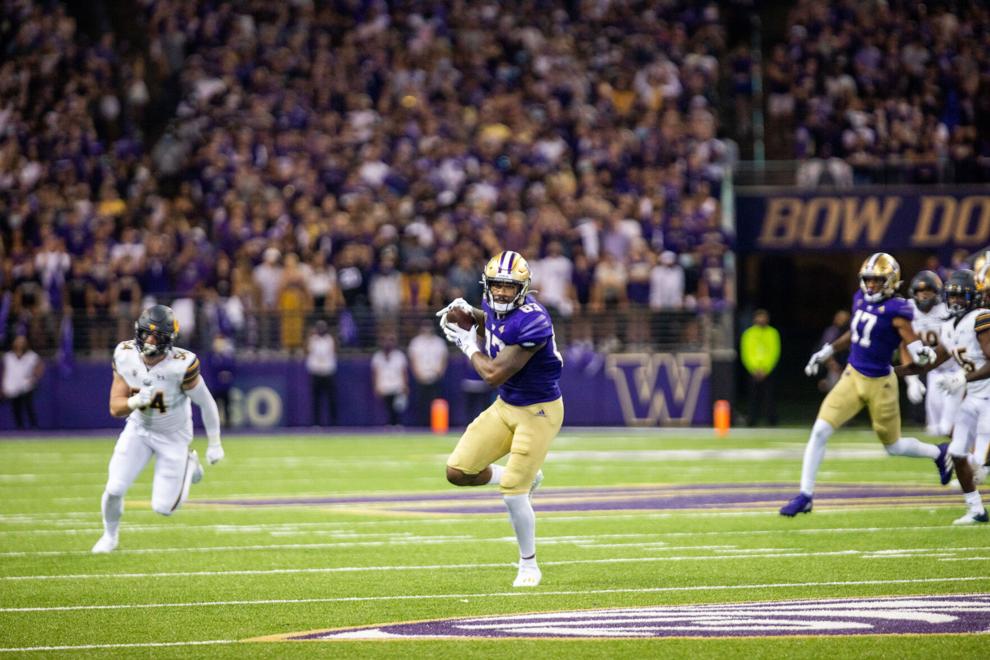 Devin Culp came to play.
With star tight end Cade Otton being forced out of the Washington football game versus Cal due to COVID-19 protocols and tight end Jack Westover also missing the contest, Culp's workload increased exponentially and he took advantage of the opportunity.
Heading into Saturday's game, the sophomore had three catches in his career for only 27 total yards. Against Cal in the first half, Culp hauled in four catches for 71 yards. In the second half, Washington's offense hit a speed bump and Culp finished with one more catch, finishing with five catches for 81 yards.
"Devin's always been an awesome dude and catches the ball all the time in practice and practices well," running back Sean McGrew said. "I feel like that was just a today thing, obviously Cade Otton didn't play, next man up and Devin stepped up and made the plays. He did great today."
With Otton — who in three games had 13 catches for 138 yards and a touchdown — missing the game, Washington needed someone to step up and carry the workload on the offensive end and Culp did just that.
"So proud of Devin, we gave Devin a game ball in the locker room as we were celebrating," Jimmy Lake said. "We talked about our guys seizing the opportunity when the opportunity presents itself and here goes Devin. He's thrust into a starting role and we had a bunch of plays that were targeted at that position.
"Every single week we're targeting that tight end position and he was going to have to execute every single one of them as the starter and he did in a big way."
For Culp, this was a long time coming. 
Culp played in 15 games and waited almost three years before he had his first collegiate catch back in 2020 against Stanford. Now, getting his first start in place of Otton, Culp came up huge with five catches, all for a first down, including one on third down and one on fourth down.
"I've seen all of the work that he's put in behind the scenes," Lake said. "I gave him a huge hug at the end of the game, told him how proud I was of him, how much I loved him and he should feel very proud of the work he did tonight."
Washington's offense has had their ups and downs through the first three weeks, but without quarterback Dylan Morris' safety blanket in Otton, they seemed destined to have a down week. That was clearly not the case, as Culp filled Otton's shoes perfectly, allowing Washington to employ its normal gameplan.
Not only did Culp step up, but freshman Rome Odunze made a big impact in his first game of the year. After being injured prior to the week one game against Montana, Odunze could only sit and watch as the team got off to a slow start.
In his first game on the field in 2021, Odunze helped to make sure the UW offense got in rhythm and connected on the big chunk plays as he finished the game with three receptions for 56 yards.
Each reception was big, whether that be a long reception or simply a reception that helped build momentum in the game, as all three of Odunze's receptions came on an opening play of a drive.
Overall, a theme of the day for the offense was distribution of the ball. Culp led the team with five receptions, but behind him two players with three catches, two players with two catches and four players with one catch.
The Huskies will certainly hope Otton is back in the mix sooner rather than later, but Lake did not sound optimistic about the timeline following the game.
Washington will again need to figure out how to replace Otton when it prepares to travel to Corvallis to face Oregon State (3-1) next Saturday, Oct. 2 at 6 p.m.
Reach reporter Nathan Mathisen at sports@dailyuw.com. Twitter: @NathanMathisen
Like what you're reading? Support high-quality student journalism by donating here.