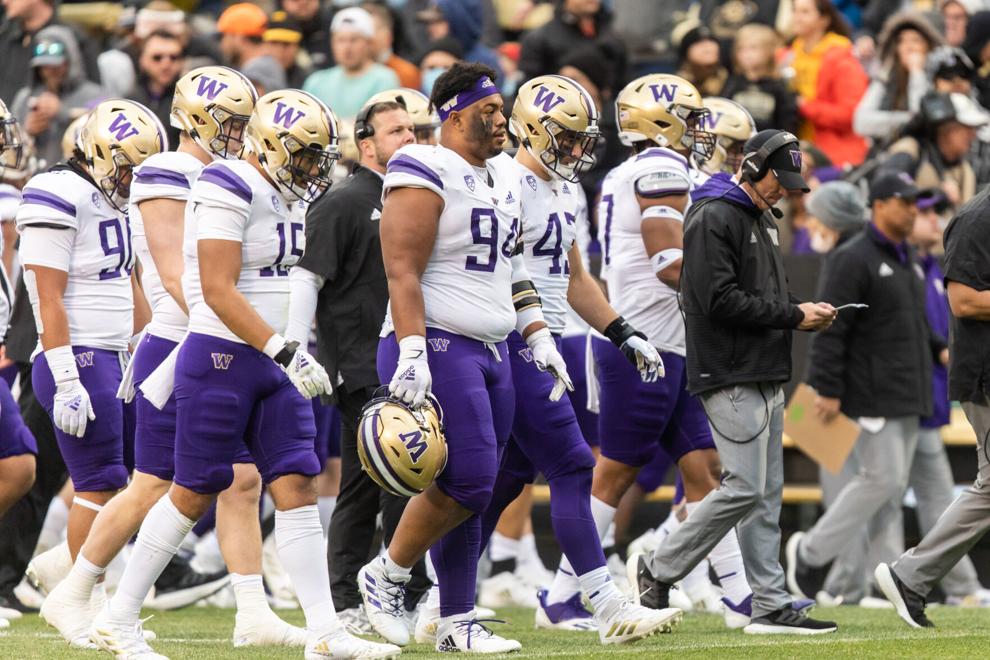 The Washington football team seemed to beat itself Saturday night, falling 20-17 to Colorado to end the road season. 
The story of the game was the Huskies' (4-7, 3-5 Pac-12) offensive struggles, primarily in its two interceptions and two fumbles. The loss came directly from Washington's offensive issues, both in turnovers and general trouble scoring the ball.
"Gotta score some points and can't turn the ball over," interim head coach Bob Gregory said. "Pretty simple."
Colorado completely capitalized scoring off the turnovers, with 17 of its 20 total points coming off opportunities given by UW. For the most part, UW's defense shut down the CU run, but it didn't end up making a difference when UW's drives didn't go anywhere. 
Offensive issues began late in the first quarter on a fumbled snap and 88-yard scoop and score by CU, which put the Buffaloes (4-7, 3-5 Pac-12) up 10-0 heading into the second quarter. An 8-yard pass to freshman wide receiver Rome Odunze by redshirt freshman quarterback Dylan Morris gave UW its first touchdown with 2:11 remaining in the second quarter.
Washington entered halftime tied 10-10, but it was mostly downhill from there. Turning the ball over twice in the third quarter, once on the ground and once in the air, UW didn't score in the third. Thanks to a strong defensive showing, Colorado didn't score much either, but UW couldn't keep holding off scoring after placing CU in prime field position. 
The Buffaloes added a touchdown to their early fourth quarter field goal with a bit over four minutes remaining to take a 10-point lead.
Much like the Huskies have done all season, UW managed to sneak in another late touchdown, but it wasn't enough. With the clock run down, UW remained stuck at 20-17 after an afternoon of lackluster offense.
On paper, the Huskies seemed to outpace the Buffs all day, but the turnovers made it impossible to work out a solid lead. Morris threw for 387 yards and two touchdowns, while CU quarterback Brendon Lewis ended with just 112 passing yards. Neither team found much of a spark on offense, but UW's self-inflicted mistakes took the game out of grasp. 
The loss takes Washington out of bowl contention and into next week's rivalry game against Washington State down three straight losses. The Huskies return home for the last time this season looking to tie their longest winning streak of Apple Cup series Friday, Nov. 26 at 5 p.m. Washington hasn't lost an Apple Cup game since 2012.
Reach Sports Editor Sydney Nash at sports@dailyuw.com. Twitter: @sydneym_nash
Like what you're reading? Support high-quality student journalism by donating here.