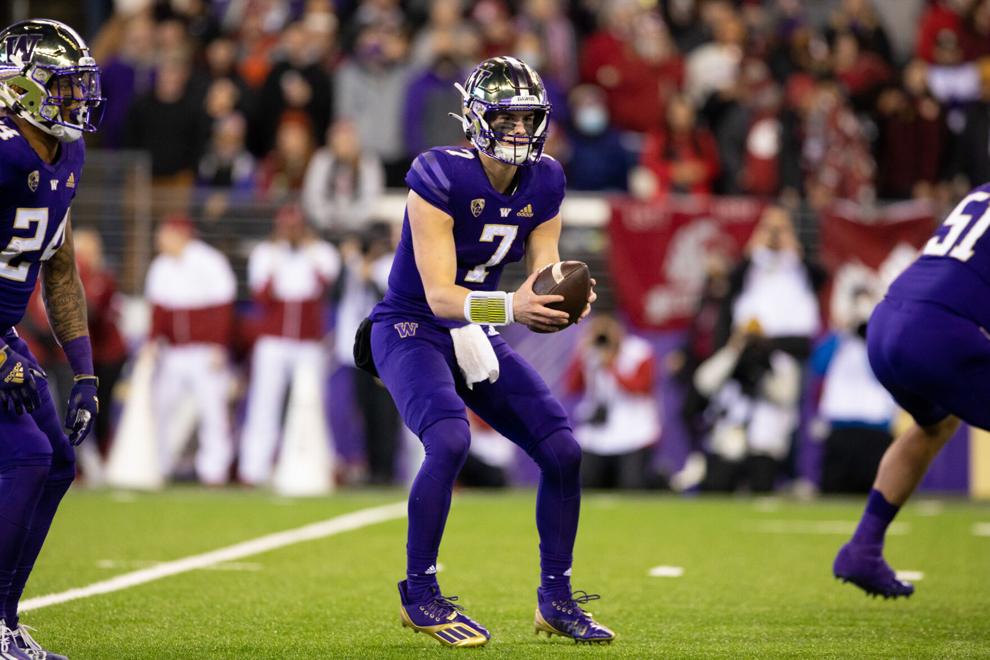 One of the loudest cheers Friday night at Husky Stadium — from Washington fans at least — came when freshman quarterback Sam Huard was announced as starter. Fans have been clamoring for Huard to start all season, but his first start will be one they hope to soon forget as UW fell to Washington State 40-13.
Huard had seen sporadic playing time in three games earlier this season, with only five completions and 51 yards to his name coming into the Apple Cup. With Friday only being his fourth game played for the Huskies, Huard has preserved his redshirt heading into next season.
The freshman quarterback looked flustered most of the night, as Huard was unable to find any sort of rhythm. And although some of Huard's throws looked good, a lack of open receivers and conservative play calling made it difficult for Huard and the Huskies to get anything going against the Cougars.
"It's definitely a tough environment to get thrown into and play your real first football game," senior running back Sean McGrew said about Huard. "It's just something that he's gonna learn from. I think he's gonna come back 1000 times stronger, I think this is going to be his only Apple Cup loss." 
Huard's best play of the game, a 55-yard pass to Rome Odunze late in the third quarter, was immediately followed by his worst, an interception that all but sealed the game for the Cougars. This sequence summed up Huard and the Huskies' night.
"[Huard] was a spark, we had to do something different," interim head coach Bob Gregory said. "I think he showed some flashes, but the turnovers kill you. I hope Husky nation can see that this guy has a very bright future."
When asked by Gregory if he wanted to leave the game after his last interception, Huard said that he wanted to keep going, despite the lopsided score.
"We're not going to pull a kid after one interception," Gregory said. "You just got to look him in the eye and you got to get a feel for him and make sure he's ready and good."
Huard finished the game with 190 yards, one touchdown, and four interceptions. His touchdown and most of his yards came in garbage time when Washington State was already up by multiple scores.
Washington's offense struggles did not all rest on Huard's shoulders. A lack of creativity has plagued Washington all season, and it was once again apparent against Washington State. The Huskies did not get a first down until there was less than five minutes to play in the second quarter thanks to a lack of creativity on offense.
"We didn't sustain drives," Gregory said. "We need to stay on the field longer offensively and get some drives going."
Nothing the Huskies did on offense seemed to work, as short screen passes, runs up the middle, and go routes where the receiver had no separation, were not successful all year and definitely did not work Friday night.
Whether it was Huard or Dylan Morris behind center didn't make a difference. Washington's offense was broken beyond repair all year. Whoever Washington's coach is next year, they must start from scratch on offense.
Other notes
The Huskies once again couldn't stop the run, surrendering 209 rushing yards to the Cougars. WSU became the seventh opponent to rush for more than 200 yards against UW this season.

It was senior night for Washington and 13 Huskies were honored: OL Henry Bainivalu, WR Terrell Bynum, DB Alex Cook, OL Jaxson Kirkland, TB Sean McGrew, QB Patrick O'Brien, TE Cade Otton, TB Kamari Pleasant, P Race Porter, DB Brendan Radley-Hiles, OL Chase Skuza, OL Luke Wattenberg.

Otton, Bynum, and sophomore outside linebacker Zion Tupolua-Fetui did not participate in the Apple Cup. Tupolua-Fetui only played in four games this year, which means that this year could count as a redshirt year if he wants to retain eligibility.
Reach reporter Nick Lombroia at sports@dailyuw.com. Twitter: @lombroia
Like what you're reading? Support high-quality student journalism by donating here.