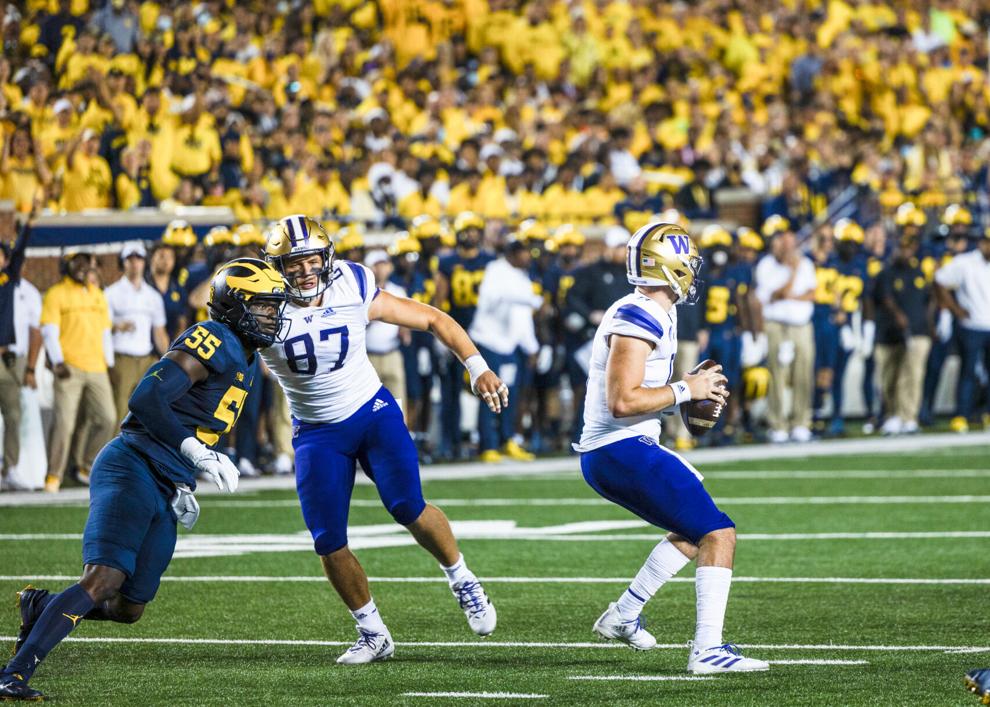 Two games into the season and the theme for the Washington football team has been its offensive struggles, as it scored just one touchdown for the second consecutive game, losing to Michigan, 31-10.
Not only did the offense struggle today, but the run defense had a horrendous showing, allowing over 300 yards on the ground to Michigan, the last time that happened was back in 2015 against Arizona.
The Huskies fall to 0-2, their worst start to a season since 2008 when they went 0-12.
The turning point
The biggest blow for the UW defense came when Michigan running back Blake Corum ripped off a 67-yard touchdown to give the Wolverines a 10-0 lead early in the second quarter.
Up until that point it appeared as though the Huskies were in the game even with their offense struggling. When Corum broke off on the huge run, it showed that the Wolverines had the capability to score quickly, something the Huskies' offense has rarely shown this season.
The trend of Corum running all over Washington's defense continued with him rushing for 171 yards and three touchdowns.
One key stat: 8
The number of drives it took for Washington to score any points.
Washington's offensive struggles carried over from week one. Including the game against Montana, the UW went 20 straight drives without scoring any points. On the eighth drive against Michigan, Peyton Henry kicked a 28-yard field goal, cutting the Michigan lead to 17-3 with six minutes to go in the third quarter.
Four of Washington's first eight drives ended with a three-in-out. 
On the Huskies' fifth drive of the day they looked poised to score with Washington driving inside of Michigan's territory. However, from Michigan's 31, instead of attempting a field goal, Lake sent the offense back out there on 4th and four and failed to convert a first down.
UW player of the game: Trent McDuffie
Washington's pass defense was a lone bright spot throughout the entirety of the game, with McDuffie helping to hold Michigan's quarterback Cade McNamara to 7 of 15 passing and only 44 yards.
McDuffie, alongside the other defensive backs, held Michigan's wide receivers to only three receptions. Unfortunately for Washington, the run defense was not as stout, allowing Michigan to run for more than 300 yards.
What's next?
Next up, Washington returns home to Montlake for its last non-conference game of the regular season going up against Arkansas State. That game kicks off Sept. 18 at 1:15 p.m.
Reach reporter Nathan Mathisen at sports@dailyuw.com. Twitter: @NathanMathisen
Like what you're reading? Support high-quality student journalism by donating here.