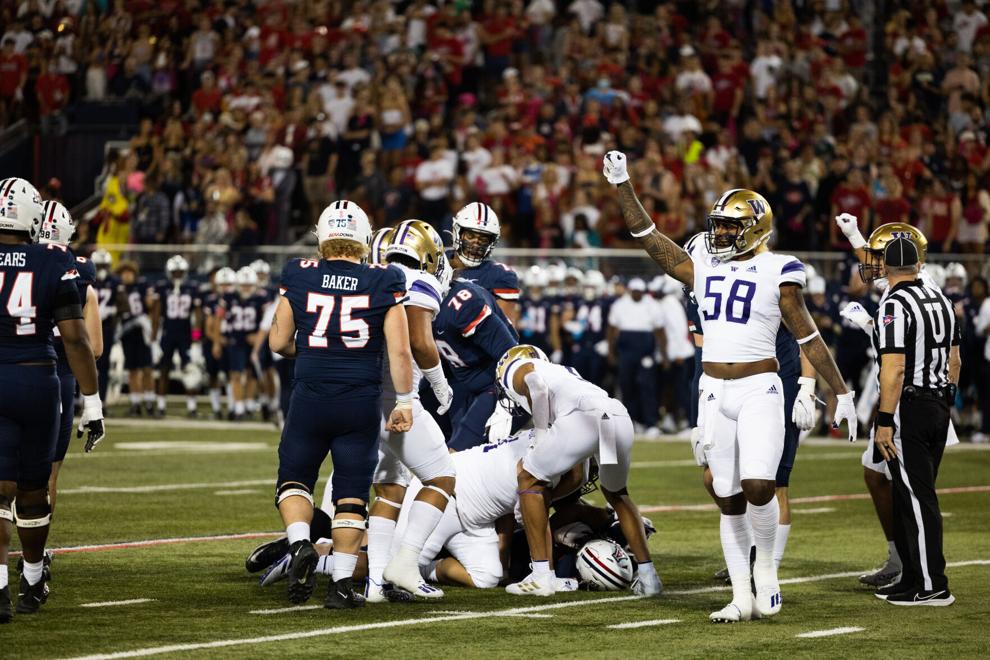 A late comeback put the Washington football team back in the win column for the first time since September, a 21-16 victory over Arizona
Turning Point: 
Early in the fourth quarter, Arizona was driving deep into Washington territory looking to put the game out of reach when sophomore defensive lineman Tuli Letuligasenoa was able to snag an interception, the first turnover of the game, and his first pick of the season.
The Huskies took the ball on their own 29 and were able to drive the ball 71 yards in just four plays for a touchdown that put them just two points behind the Wildcats.
Washington took the momentum from this sequence to score 14 points unanswered and overcome the nine point deficit that they faced at the start of the fourth quarter.   
Key Stat: 218
Despite the victory, the Washington run defense had another terrible night against Arizona. The Wildcats finished the night with 218 yards on the ground, which allowed them to stay in the game until the very end against the Huskies.
Arizona was able to carve up Washington with multiple running plays over 25 yards, including a 54-yard run from Stanley Berryhill III. 
Arizona's methodical rushing attack made it very easy for them to control the time of possession, especially in the first half. The Arizona rushing attack allowed them to keep the ball out of Washington's hands for much of the game, but once the Washington offense came alive, it wasn't enough.
UW Player of the Game: Terrell Bynum 
Junior Terrell Bynum was one of the bright spots on the Washington offense, scoring the Huskies' first touchdown of the night on a spectacular catch in traffic, over and around the Arizona defender.
On what was a very slow night offensively for the Huskies, Bynum had 143 yards on five catches and a single touchdown. 
Bynum was a part of the Huskies' three biggest plays on offense with his touchdown and two 51-yard receptions that set up the Huskies' second and third touchdowns of the game, which were some of the longest plays of the night for the Huskies. 
What's Next:
Washington will try and build on the momentum of this victory next weekend as they travel down south to play Stanford. The Huskies will be looking for their first road victory against the Cardinal since 2007.
Reach writer Nick Lombroia at sports@dailyuw.com. Twitter: @lombroia
Like what you're reading? Support high-quality student journalism by donating here.