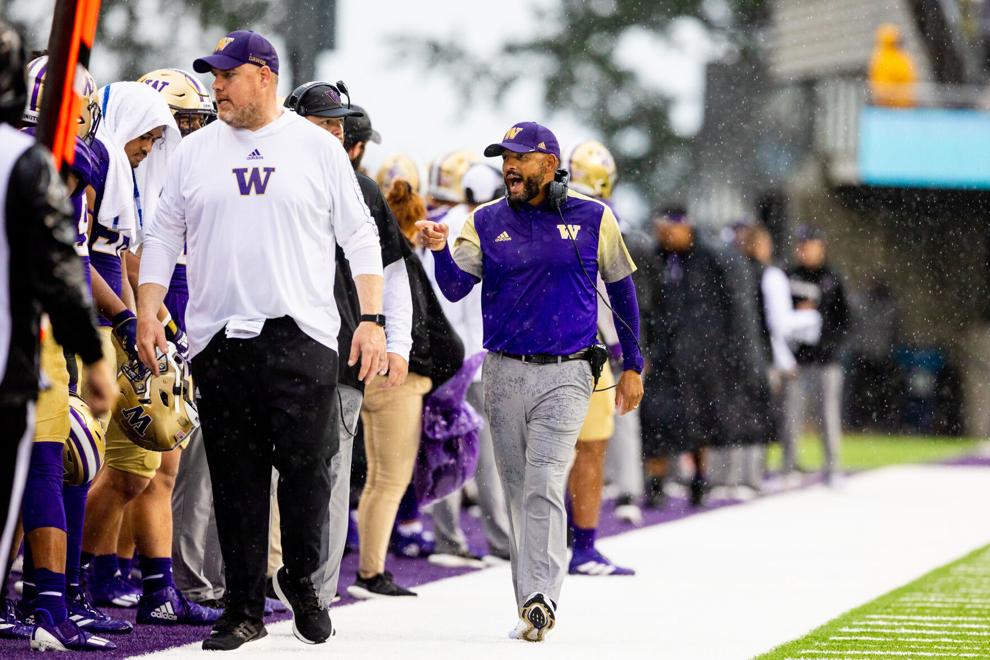 Washington head football coach Jimmy Lake has been suspended one week without pay for an incident that took place with a student-athlete during Saturday's game against Oregon, UW Director of Athletics Jennifer Cohen announced Monday.
Defensive coordinator Bob Gregory will serve as acting head coach this weekend in Washington's game against Arizona State on Saturday, Nov. 13. Lake may return to the team Sunday, Nov. 14.
Lake's media availability for Monday was canceled. Gregory and acting play-caller Junior Adams met with the media at 3 p.m.
Lake was seen on the ABC broadcast striking and shoving one of his players — redshirt freshman linebacker Ruperake Fuavai — on the sideline during the first half of Saturday's game.
Fuavai, a third-year walk-on, got physical with an Oregon player following a special teams play. Lake ran down the sidelines, and after Fuavai had already backed away, struck the front of Fuavai's helmet, then shoved Fuavai as he turned his back to Lake.
"Our staff has spent the last 24-plus hours reviewing video of the incident, as well as speaking with coach Lake, the involved student-athlete and several other student-athletes and members of the staff," Cohen said. "I have made the decision to suspend coach Lake for next Saturday's game against Arizona State."
Lake denied any wrongdoing during Saturday's postgame press conference, saying he separated and did not strike Fuavai, although it was clear that he was doing more than separating Fuavai from the opposing player.
Cohen continued in Monday's press release, reasoning that Lake may not have been intentional with his actions, but detailed the reasoning for the week-long suspension.
"[UW] President [Ana Mari] Cauce, our faculty athletics representative, Alexes Harris, and members of our executive staff are in agreement that while we do not believe that his actions were intentional or deliberate, we can have no tolerance for a coach interacting with a student in the manner coach Lake did," Cohen said. "We have high expectations of conduct for our coaches, and we will not shy away from those expectations."
When requested, a UW spokesperson declined to provide The Daily a statement from President Cauce.
"As Jen Cohen stated in the news release that was issued this morning, the suspension was determined to be the right course of action," the UW spokesperson said.
Monday afternoon, Lake issued an apology on his personal Twitter account in response to the suspension.
"I want to apologize for every member of our team, and in particular Ruperake Fuavai, for my actions during our game on Saturday," Lake said. "I also want to apologize to President Cauce and Jen Cohen for putting the University in this position.
"I fully accept the decision that was made. Our team has the right to expect better than what I displayed on Saturday, and I'm committed to doing just that — being better so our program will reflect all that's good about being a Washington Husky."
In addition to the sideline incident, numerous other issues arose prior to and during Washington's rivalry game with Oregon.
During the week, Lake poked fun at Oregon's academics, saying that Washington's main recruiting rivals have more academic prowess than UO.
"The schools that we [recruit] against have academic prowess, like the University of Washington," Lake said. "Notre Dame, Stanford, USC, we go to a lot of battles toe-to-toe to the end with those schools. I think [recruiting rivalry with Oregon] is made up a lot in [the media] world. In our world, we battle more academically prowess teams."
Later in the week, he followed up and said he didn't intend to take a jab at the opposition's academics, but did not apologize for his previous statement.
"All of [the media] in here knows how my comments were laid out," Lake said. "And of course someone takes a snippet of it and it becomes national news, which I understand in a rivalry week that everything is going to be looked at with a microscope."
Following the Huskies' loss, the Huskies got into a heated postgame altercation with the Ducks, exchanging verbal slurs and nearly erupting into a brawl. Lake scrambled and screamed in an attempt to control his players during what is typically a peaceful postgame exchange.
"All I saw was guys chipping –– 18 to 22-year-olds talking trash," Lake said after the game. "I didn't hear what they were saying but our staff and their staff did a good job of separating the guys before anything seriously escalated."
On Sunday, Lake fired offensive coordinator John Donovan after just 13 games on the UW staff. The Huskies totaled just 166 yards and 16 points against the Ducks.
Washington is now without its head coach and offensive coordinator as it battles for its season against ASU. The Huskies sit at 3-3 in Pac-12 play and 4-5 on the season. Washington needs two wins in its next three games to become bowl eligible.
Reach Sports Editor Anthony Edwards at sports@dailyuw.com. Twitter: @edwardsanthonyb
Like what you're reading? Support high-quality student journalism by donating here.