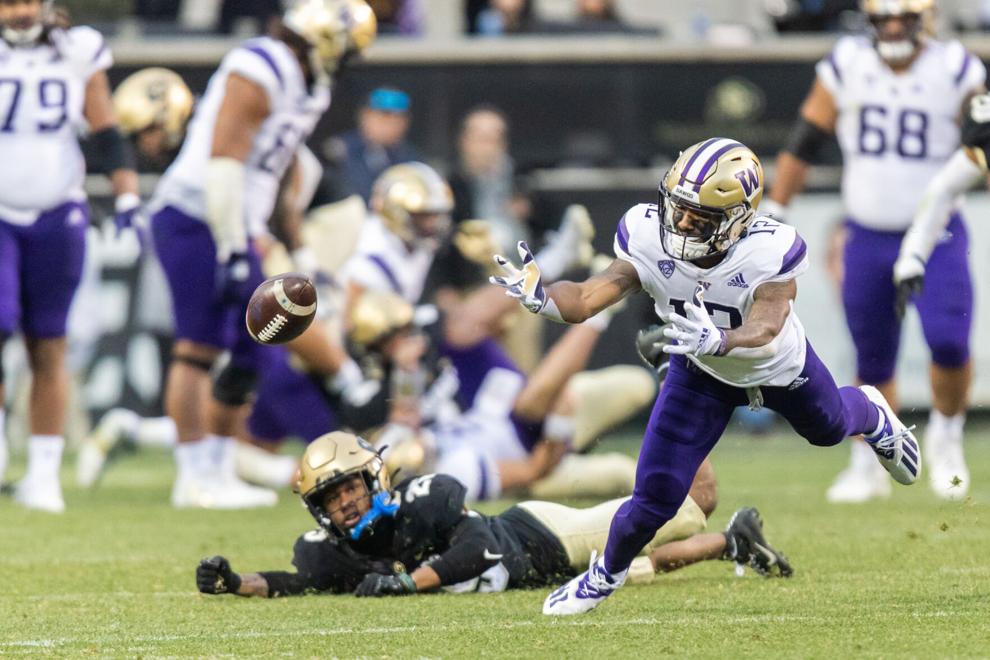 BOULDER, Colo. — The scene was all too familiar.
Trailing late in the fourth quarter, redshirt freshman quarterback Dylan Morris and the Washington football offense trotted onto the field with a chance to tie or take the lead.
The scene had already unfolded on eight different occasions this season, but in all too familiar fashion the Huskies couldn't quite make a play when it mattered most.
Four plays. Five yards. Three incompletions. A third straight loss, and the seventh of the season.
Everything fell apart in the final minutes for the UW offense, but it had been crumbling all game against Colorado.
Looking at the final stats, it would be hard to believe that Washington was the losing team. The Huskies totaled 426 yards, the Buffaloes just 183.
But the number that loomed largest was the Buffaloes' 4-to-0 advantage in takeaways, but even that statistic was a greater reflection of Washington's wrongdoings than Colorado's successes.
"Got to score some points and can't turn the ball over," interim head coach Bob Gregory said. "I mean, it's pretty simple. As you look at the tail of the game right there how we played good enough on defense. Would've been nice to get a turnover on defense, but with four turnovers on offense, especially in critical situations in the red zone, it's tough."
Troubles for Washington began on its opening drive of the game.
On first-and-goal, the Huskies lined up with extra linemen and redshirt freshman quarterback Dylan Morris under center. But Morris wasn't able to handle the snap from senior center Luke Wattenberg and Colorado linebacker Jack Lamb scooped up the loose ball, returning it 88 yards to the end zone to put the Buffaloes up 10-0.
Despite not scoring on its final drive before halftime, Washington was able to even the score at 10-10, driving down the field twice and accumulating 124 yards in the second quarter.
Coming out of intermission, the Huskies had new life and even got the ball, but all in all the third quarter was a disaster of epic proportions.
Inside Colorado territory after receiving the kick after the half, Morris threw an interception on a broken play, giving away another prime scoring opportunity.
On the next UW drive and the score still tied at 10-10, junior kicker Peyton Henry missed from 49 yards away.
The third and final drive of the third quarter featured the biggest blunder, as another poor snap from Wattenberg didn't even reach Morris' hands, as CU pounced on the ball and gained possession inside the UW 10-yard line, setting up a Buffs' field goal.
"I don't have a magical answer for you guys," Gregory said. "We can't turn the ball over. We gotta be able to score some points and we were unable to do that today."
Colorado had just four first downs through 52 minutes of game action, and gained just 3.5 yards per play on the game.
Confounding quarterback situation continues
Two games, three quarterbacks.
Saturday afternoon in Boulder, Washington's confounding usage of its quarterbacks continued.
Morris started his 15th consecutive game and got out to a hot start.
Trailing 3-0 after the Buffaloes scored on the game's opening possession, Morris went 6-for-7 on the ensuing drive, going 72 yards down to the Colorado 3-yard line, but then disaster struck with the fumble snap exchange from Wattenberg.
The fumbled exchange wasn't all at the fault of Morris, though, who had poise up until that point, going 3-for-3 on third downs.
The Huskies again put together a nice string of plays with Morris under center, getting down to the Buffaloes' 12-yard line before settling for a field goal to cut the lead to 10-3.
Thereafter is where the confusion struck.
With Morris in a groove at 97 yards, Washington unfathomably opted for a change under center, going with third-string quarterback and graduate transfer Patrick O'Brien.
Even though Morris was having success, going 9-for-13 to that point, Gregory says the decision was already made to get O'Brien into the game, regardless of how well Morris played.
"That was the plan all week, to get a different quarterback in the game and give us a spark," Gregory said. "That was our plan last week with Sam [Huard], so we stuck with the plan."
But O'Brien faltered.
Having not attempted a pass all season, O'Brien came in for two possessions and went 1-for-3 for one yard. Both possessions with O'Brien under center went three-and-out.
Morris played the remainder of the game.
"We felt like Dylan was playing good enough at the time, so we stuck with Dylan," Gregory said.
It wasn't the first time this year that Washington has made a questionable decision with its quarterbacks.
In a road win at Arizona in October, Washington gave freshman quarterback Sam Huard a look. But former five-star recruit Huard would only get one possession, one pass attempt, and an incompletion, before Morris re-entered the game.
Last Saturday against Arizona State, UW again trotted out Huard. Much like against Colorado, the decision came at an inconvenient time to Morris, who had put the Huskies out to an early 14-0 lead. Huard played sparingly and struggled, despite Morris looking in-rhythm.
The only explanation for O'Brien playing Saturday in Boulder is that UW wanted to preserve Huard's redshirt season. A player can retain a season of eligibility if they play in four or less games. Huard has played in three this year. So unless Huard plays against Washington State in the Apple Cup next week, the decision to play O'Brien has no rationale.
Reach Sports Editor Anthony Edwards at sports@dailyuw.com. Twitter: @edwardsanthonyb
Like what you're reading? Support high-quality student journalism by donating here.