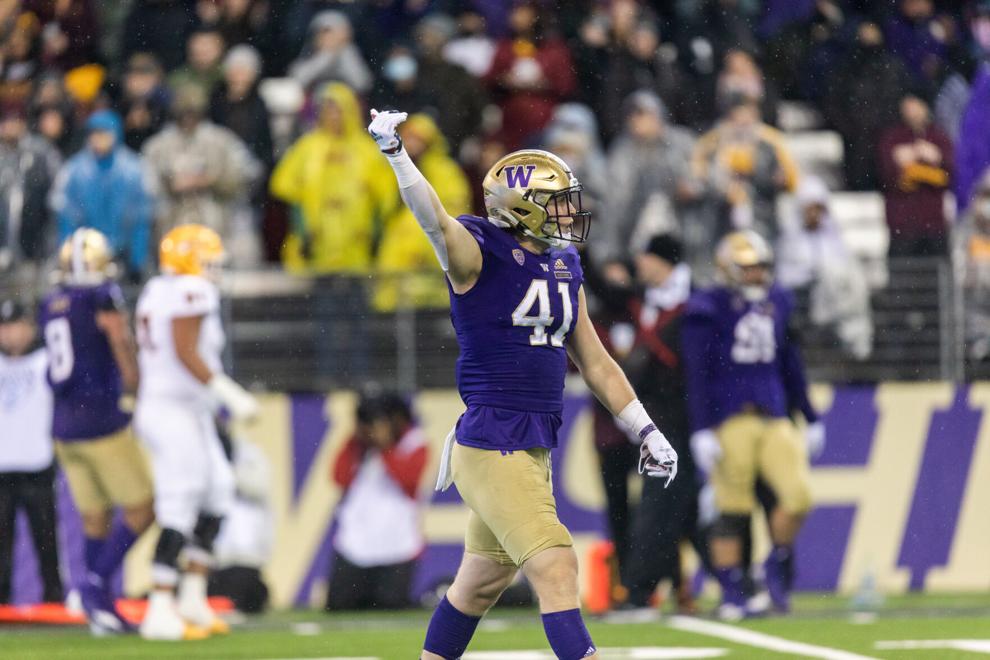 Tuesday's press conference looked strikingly different for the Washington football team.
Not only was former head coach Jimmy Lake not in the building, but interim head coach Bob Gregory showed up with a unique T-shirt.
"Play with joy," Gregory's shirt read.
Playing with a sense of pride will be exactly what Gregory and the Huskies need to do as they attempt to salvage their season starting this Saturday in Colorado.
"It's about being here now — there really is no choice," Gregory said. "It's hard; they're kids and there's anxiety — I mean the coaching staff, we have anxiety and we're adults. We just have to keep these guys focused, because we still have a lot of really cool stuff to play for."
Saturday will be the Huskies' second game under Gregory and their first game since Lake was fired Sunday. Gregory will be looking for a better result against Colorado than last weekend's 35-30 loss to Arizona State.
Keeping the spirit of the team high has been a top priority for Gregory and the rest of the coaching staff. While things may be challenging given the circumstances surrounding the Huskies, the coaches have tried to keep the energy of the team positive, starting on the practice field.
"We're trying to have a little bit more fun in practice," Gregory said. "We've had a couple of fun drills set up, we're trying to keep everyone healthy and everything fresh."
The quarterback situation is also one of the most interesting questions facing the Huskies. Last Saturday against Arizona State, redshirt freshman Dylan Morris and freshman Sam Huard played for Washington, with Morris playing a majority of the game. Graduate transfer Patrick O'Brien might also see playing time Saturday against Colorado, with Morris struggling and Huard likely being held out in an attempt to preserve his redshirt year.
"We're still evaluating [the quarterback situation]," Gregory said. "They all took reps this week. It was a big week in determining exactly where we were at."
All three quarterbacks could get significant playing time the rest of the season, as UW looks to find a consistency on offense that the team lacked all season, especially in its last two games against Oregon and Arizona State.
Against the Ducks, the Huskies gained only seven first downs, and after a strong opening quarter against the Sun Devils, the offense was stagnant for most of the game.
"We are going to get going in the second half, score more points in the second half," Gregory said. "We're still trying to figure all of that out and come back to some of those plays that are really working well for us in the first and second quarters."
Despite the 3-7 record of the Buffaloes, Saturday will be no pushover for the Huskies as they travel to Boulder.
"Their team is getting much better, there's no question," Gregory said. "They do a great job at running the football, they have got a really good run scheme. You can just tell that they're getting better every week."
Washington's run defense has been a problem all year. The Huskies have surrendered more than 200 yards rushing per game on average, the second-worst run defense in the Pac-12, and one of the worst in the nation. Stopping Colorado's rushing attack is one of their keys to victory come Saturday.
Gregory and the Huskies will hope to play with joy and end their two-game losing streak this Saturday at noon in Boulder.
Reach reporter Nick Lombroia at sports@dailyuw.com. Twitter: @lombroia
Like what you're reading? Support high-quality student journalism by donating here.