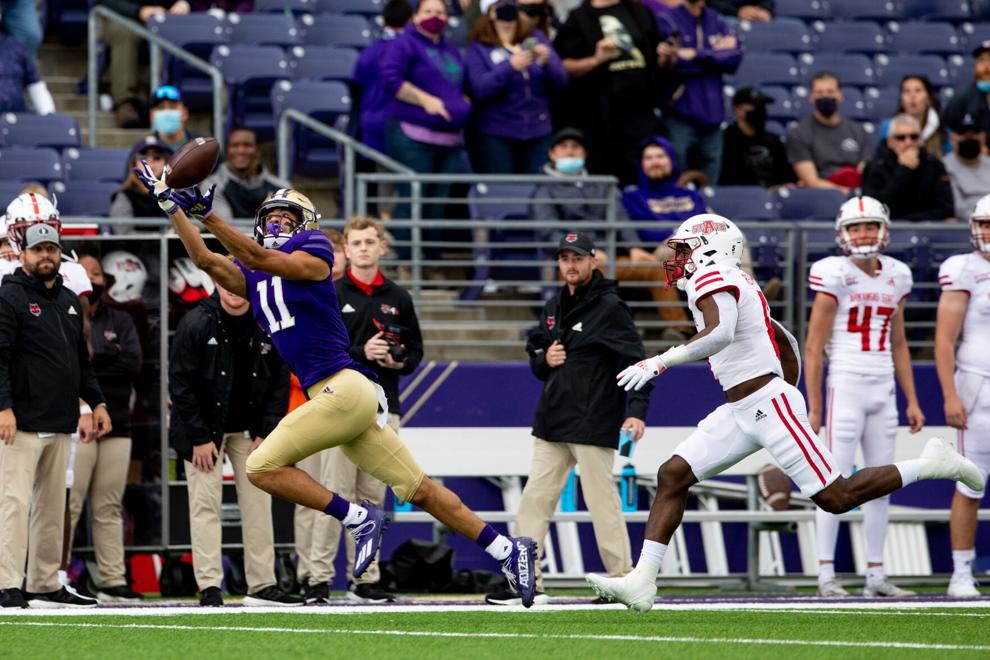 Washington opened its season looking dead in the water on offense for two straight weeks, but against Arkansas State the Huskies finally took the training wheels off their offense.
After scoring only one touchdown in each of its first two games, as well as a combined 17 points, Washington finally broke free against Arkansas State. The offense found success early, putting up 28 points in the first half and then continued to build on that momentum, adding another 17 points in the second half.
The success was largely found through more creative play calling.
"The biggest thing is [that] we have to put our players in position to make plays, and that comes on the coaches," head coach Jimmy Lake said. "Our coaching staff did a good job of doing that this week, but I give all the credit to the players, they went out there and executed the plan."
In the first quarter, instead of running the ball on fourth and short when in the red zone, the UW elected to get redshirt freshman quarterback Dylan Morris outside of the pocket on a bootleg play, where he managed to find a wide open junior tight end Cade Otton to get the scoring started.
This was drastically different than the game against Michigan, wherein on fourth down Washington elected to hand the ball off to sophomore tailback Richard Newton up the middle in a play that was doomed from the start.
The creativity was not just shown through passing plays, but also running the ball. Normally a staple play of this Washington offense, the wildcat formation had been missing for two weeks; it returned against Arkansas State in a big way.
Two times the Huskies ran plays in a wildcat formation and both times they were successful. The first was on a two-yard touchdown run by Newton in the second quarter, and the second wildcat play was on a four-yard run, again by Newton, for a first down.
Overall, Washington's offense looked more comfortable and more in rhythm throughout the entirety of the game.
"Last week our offense did a way better job of getting in rhythm early in practice and staying in rhythm," Lake said. "Of course not the first drive, but then after the first drive you saw our offense getting in rhythm. That was one of the keys to the game, our offense had to get in rhythm."
The great rhythm that followed the first drive was clear, as Washington scored a touchdown on four straight possessions after the first drive punt.
A big change in the offense from weeks one and two was how Washington dealt with the running back position. In the first two games, only Newton and redshirt freshman Cameron Davis saw action at tailback; Saturday against the Red Wolves, Newton and Davis still saw action, but seniors Sean McGrew and Kamari Pleasant also both saw their first action of the year.
"Sean played excellent," Lake said. "Sean made a huge difference on special teams ... He showed up in practice as one of our best guys and we told our team that tough physical play is always gonna be rewarded."
For McGrew, his return was huge, as he electrified the crowd with a 13-yard touchdown run on Washington's third drive, then added another touchdown run in the third quarter and finished with six carries for 31 yards.
For the first two games of the season, the Huskies made short pass after short pass, never able to break anything for a big chunk play. Against Arkansas State, Washington still relied on short passes, but the timing appeared better, and they were also able to connect on the few deep shots that they did take.
A key to the big chunk play working was freshman wide receiver Jalen McMillan constantly being able to take his corner in a one-on-one matchup. 
"[Jalen] just brings a different type of threat at the line of scrimmage," Morris said.
In the first half alone, McMillan had five catches greater than 15 yards, and in total had seven catches for 152 yards and a touchdown in the first half. This was the first time since 2016 with Washington's John Ross that a Pac-12 player had more than 150 yards receiving in the first half.
After missing week one due to injury and being limited in week two against Michigan, a healthy McMillan showed the potential of the Husky offense, as well as his own potential, finishing the day with 10 catches for 175 yards and one touchdown.
Washington will look to keep this offensive momentum up when it welcomes its first Pac-12 opponent of the year in Cal on Saturday, Sept. 25.
Reach reporter Nathan Mathisen at sports@dailyuw.com. Twitter: @NathanMathisen
Like what you're reading? Support high-quality student journalism by donating here.