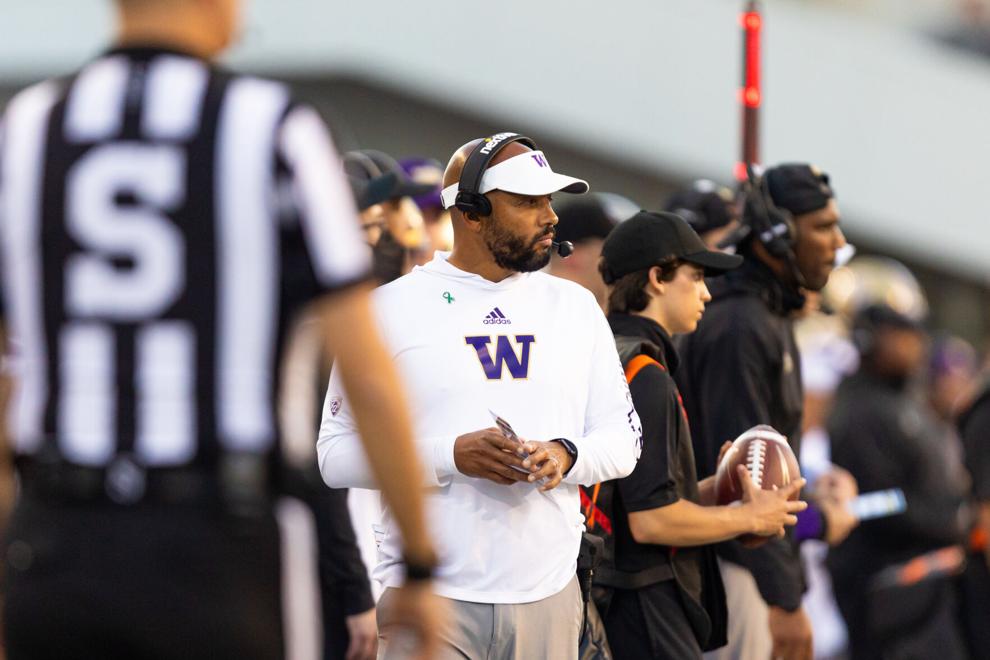 CORVALLIS, Ore. — Alex Cook gave Deshaun Fenwick the chance to score.
With 1:26 remaining in a 24-24 game, the Washington football team knew Oregon State's drive was most certainly going to end in a go-ahead score.
But instead of prancing into the end zone and giving the UW time to tie the game in the final minute, Fenwick emerged from the OSU backfield, hit the turf in front of the UW defensive back at the 8-yard line, stared into Cook's eyes, and began chirping.
Washington offered Oregon State a gift and the Beavers declined, strategically and without respect, kicking through a game-winning field goal three plays later as time expired.
"That was something we thought we could catch them on, just based off momentum, it just didn't work out," sophomore linebacker Edefuan Ulofoshio said.
It was just one instance of the Huskies mismanaging any momentum they, or their opponent, had on Saturday night. Washington were handled chance after chance to take control of the game against OSU but couldn't take advantage, fumbling every opportunity in its first loss to OSU in a decade, 27-24.
Washington's squandered opportunities summed up the stubbornness from second-year head coach Jimmy Lake, who has tried unsuccessfully to establish a controlled, mistake-free game-plan, rather than take advantage of what opposing teams are giving his Huskies.
"We'd love to be able to run the football and control the line of scrimmage, those are goals every single week," Lake said. "You might feel like it's football lingo, but that's what it is, you've gotta stop the run and run the football. If you can do that, you control the game."
As much as Lake would like to control the clock, wear down defenses, and rely on his defense to win tight games, the method has clearly not worked out well for his Huskies (2-3, 1-1 Pac-12) so far in 2021.
Saturday evening at Reser Stadium was no different, but for a brief moment, it looked like Washington may have finally put its stubbornness aside.
On the first drive of the game, Washington used a six play, 75-yard drive to take a 7-0 lead, scoring on a 44-yard pass from quarterback Dylan Morris to wide receiver Terrell Bynum.
With a Beavers' (4-1, 2-0 Pac-12) run defense that came into the game second-best in the Pac-12 at stopping the run, maybe the Huskies had learned to assault their opponent's weakness, rather than attempting the same unsuccessful offensive game plan.
But that was not the case, as the UW began to fumble, in some cases literally, every chance it had.
Following the touchdown drive, Washington was unable to convert a first down on three consecutive drives.
Drive number two was a three-and-out that featured three short pass attempts, instead of taking a strike downfield at a OSU secondary it had just exposed on the drive previous.
Then, Washington redshirt freshman tailback Cameron Davis fumbled on his first carry of the game, setting OSU up at the UW 10-yard line.
Unlike the Huskies, the Beavers cashed in on their opponent's mistake, tying the game at seven three plays later.
Washington's third drive was more of the same, attempting short yardage plays that set up another failed third down attempt.
On the ensuing drive, Oregon State turned to the run, controlling the time of possession and slowly chipping away at a helpless Washington run defense. The Beavers rushed on seven straight plays, going 42 yards and taking a 14-7 lead, leaving the UW defense depleted.
The Beavers would run for a total of 242 yards and looked to handle the Huskies whenever they wanted to despite the one-dimensional approach that included just 48 passing yards.
"We can't give up as many yards as we did that game," Ulofoshio said. "They had a great opportunity and they scored running the ball, which is just unacceptable.
The only reason the Huskies were even in the game at halftime was due to an inexcusable abandonment of the run from the Beavers during their final two drives of the first half.
Not a hint of urgency arose from Washington out of halftime, as its dreadful offense remained lifeless until it finally went to what had been working for it all year: senior running back Sean McGrew.
McGrew scored twice early in the fourth quarter to give the Huskies a 24-17 advantage, but thereafter Washington could do no more offensively, being stopped at midfield on fourth-and-1 with 3:18 remaining, setting OSU up for its game-winning drive.
"It's obviously frustrating because you see the spurts of greatness," McGrew said. "You see the spurts of what our offense can do. If we keep executing and doing what we know how to do, I don't think anybody can stop us."
Washington will have two weeks to search for more spurts of greatness with a bye week before taking on UCLA at home on Oct. 16.
Reach Co-Sports Editor Anthony Edwards at sports@dailyuw.com. Twitter: @edwardsanthonyb
Like what you're reading? Support high-quality student journalism by donating here.