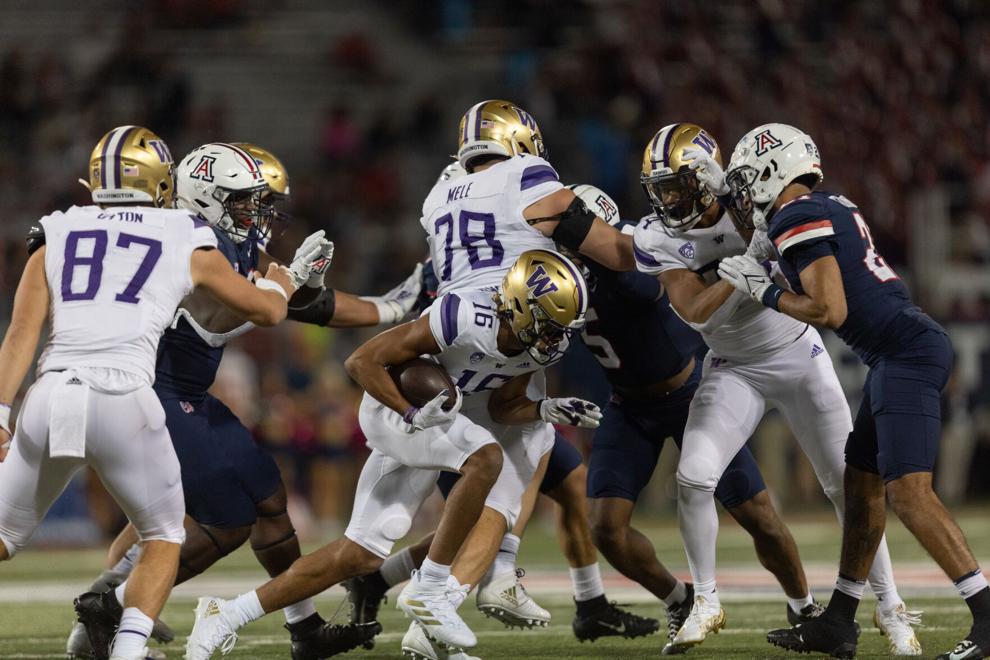 TUCSON, Ariz. — If the ship sank during the first six games of the Washington football season, Friday night in Tucson served as the life raft.
After it looked like the raft had popped in the first half, UW somehow patched things up in the final 30 minutes for a 21-16 win against Arizona to stay afloat in the Pac-12 North.
As much as Washington head coach Jimmy Lake enjoys his team grinding out close games, the Huskies' (3-4, 2-2 Pac-12) approach to games needs to change. Last season, Washington won two one-score games and lost one. This year, the Huskies are 2-3 in games decided by one score.
If there's a secret sauce for UW to come out on the winning end of more nail biters, they haven't quite found the recipe yet. Maybe a better solution for Lake and company would be to stop putting themselves in the same position over and over.
After a near-loss to a Wildcats (0-7, 0-4 Pac-12) side that has now dropped 19-straight games, it might finally be the wake-up call that Lake needed.
"Believe me I would rather win by a lot than win by a little," Lake said. "A win is a win, but we are finding out a lot about ourselves in these tough times, these tough losses, but also these tough wins, of just grinding it out. We've got a lot to do and we'll get better from this."
In the first half, the Huskies did nothing to save their season. UW had a week to prepare for a UA team led by its third-string quarterback and still struggled defensively, and the Huskies' offense seemed to go backward more than they went forward.
Arizona brought the house defensively on nearly every passing play, sacked Washington redshirt freshman quarterback Dylan Morris four times, and limited UW to just one completion in the first quarter.
After a floundering offensive performance in the first half, the Huskies began to do what they should have been all along: attacking the Wildcats deep.
Junior wide receiver Terrell Bynum had a monster second half, going for over 100 yards, including two 51-yard receptions, allowing UW offense to open up and have more success on the ground as well.
"They gave us the coverage that we really wanted," Bynum said. "With one [safety] high they were just playing man [coverage] the whole time. We tried to run it earlier and it wasn't a good look, and we ran it again and [Dylan] delivered a strike."
The halftime adjustments from the Huskies were clearly apparent. Credit to the coaching staff, because UW has proven the ability to turn games around coming out of the locker room the second time, and Lake's conversations with his staff allowed the explosive plays to Bynum to work out.
"When we see the coverages that they're playing… that's what allows us to get in formation and run that exact play and make sure that play works," Lake said. "They did a nice job. They changed things up from what they were doing in their first few games, but we caught up to it and we were able to make some plays."
But it was easy to anticipate what the Wildcats' game plan would look like, considering the Huskies' run-heavy offense and passing plays that take a long time to develop: they were going to sell out to the run and force Morris to make quick decisions.
With their own season already down the drain at 0-6, the Wildcats had nothing to lose against the Huskies. Washington should have expected Arizona to bring pressure on defense, but somehow, UW looked unprepared for what UA presented.
Even though opponents can easily change up their looks, the Huskies can do the same. But instead, Washington has been playing things conservative and taking too long to adjust to the opponent rather than throwing in its own wrinkles early on in games.
Although Lake would say that the Huskies are putting themselves in position to win games, they are also doing the opposite, allowing the opponent to hang around and come out on top when a more aggressive game plan from the get-go could prevent such situations from happening.
Reach Sports Editor Anthony Edwards at sports@dailyuw.com. Twitter: @edwardsanthonyb
Like what you're reading? Support high-quality student journalism by donating here.