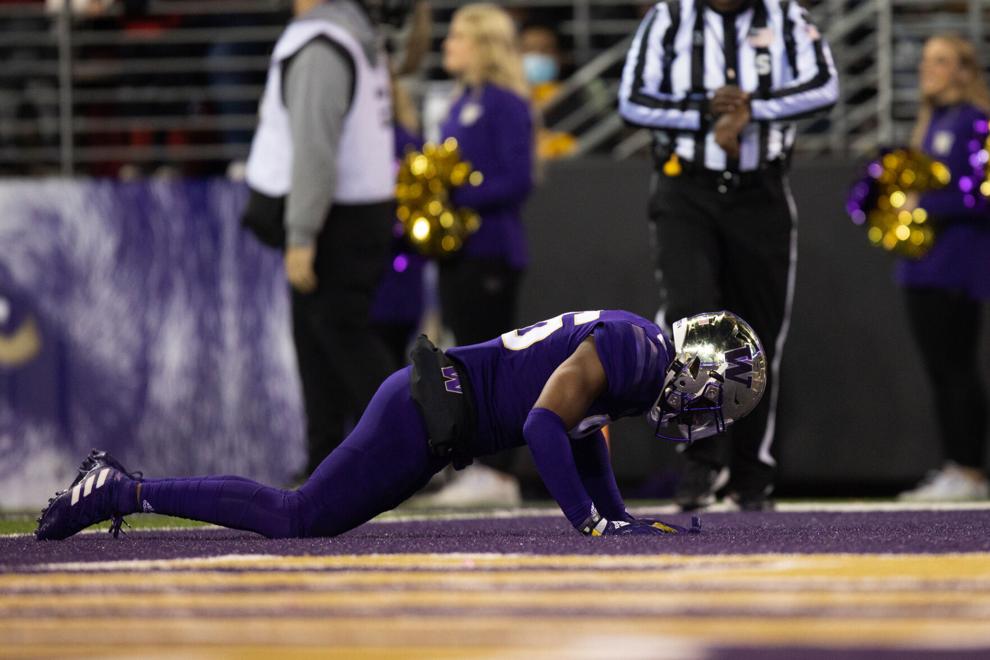 Things truly couldn't have gone much worse for the Washington football team Friday night. 
Losing its first Apple Cup since 2012, the Huskies, who will end the 2021 season 4-8, never got a grip on its rivalry game and fell 40-13. 
Freshman quarterback Sam Huard got his first start, but struggled throughout the night with little to no help from his team. The UW defense allowed WSU's quarterback Jayden de Laura, who ended with an 84% completion rate and 245 yards in the air, to do nearly whatever he wanted. 
From incompletions to interceptions to small mistakes to poor play calling, nothing went right for Washington, and Washington State chugged along. 
Washington was lucky the score wasn't worse. One WSU touchdown was undone with an offensive holding call, one close play was called just short of goal and the drive stopped by the UW defense, and WSU missed a field goal just before halftime. 
The turning point: Interception in the third
Huard's best play of the game was followed by his worst during the third quarter, after a 55-yard pass to freshman wideout Rome Odunze was immediately turned around with an interception at the Washington State 11-yard line. 
WSU returned the interception for 60 yards and scored a touchdown a few minutes later to advance, 30-7.
The Cougars (7-5, 6-3 Pac-12) moved four possessions out of reach, and the Huskies' loss was pretty much secured. 
Washington managed one more touchdown, then went for a 2-point conversion and didn't get it, to move 30-13.
UW never scored again, and WSU racked up 10 more points. 
One key stat: 4
Huard, who entered Friday's game with just 11 attempts across three games, threw four interceptions during his first collegiate start. 
Turnovers, which have been an issue for UW all season, continuously cut into Washington's momentum and took away scoring opportunities. 
The game was pretty much decided by the third interception, but was completely secured by the fourth, as Washington State went up 40-13. 
What's next?
The Apple Cup trophy will now head across the state to Pullman for the first time since 2012. 
The loss closes out Washington's football season, which would have ended Friday night either way. The Huskies will pick back up in the spring to begin prep for the 2022 season.
The next few months will likely feature some transfer announcements and the appointment of a new head coach. 
Reach Sports Editor Sydney Nash at sports@dailyuw.com. Twitter: @sydneym_nash
Like what you're reading? Support high-quality student journalism by donating here.