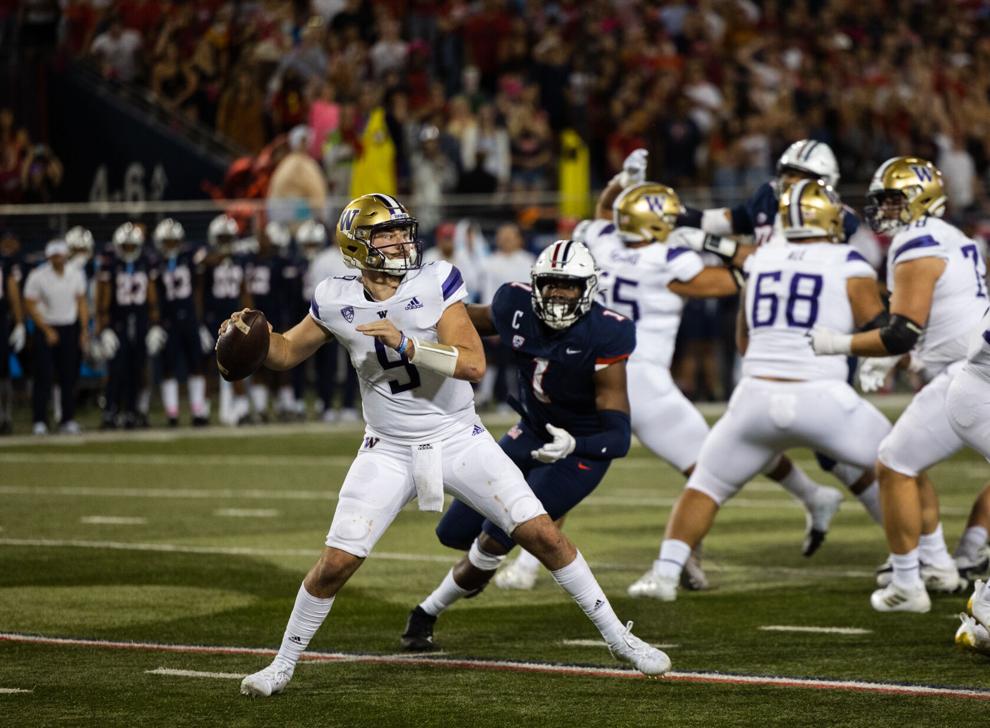 For a while on Friday night, it looked like the Washington football team was going to allow Arizona to get its first win since 2019.
But a clutch interception that kickstarted a 12-point, fourth-quarter comeback allowed the Huskies to come out with a 21-16 victory over the Wildcats.
Heading into the fourth quarter, Washington looked dead in the water, trailing 16-7 with Arizona driving looking to extend its lead. Enter Tuli Letuligasenoa.
The sophomore defensive lineman picked a great time to have his first-ever interception with the Huskies (3-4, 2-2 Pac-12). Letuligasenoa picked off a screen pass from Wildcat (0-7, 0-4 Pac-12) quarterback Will Plummer at the line of scrimmage and completely turned the momentum of the game.
"When I first caught it, I didn't even think I had it in my hands until I looked down," Letuligasenoa said. "I just knew that it was a big play for my team and a huge turning point."
Then Washington, which had been stagnant all night, followed up the interception with two quick drives down the field, pulling within two points after a quick four-play drive that ended in redshirt freshman tailback Cameron Davis' first career rushing touchdown.
The Huskies then took the lead for good on the ensuing drive that was capped off with an 8-yard touchdown reception by freshman wide receiver Rome Odunze.
Junior wide receiver Terrell Bynum was the star on offense for the Huskies. He scored their first touchdown of the night, wrapping around a Wildcat defender to complete the grab.
Bynum was extremely important during the Huskies' two fourth-quarter scoring drives. He grabbed two 51-yard bombs, each setting up the Washington offense deep in Arizona territory. Bynum finished the night with five catches for 143 yards and a touchdown.
"They gave us the coverage that we really wanted, they were just playing man the whole time," Bynum said about his two deep catches. "We tried to run it earlier, but it wasn't a good look. We ran it again; perfect look."
Redshirt freshman quarterback Dylan Morris also performed well, especially after missing a drive in the first half due to a bloody nose. After throwing only 35 yards in the first half, Morris finished the night with 217 yards and two touchdowns. Approximately 110 of those yards came in the fourth quarter.
"What I saw was that they were really covering our receivers and pressuring us, and [Morris] didn't have anywhere to throw the ball," head coach Jimmy Lake said of the first half. "In the second half, we were able to loosen up some coverages and get some guys sprung open."
It was not all positives for the Huskies down in Tucson.
The UW-run defense, which has been a problem all season, was especially poor. Washington gave up 217 yards on the ground, which was the third time this year that it has given up more than 200 yards on the ground.
"Run defense is very poor right now with run fits and tackling," Lake said. "It's unfortunate that we played so bad the last three weeks."
The offense also got off to another very slow start. Washington only had 65 total yards at the half and had only converted six first downs. Down 13-0 at halftime, it looked like another embarrassing performance for the Huskies until their offense came alive in the second half. Washington finished the night with 307 total yards of offense.
A shadow that hung over the game was an apparent neck injury to junior defensive back Alex Cook, who was carted off the field late in the first quarter. He is reported to be in a stable condition and has movement in his arms and legs.
"He has movement in all his extremities and he's awake," Lake said.
Washington will look to keep up the momentum as they travel down to Stanford next weekend. The Huskies will be looking for their first win on the Farm since 2007.
Reach writer Nick Lombroia at sports@dailyuw.com. Twitter: @lombroia
Like what you're reading? Support high-quality student journalism by donating here.