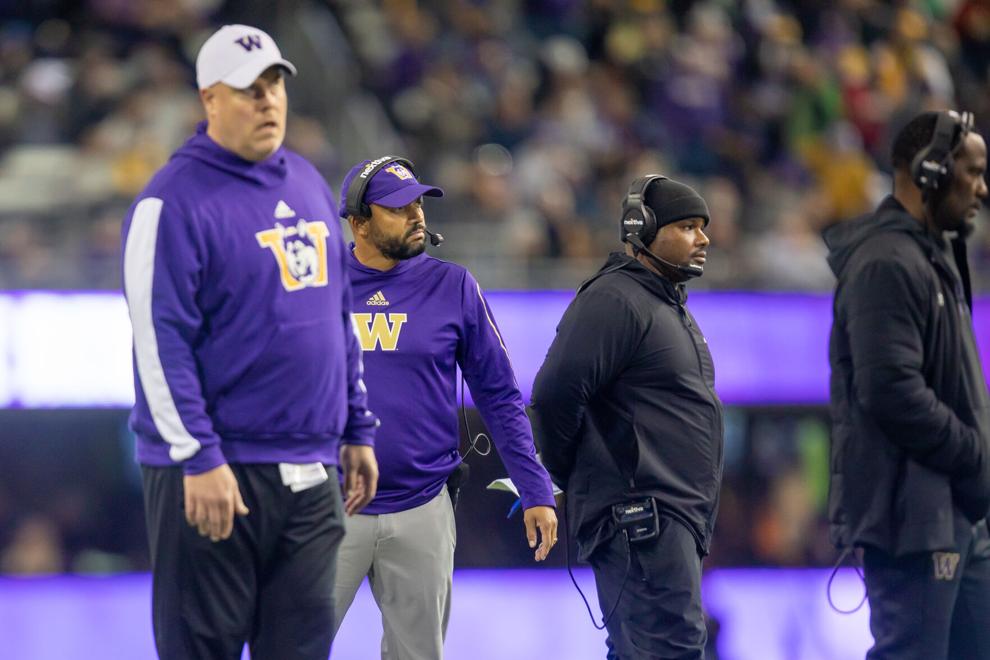 Leading up to his first meeting with No. 4 Oregon, as the head football coach of Washington, Jimmy Lake stirred the pot.
Due to the events that unfolded during the week, including Monday's press conference in which Lake poked at the University of Oregon's academics, a big question was whether Lake and UO head coach Mario Cristobal would shake hands at midfield following the game.
But instead of postgame handshakes indicating the end of a rivalry week saga, the pot that Lake stirred during the week boiled over Saturday evening.
Lake was seen striking one of his players — redshirt freshman linebacker Ruperake Fuavai — on the sideline during the first half. Then, following the game, Lake lost control of his Huskies, as they got into a heated verbal and physical exchange with the Ducks in the middle of Alaska Airlines Field at Husky Stadium.
Following a short interaction with Cristobal at midfield, Lake was again screaming at his players in an attempt to reel them in, as once again they were chirping with opposing players.
"Neither side wants that to happen, we don't want it to escalate like that," Lake said after the game. "We want [the game] to end and give congratulatory high-fives or whatever… then we want to separate. That's how we always want the game to end, with a handshake. So no, we don't want [altercations] to happen."
As much as Lake wishes that his team could have taken the loss with dignity, he gave them the opportunity to unravel with his behavior during the week and throughout the game.
The Huskies did lose the game on the field, but more importantly, the UW coaching staff put up a much more disgraceful performance than any player Saturday night in Washington's 26-16 loss.
Even during the postgame press conference, Lake was unwilling to apologize for striking and shoving Fuavai, even though it was clear on the ABC broadcast that he had lost his cool.
"The guys were chipping back and forth, and one of our players, [Ruperake], was up in an Oregon defender's face, and I went in to separate them and push him back," Lake said. "After that we settled down a little bit. That was our deal all week long, you've gotta have poise. We knew this was gonna be a very heated matchup and a lot of trash-talking. When [Ruperake] stepped in there, we were glad a penalty wasn't thrown on our guys to put us back even further."
Asked if he regretted striking Fuavai, Lake declined such happenings.
"I separated him, I didn't strike him, I separated him," Lake said.
For a coach that talked about poise all week long with his players, Lake showed none of it himself in the heat of the moment. Lake's unwillingness to admit his mistake on the sideline, or take back his poorly executed academic comments earlier in the week, put him at a new low.
Following the game, the UW athletic department provided The Daily a statement from UW director of athletics Jennifer Cohen about Lake's interaction on the sideline.
"We are aware of an interaction between Head Coach Jimmy Lake and a student-athlete during the first half of Saturday's game," Cohen said. "We have high expectations of the conduct of our coaches and we are working to gather more information on this matter."
In his first 12 games as head coach, things may not have gone the way that Lake had hoped, but there was always an unwavering respect that the Huskies held for their head coach.
Frequently asked why they chose to continue their education and playing careers at Washington, student-athletes quickly point to Lake as a reason for their decision.
But after Saturday night, it's fair to wonder how many of the Huskies, or recruits, continue to think the same.
Not only did Lake sink to a new low with his behavior, but the confidence in his players also seemed to be lacking against the Ducks.
It was clear from the start of the game that the Huskies were going to leave everything on the field against their bitter rivals. 
But after an energized first quarter on the defensive side of the ball — including a near-pick-six from freshman linebacker Carson Bruener and a safety from fellow sophomore linebacker Jackson Sirmon — Washington was unwilling to attack when it had Oregon on the ropes.
In addition to Bruener's interception, the defense came up big on a number of other plays in the first half, signifying the heart that the Huskies played with.
But when Lake decided to punt trailing by eight with two minutes left in the game, the hearts of his Huskies were surely broken by the lack of trust in the offense to pick up 10 yards.
Despite all of the poor coaching decisions this season, Lake had the utmost respect from his players during the opening eight games. But after Saturday night, for now and the future, it will take a lot more than just on-field success to earn the trust back from his Huskies.
Reach Sports Editor Anthony Edwards at sports@dailyuw.com. Twitter: @edwardsanthonyb
Like what you're reading? Support high-quality student journalism by donating here.