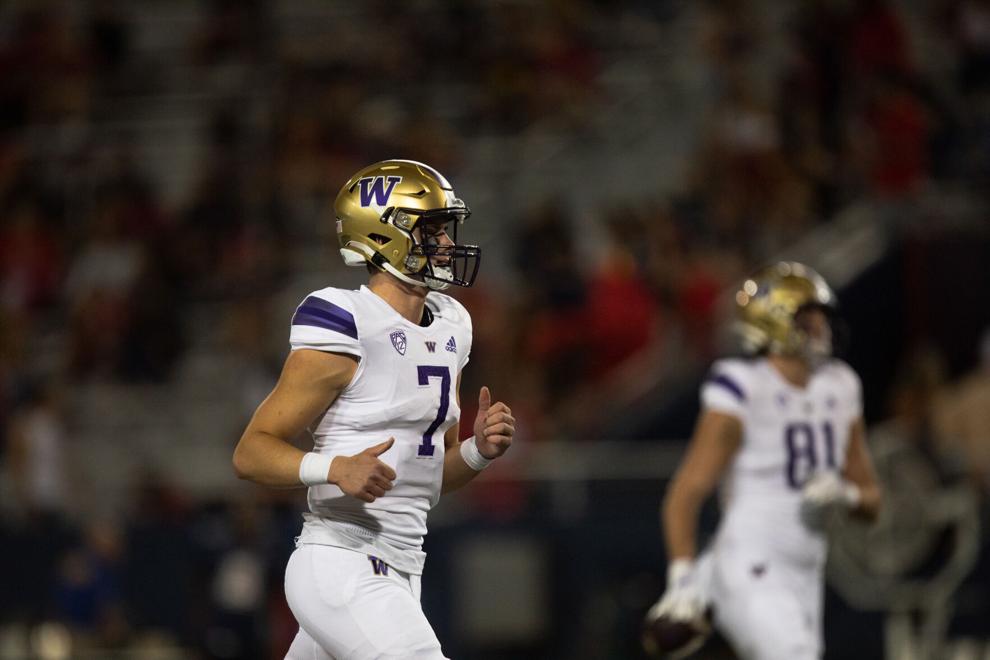 TUCSON, Ariz. — After a 2-4 start to the season and failing to score on its opening drive against Arizona, Washington head football coach Jimmy Lake decided it was time to pull the trigger.
On the second drive of Washington's game against Arizona, true freshman quarterback Sam Huard entered the game under center in place of redshirt freshman Dylan Morris.
In Huard's one series against the Wildcats he went 0-for-1 and handed the ball off five times.
Although Lake said Monday that the Huskies were "nowhere near" making a quarterback change, Huard was made aware of the coaching decision prior to Friday's game that he would see significant playing time against the Wildcats. An injury to Morris on the first drive of the game made the pregame decision a moot point.
"Part of the game plan was actually to get Sam some reps today," Lake said. "It was interesting how it all played out. Dylan took a huge hit and his face mask came up on him and couldn't get his nose to stop bleeding. Our plan was to get Sam in the game before that happened. We knew Sam was coming along every single day since spring football until now, it has nothing to do with Dylan."
Prior to Friday's game against Arizona, Huard played once during the 2021 season in a blow-out win over Arkansas State, where he went 2-for-5 for 31 yards.
Lake said the plan is to get Huard some more snaps at some point during the Huskies' remaining five games.
"At any moment, we can lose our starting quarterback." Lake said. "We have to make sure that next guy is ready to go. Sam will get another opportunity down the road, we're not sure which game that will be. To this point he has two games. If it turns out to be a redshirt [season] he has two more, or, you never know, he might play more."
Huard is one of the most heralded prospects in Washington history. He attended Kennedy Catholic High School in Burien and was recruited as a five-star, pro-style quarterback.
Prior to Huard, the last true freshman quarterback to play for Washington was Jake Browning in 2015.
Reach Sports Editor Anthony Edwards at sports@dailyuw.com. Twitter: @edwardsanthonyb
Like what you're reading? Support high-quality student journalism by donating here.