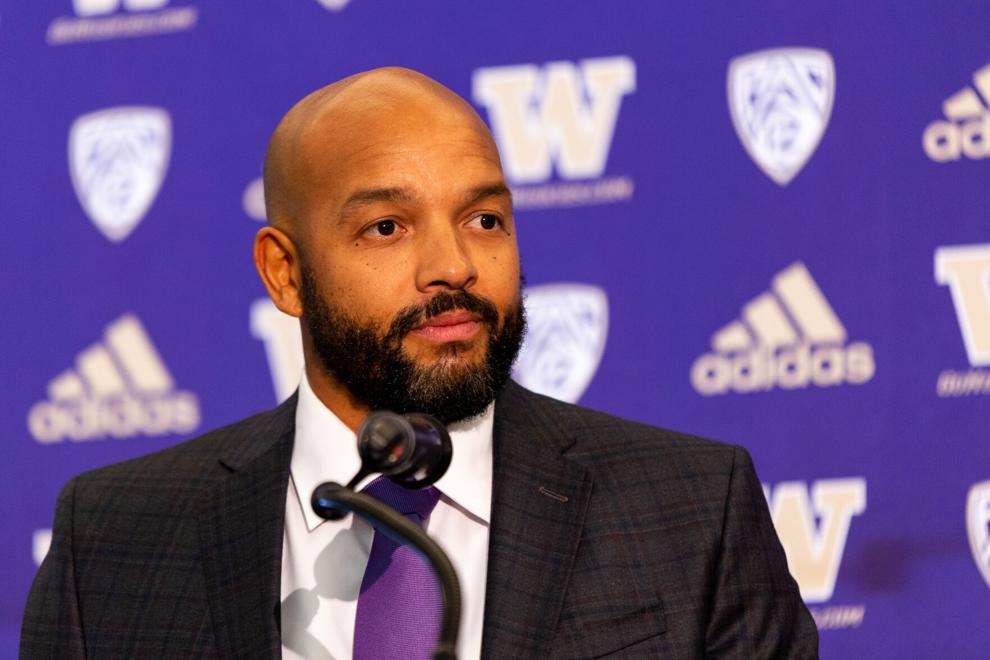 Washington head football coach Jimmy Lake has been fired, UW Director of Athletics Jennifer Cohen announced Sunday, Nov. 14.
After being promoted to head coach from assistant coach to replace Chris Petersen on Dec. 2, 2019, Lake lasted just 13 games as head coach. He was suspended for the Arizona State game Nov. 13 before ultimately being fired the next day.
Defensive coordinator Bob Gregory will serve as interim head coach for the final two games of the season. Gregory served as interim head coach during UW's loss to ASU on Saturday.
"I recognize that terminating a coach after just 13 games is unusual," Cohen said. "Quite frankly, it certainly goes against my belief as an administrator. However, when I know something is not working, or when I know something just isn't right, I do have an obligation to act."
Lake was signed to a five-year contract, and UW owes him the remainder of his buyout —  $9.9 million — through the end of the 2024 season.
"No one wanted Jimmy to succeed more than I when I hired him in 2019," Cohen said. "But ultimately, this change is necessary for a variety of reasons, both on the field and off. I am grateful for Jimmy's service to Washington, and we wish him the very best of luck moving forward."
The Huskies (4-6, 3-4 Pac-12) have underperformed on the field in 2021 and are at risk of missing a bowl game for the first time since 2009, but Lake's firing was ultimately sped up by his actions during Washington's rivalry meeting with Oregon on Nov. 6.
Lake struck and shoved a student-athlete — redshirt freshman linebacker Ruperake Fuavai — on the sideline during the first half of the Huskies' game with the Ducks. The interaction was broadcast nationally on ABC and quickly circulated on Twitter throughout the course of the game.
Lake declined striking Fuavai in the postgame press conference, saying that he separated him from an Oregon defender, and did not strike him. Following the conclusion of the game, Cohen said that the university was investigating the incident.
On Monday, Nov. 8, Cohen announced that Lake would be suspended without pay for one week, including UW's game with ASU.
A university spokesperson declined The Daily's request for a quote from UW President Ana Mari Cauce on Monday regarding Lake's suspension.
On Saturday, Nov. 13, The Seattle Times reported that it wasn't the first time Lake got physical with a player. Multiple witnesses reported that Lake shoved a player against a locker at halftime during a road game against Arizona on Oct. 12, 2019. UW trailed 17-13 at halftime and Lake became frustrated with the poor offensive performance, picking up and throwing wide receiver Quinten Pounds to a locker.
With Lake as head coach Washington went 3-1 in an abbreviated 2020 season, winning the Pac-12 North, but was ineligible for the conference title game because of a COVID-19 outbreak.
Despite the investigation of his sideline incident against Oregon and the 2019 allegations, UW terminated Lake without cause, meaning he will earn the remainder of his contract. Cohen described her conversation with Lake on Sunday afternoon as professional and informed him that the terms of his contract will be honored.
Cohen said that the decision to relieve Lake from his coaching duties was a different conversation from his suspension from last week.
"Those are two different decisions," Cohen said. "We had an incident, we needed to evaluate it quickly and we needed to take action. We have consequences for behavior like [the UO game]. The decision to terminate [Lake] was a completely different decision based on a holistic review."
In the nine games that Lake coached this year, Washington went 4-5 and won just one of its games by more than one score. The season began with a loss to Montana, the Huskies' first loss to the Grizzlies since 1920, and UW's first-ever loss to an FCS team.
Washington struggled offensively under Lake. UW failed to score a touchdown in eight of its 26 halves of football across the past two seasons with Lake at the helm and scored less than 30 points in seven of nine games this season.
Despite being tied for first in the Pac-12, allowing opponents to score just 21.2 points per game, UW had a hard time keeping opponents off the field this year with one of the worst run defenses in the nation.
Under Lake, Washington did not defeat a team with a winning record and finished 7-6.
Cohen said that the search for a new football coach begins immediately.
"We are wide open for who we seek as the next head coach, and I'm confident that we are going to have a strong and diverse candidate pool," Cohen said. "I will also be relying on a small group of advisors as we embark on this journey."
Reach Sports Editor Anthony Edwards at sports@dailyuw.com. Twitter: @edwardsanthonyb
Like what you're reading? Support high-quality student journalism by donating here.