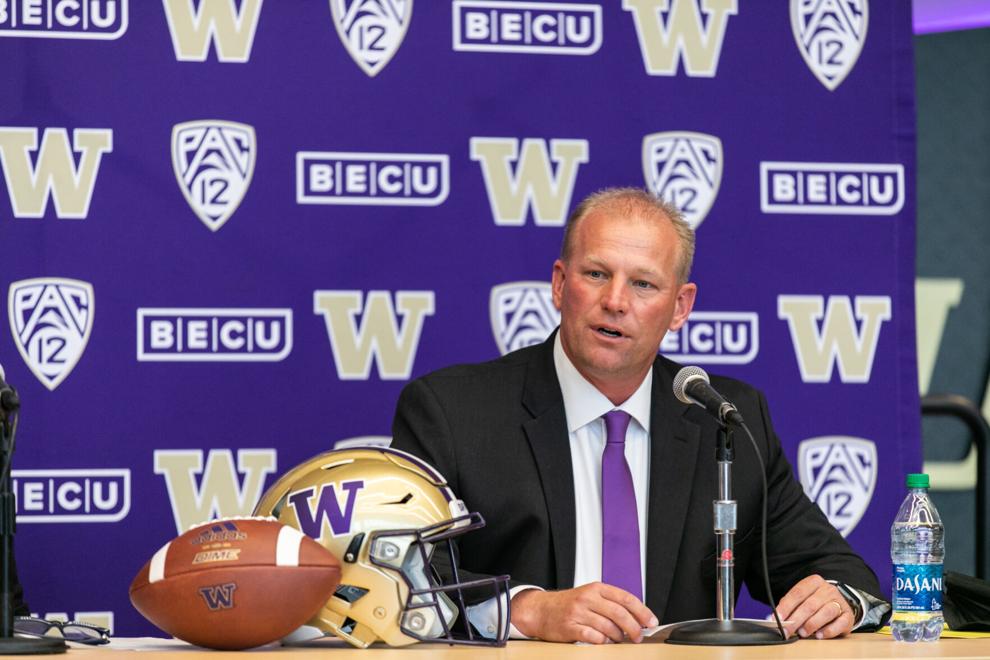 On Tuesday morning, Kalen DeBoer was introduced as the 30th head coach of the Washington football team. Here are three key takeaways from Tuesday morning's introductory press conference with DeBoer and UW Director of Athletics Jennifer Cohen.
Offensive focus
It's no secret to fans that the Huskies have been seriously lacking on the offensive side of the ball these last two seasons. DeBoer, an offensive-minded coach, will be looking to fix that.
"I'm an offensive guy," DeBoer said. "Attacking and explosive is what I'd like to think we're going to be."
DeBoer has called plays in 20 of his 22 years coaching football; while it is still unclear whether he will call plays at Washington or not, it is clear that offensive success follows DeBoer wherever he goes. 
The quarterback will be the focus of DeBoer's offense. At Fresno State, DeBoer helped former UW quarterback Jacob Haener become one of the best quarterbacks in the Mountain West Conference. It will be especially interesting to see what DeBoer can do with talented former five-star recruit freshman Sam Huard next season.
Winning the recruiting battle 
Recruiting is important to any program, but it will be vital to DeBoer's success in his first two years at UW. Washington has already fallen behind Oregon in recruiting, and with former Oklahoma coach Lincoln Riley now at USC, DeBoer and UW must be aggressive if they hope to not fall further in the Pac-12 recruiting rankings. 
"The recruiting plan itself starts with me," Deboer said. "We gotta keep the Washington kids at Washington."
In the past few years, the Huskies have been unable to get top local prospects to play at Montlake. Five-star players J.T. Tuimoloau and Emeka Egbuka, both of whom committed to Ohio State, are two prime examples of local prospects escaping from under the thumb of the Huskies. Keeping local prospects in state will be key to DeBoer's success in recruiting.
DeBoer knows that he can't do it all himself, and surrounding himself with a staff that can will be the first step in winning in recruiting. Asked when he and his staff will begin recruiting, his answer was simple.
"It starts immediately," DeBoer said.
Building out the coaching staff
A quality coaching staff is one of the most important factors to a head coach's success. DeBoer knows this, and will spend his early time at Washington building out his coaching staff.
"I'll be very diligent in putting together a great staff, and first and foremost a staff that can recruit," DeBoer said. "We've got to bring the best to this program; we've gotta get the best players and the best character — guys that have a very high importance placed on academics. There is a piece to when you perform well in the classroom, you perform better on the football field as well. It's not all about the best athletes."
Expect many of DeBoers assistants at Fresno State, especially those on the offensive side of the ball, to follow him to Washington. Although he did not name any names, DeBoer seemed certain that there would be assistants from Fresno State.
"There will be some pieces from Fresno State who come here with us, and I wouldn't want it any other way," DeBoer said.
Fresno State offensive coordinator Ryan Grubb is one such coach expected to follow DeBoer to Washington. Any uncertainty on who will be coaching under DeBoer will be cleared up in the coming days and weeks as he gets to work building his staff. 
Reach reporter Nick Lombroia at sports@dailyuw.com. Twitter: @lombroia
Like what you're reading? Support high-quality student journalism by donating here.