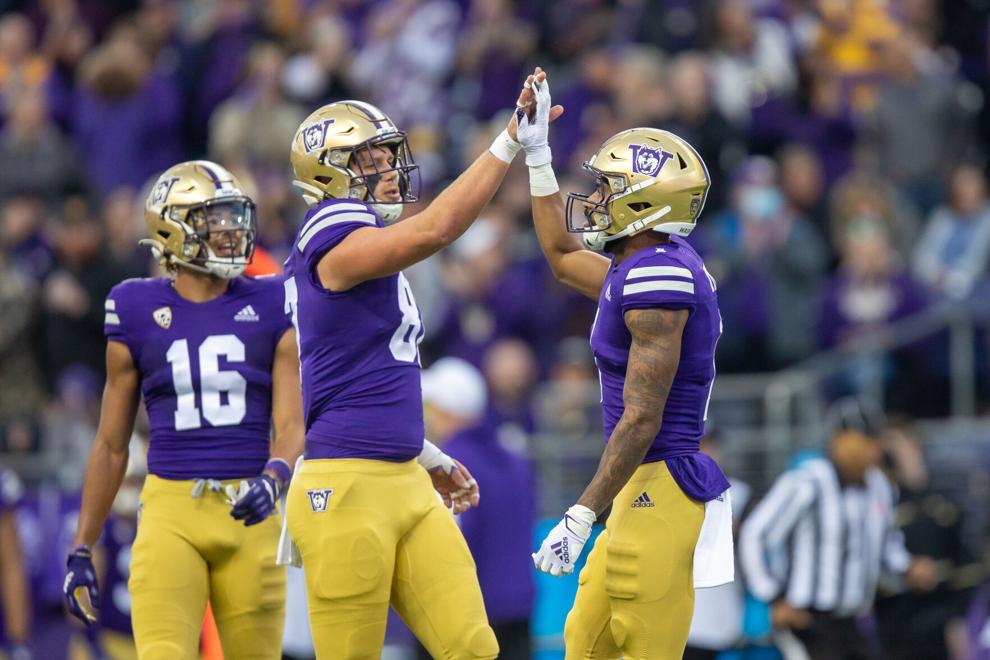 Sitting with a 2-4 record halfway through the season, the Washington football team has some assessing to do.
In 10 games under head coach Jimmy Lake since the start of the 2020 season, the Huskies (2-4, 1-2 Pac-12) have not defeated a team with a .500 or better record. UW has struggled to create explosive plays on offense and its defense cannot stop the run.
Despite the negatives, Lake's Huskies have had the chance to win every game they have played, outside of a 31-10 thrashing at the hands of Michigan in September.
"If you go back to the last two games, we're one, two plays away from being 3-0 in conference," Lake said. "And so we're close, and we've got to keep working, we've got to keep getting better and make sure we can change those results."
Lake said his team is just a few plays away from a 5-1 record, but in reality, the Huskies shouldn't just be one play from beating the teams they've played, they should be handling them with ease.
The talent gap between Washington and two of the teams it has lost to — Montana and Oregon State — is significant. Furthermore, before this year's losses the Huskies hadn't dropped a game to the Grizzlies since 1920 and the Beavers since 2011.
Last year the Huskies were able to win two of their three one-score games. This year is another story, with three of UW's four losses coming by seven points or less.
No matter how much Lake thinks his team can grind out close games, the formula is unsustainable. UW is going to win about half of its one-score games, and that's the reality.
Something needs to change for Washington, and its matchup against a lowly Arizona side that has lost 19 straight games serves as a perfect opportunity.
Washington will try to get back on track against an Arizona team that has struggled to score points and run the ball this season. The Wildcats (0-6, 0-3 Pac-12) have the worst offense in the country and have scored just 14 points per game this season, the fewest in college football.
UW's run defense is the second-worst in the Pac-12 this season, allowing 189.3 yards per game, while Arizona averages just 114.7 rushing yards per game.
But teams that have defeated Washington this season have found success on the ground, and Arizona might be able to do the same if the Huskies don't make a change.
Offenses are running the ball 40 times per game against UW this season, six more attempts per game than the past three seasons. Washington has prided itself on preventing big plays for many years, but with teams running more frequently it might be time for UW to make a change defensively.
"You just see the nature of our conference changing, and really college football," Lake said. "We've noticed it's been changing. You're just not seeing the completely wide-open spread attacks very much, you're seeing more of a run-based attack. As defensive coaches, you've got to be able to react, because we have to deploy what the offense is trying to do to us, and we've got to be better."
Some possible changes for UW might be bringing its safeties closer to the line of scrimmage or playing an additional down lineman rather than five defensive backs.
Just like its defensive issues, Washington's offense has also suffered due to its own stubbornness.
Rather than attacking their opponents' weaknesses, the Huskies have tried — unsuccessfully — to stick to conservative play calling, running between the tackles and not throwing far enough downfield.
One option for UW's offense could be to hand the ball off to senior Kamari Pleasant more frequently. Pleasant is averaging 6.9 yards per carry this season, far better than the team average of 3.4 yards per carry. 
In the past two games, Pleasant has provided a spark for UW's offense, especially in the second half. Against UCLA last Saturday Pleasant broke off a 32-yard rush in the third quarter, the second-longest rush of the season for Washington.
Throwing the ball has been a problem as well for the Huskies. Redshirt freshman quarterback Dylan Morris' touchdown to interception ratio is 8-8, and his completion percentage sits well below the national average at 60%.
Washington has been much more successful this season in three receiver sets when junior Terrell Bynum and freshmen Jalen McMillan and Rome Odunze are all on the field, spreading defenses out and giving Morris more options to work with.
"A 2-4 start is less than ideal, but we know that there's six games left, and that's what we are looking forward to," Odunze said. "We just want to play to the best of our abilities, and we know if we do that we can come out with some victories in these next six."
Friday, Oct. 22 will serve as the Huskies' best opportunity to turn the season around when the team heads to Tucson for a 7:30 p.m. matchup with the Wildcats.
Reach Sports Editor Anthony Edwards at sports@dailyuw.com. Twitter: @edwardsanthonyb
Like what you're reading? Support high-quality student journalism by donating here.