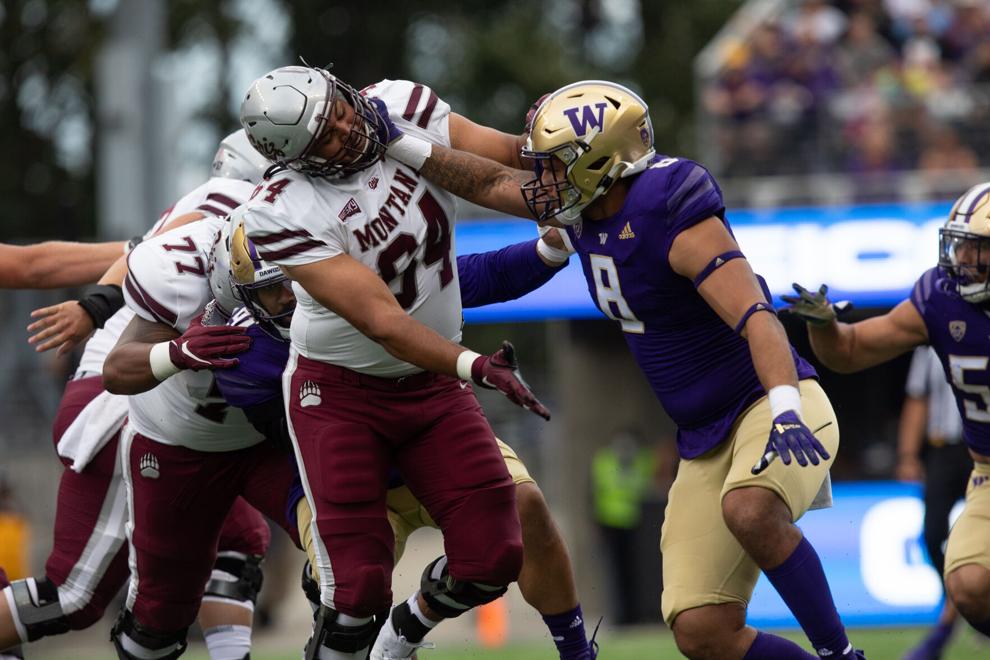 Washington has a great pass defense.
For years, the Huskies have produced NFL talent in its secondary at a rate unmatched by any other team in the Pac-12.
This year is no exception. The Washington football team is ranked fourth in the nation against the pass, allowing only 123 yards per game in the air. 
But no matter how great the Huskies' pass defense is, the team can only be as good as their weakest link: the run defense. Currently, Washington is ranked 93rd in the nation in run defense, allowing 172.7 yards per game.
For Washington's defense to get back on track as a unit, it needs everyone to work together and do their job. It's not just the front seven's job to stop the run, the defensive backs must come up and make an impact on the ground to prevent the big play.
"For the nickel specifically, you have run responsibility, and you have pass responsibility," junior defensive back Brendan Radley-Hiles said. "It's making sure in your run support you know what gap you specifically have, you see what you need to see so that you're able to get to that gap as fast as possible. Then once you're in the gap, it's having the mentality of making sure you go low, wrapping up and getting the ball carrier to the ground."
Knowing what you have to do and actually doing it are two separate things. Former Husky Elijah Molden was known for putting his body on the line to stop the running back. Against Cal this weekend, with their 230-plus pound tailbacks, all of Washington's defensive backs will need to play with that aggressiveness.
"They have those big backs, that's always something to take into consideration," junior safety Alex Cook said. "At the end of the day, it's football … [and] at a certain point you can't always drop back in coverage. You've gotta put your big boy pads on, put your working hat on, and go hit something."
The blame for the lack of a run defense doesn't all land squarely on the shoulders of the defense. The Washington offense can actually help make the defense's job much easier.
"I gave our credit to the offense this last Saturday," head coach Jimmy Lake said. "The reason why we were able to get some turnovers and [Arkansas State] couldn't lean on their run game is because we scored points and we made it a game. The first couple of weeks we did not do that."
It's simple. If Washington makes the game a shoot-out then the opposing team won't be able to run the ball as much. If Washington falls behind early, then its opponent can run the ball and break away long runs.
Going against the Bears, a team that has gotten off to hot starts in all three of their games — and also has a very good running offense — the UW defense will need to do its job. On paper, Washington's front seven is built to stop the run, with tons of talent and good size across the depth chart. All that's left is figuring out the best possible rotation and actually doing the job.
"Throughout the week you watch our guys practice, if they earn those reps in practice then I'm going to give them those reps," defensive line coach Rip Rowan said. "I also like to keep those guys somewhat fresh for the second half of football games. If they earn it in practice and practice hard, then those guys will play. I'm a true believer in that."
Offensive line working on improved communication
On the opposite side of the ball, the Huskies' offensive line needs to show up in order for their own run game to have any type of success.
Coming into the season, the UW offensive line was looked at as one of the strongest parts of the team and one of the best units in the country.
The Huskies' offensive line could not have worked any worse through the first two games, paving the way for a running game that averaged just 1.9 yards per carry in the first two weeks, and not a single rushing score by a tailback.
Against Arkansas State, things looked much improved. The line helped lead Washington to 200 yards on the ground including three rushing scores.
"It was disappointing, we pride ourselves in being a great unit," left guard and junior Henry Bainivalu said. "I think that we've learned a lot from those first two games, and last week was a good first step, but there's still so much more we can do, and I'm really excited to see how the rest of the season goes."
Against Montana and Michigan, Washington ran for a combined 115 yards on the ground. The running backs on the Huskies had no holes to go whenever they touched the ball, signaling that the offensive line was failing to do their job.
Throughout the first two weeks of the season, Washington's offensive line was in disarray at times, taking bad penalties and missing assignments. While a number of explanations for this can be had, the main one is a lack of communication.
"The biggest thing was communication, it's what we were definitely lacking there," offensive line coach Scott Huff said. "That goes back to me, and [I] thought we took a real positive step last week, [so I'm] hoping we get back on track."
Communication is central for an offensive line, calling out blocking assignments and helping to point out defensive schemes for the quarterback. Washington's offensive linemen took notice of some of these issues and have been working to fix them.
"Definitely feel there's a lot that I need to improve upon," Bainivalu said. "I haven't played my best football by any means, and there's a lot more that I need to do to be better for the team. I need to be more physical, have better feet, and have a better punch. Those are the things I feel I need to work on the most.
From the Montana game to the Arkansas State game, Bainivalu feels that he's made good progress, and that the offensive line as a whole is improving every day. This Saturday against Cal is going to be a big measure of how far they've come as a unit.
Reach reporter Nathan Mathisen at sports@dailyuw.com. Twitter: @NathanMathisen
Like what you're reading? Support high-quality student journalism by donating here.