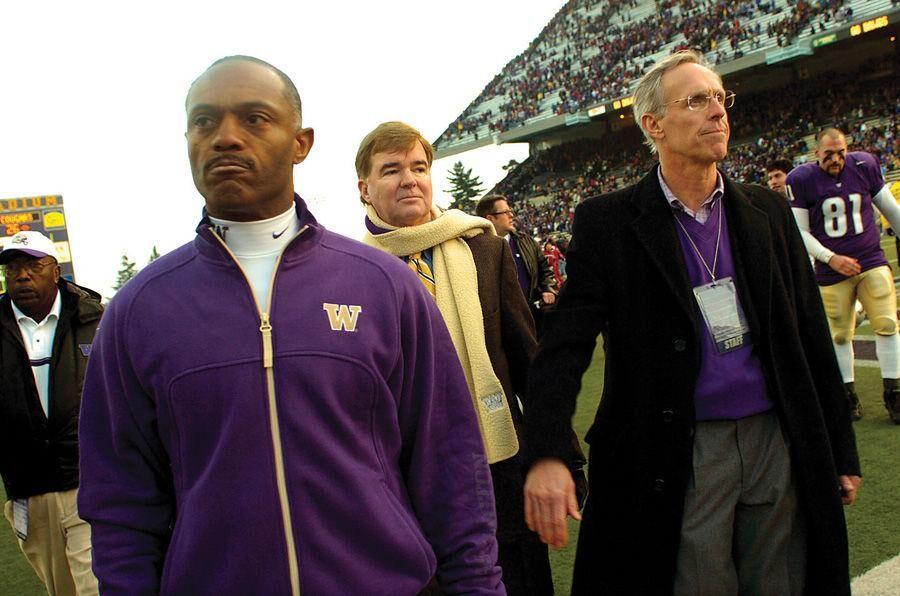 Since the founding of the Pacific Coast Conference in 1915, the Washington football team has started winless across its first two games of a season 14 times, with the most recent of those coming in 2008 when the UW went 0-12 in the worst season in school history.
After scoring just 17 total points in an 0-2 start to the 2021 season — their fewest to open a season in 57 years — the Huskies hope to snap the losing streak this weekend. Before Arkansas State comes to town, it's time to take a look at all of the 0-2 starts in Washington history.
1939
After the Pacific Coast Conference was founded and Washington started playing other universities more frequently, the UW did not start a season 0-2 until 1939 in the second season under head coach James Phelan.
Washington began the year with two home games, to Pittsburgh and UCLA, but was unable to score more than a touchdown in either games, scoring six against Pitt and seven against UCLA for the worst start in school history up to that point. The Huskies lost their first four games, but managed to scrap out a 4-5 record.
1941
Phelan's Huskies had another poor start in 1941, which proved to be his last season at the UW. Washington opened its season with a loss to Minnesota, the eventual national champions.
A close 6-9 loss in week two to Oregon State was followed up by a win in week three when Washington defeated cross-state rivals Washington State to help propel itself to a 5-4 season.
1946
The Huskies did not fare well to start seasons under head coach Ralph Welch. The first 0-2 start came in 1946 when the UW lost at home to St. Mary's, 20-24, before being blown out by the eventual Pacific Coast champions UCLA.
Washington was able to win its third game and finished with a winning record at 5-4.
1947
Welch suffered more in 1947 in what would prove to be his last season as head coach.
A poor season of offense, including just 13 points in the first two games, was the biggest problem.
After avenging its previous season loss to St. Mary's in its third game, Washington won just twice more and finished 3-6.
1953
Another Washington head coach struggled to start off on the right foot when John Cherberg kicked off his tenure as the Huskies' head coach in 1953.
The Huskies lost a close game to Colorado at home, 21-20, before being embarrassed by Michigan on the road, 50-0.
Washington again won its third game, 28-0 to Oregon State, but finished 3-6-1 and seventh in the Pacific Coast Conference.
1963
Heading into the 1963 campaign, Washington was ranked 10th in the nation, but struggled to find its footing, losing its first three games to Air Force, Pittsburg, and Iowa without scoring more than one touchdown in any of the games.
A poor start did not derail the Huskies too badly, as they won their following five games, finished the regular season 6-4, before losing in the Rose Bowl.
1969
In the first season of the Pacific-8 conference, the 1969 season was one of the worst in Washington history.
To open the season, the Huskies lost nine straight times and failed to score more than 14 points in a game. The only saving grace for the UW came when it defeated WSU in the Apple Cup to close the season, saving the Huskies from going winless.
1973
The 1973 season was rough on the Huskies, who went without a win in the Pac-8.
In non-conference play, the UW did win two games, and nearly had two more, but lost its first two games by a combined five points to Hawai'i and Duke. Washington bounced back with a win in week two, but won just once more when it beat Idaho in the middle of conference play on its way to a 2-9 season.
1975
Washington fans familiar with the Don James era may remember nothing but greatness, but in his first season as head coach, James' Huskies got off to a slow start.
The UW struggled to score points in its first two games, being blown out by Arizona State and Texas, but bounced back with a close win against Navy, 14-13, in week two. The Huskies salvaged their season and finished 6-5, kicking off the James era in solid fashion.
1985
After a 1984 season in which the Huskies finished second in the polls and nearly won a national title, the 1985 season could not have started any differently.
Washington opened its season with a home loss to Oklahoma State, then followed that up with a horrid 31-3 loss to BYU that had major implications, considering the Cougars finished just ahead of the Huskies in the polls the prior season.
Despite the rough start, Washington won its next four games and finished 7-5.
1999
After 13 seasons of no 0-2 starts, the Huskies began Rick Neuheisel's tenure as head coach with a close road loss to BYU, then dropped another close game at home to Air Force.
Washington then won its third game to give itself momentum and finish the season 7-5.
2004
To begin the worst five-year stretch in Washington history, the Keith Gilbertson-coached Huskies lost their first four games in 2004, beat only one opponent, non-conference foe San Jose State, and finished Pac-10 play at 0-8.
The UW defense struggled, allowing teams to score more than 20 points in all of its losses, including the opening two games where it surrendered 72 total points to Fresno State and UCLA combined. 
2005
Opening his coaching tenure at Washington, Tyrone Willingham nearly squeaked out a win against Air Force in the season-opener, but was defeated 20-17.
Willingham had a losing record for the remainder of his games as the Washington coach, including in week two when the UW lost 37-20 to No. 15 Oklahoma.
2008
The 2008 season served as the low point in Washington football history when the Huskies went 0-12, the only winless season in school history.
Despite the horrid season, Washington nearly had a win in week two against BYU.
Quarterback Jake Locker scored late in the game to bring the score to 28-27, but was called for excessive celebration, moving back the game-tying extra point. The kick was blocked and gave the Cougars a victory and sent the Huskies spiraling.
Reach Co-Sports Editor Anthony Edwards at sports@dailyuw.com. Twitter: @edwardsanthonyb
Like what you're reading? Support high-quality student journalism by donating here.