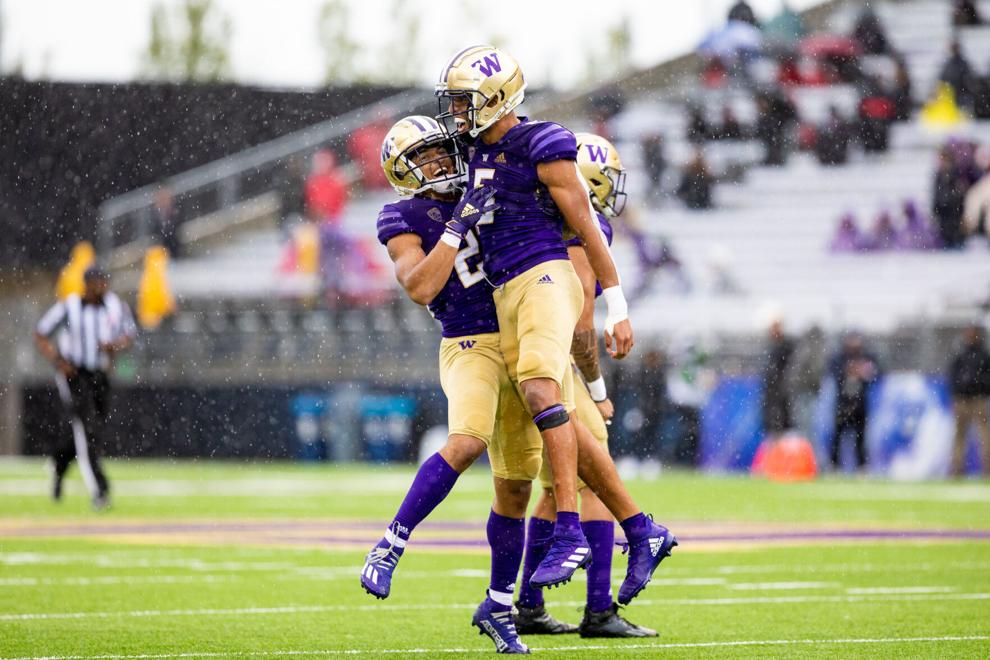 Trent McDuffie is big on time. It's the first thing he'll say when describing himself.
With aspirations of playing in the NFL constantly on his mind, college football was never McDuffie's end goal. College was always going to be about developing himself into the best product in as little time as possible. 
McDuffie didn't know how valuable his time with Washington would be until he stepped into the locker room on day one.
The first thing he saw as a freshman when arriving at Washington was the number 22 hanging above his locker. It was the same number his brother Tyler had worn playing football as a child.
When McDuffie was in eighth grade, Tyler passed away. Ever since then, McDuffie has spent his life valuing every moment on and off the field, with both family and football.
Whether it was coincidence or fate, McDuffie knew that from that point forward, the importance of family would continue at Washington, wearing the number 22, just as Tyler had.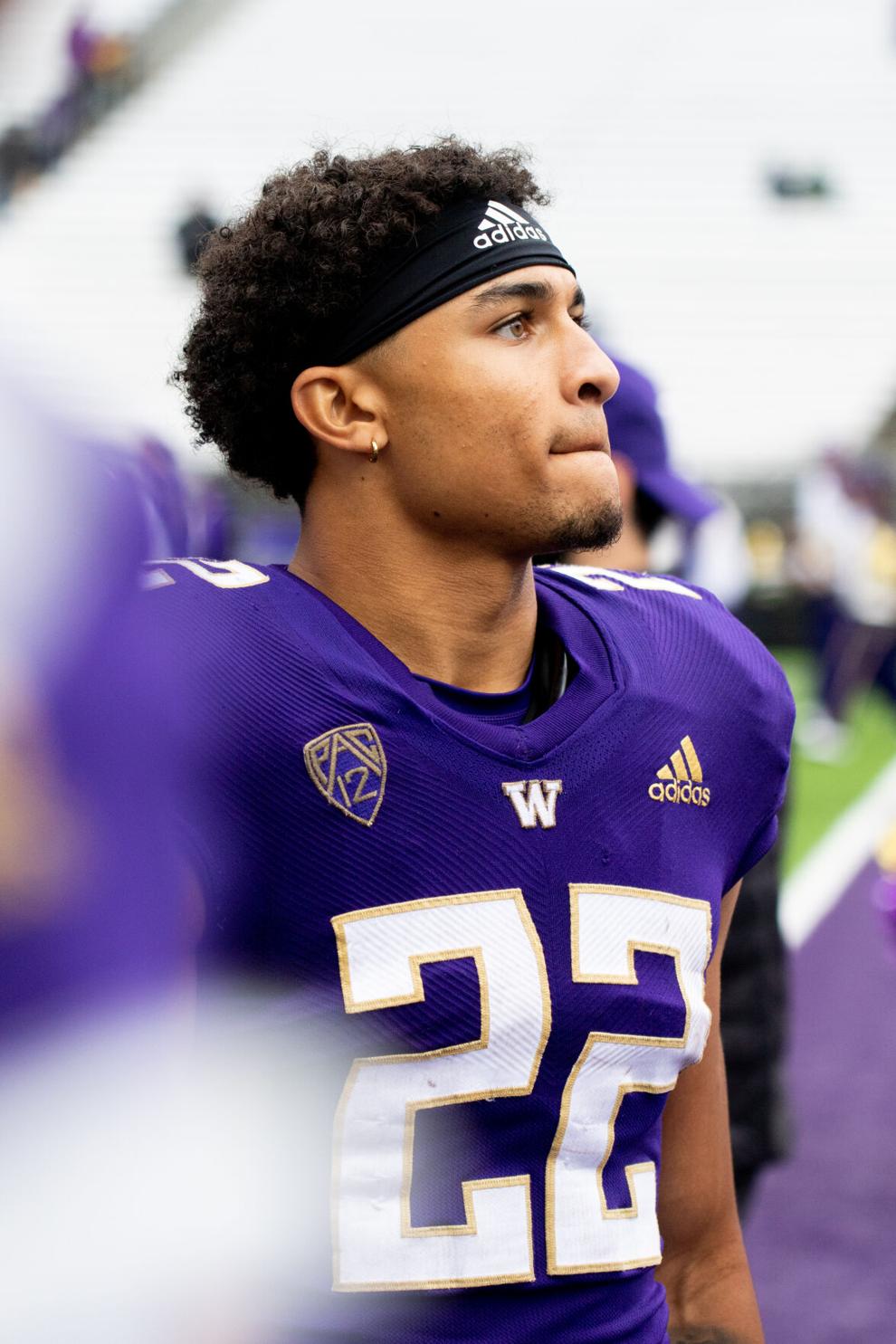 "When I first got here and I saw my locker, it was a feeling that I knew that I chose the right place to be," McDuffie said. "I went through a lot and I made the right decision for myself and the future."
Before that day in the UW locker room, McDuffie had much to consider as a senior at St. John Bosco High School in California, with offers coming in from several colleges.
Despite being recruited by some of the nation's top schools, including USC, Alabama, and Notre Dame, the UW's history of producing NFL talent on the defensive side of the ball was the biggest reason McDuffie took his talents to the Northwest.
"Washington was really high up on his list from the outset because of the relationship he had developed with coach [Jimmy] Lake when he was the secondary coach," St. John Bosco head football coach Jason Negro said. "At the time, I thought it was the perfect fit for him."
With a long list of former Huskies in the NFL, the chance for McDuffie to follow that same path was eye-opening, but the decision to leave his family in Westminster, California and head to Seattle was not easy. Lake made the process all the more simple, knowing the opportunity that awaited McDuffie.
"He's like my dad away from home, and someone that I can lean on when things get tough and call if I need anything," McDuffie said. "He's always been that person that really cares. Over [the pandemic] especially, he's always that guy [that] when things are in doubt or when things get shaky or whatever happens, I always know I can lean on him and look at him for positivity and know that I'll be OK."
Although McDuffie emerged with high accolades out of high school, he didn't make his mark immediately at Washington.
During his first two games with the Huskies, McDuffie came off the bench behind fellow defensive back Kyler Gordon. But by week three, he won a starting role — as well as the hearts of the UW coaches— with his faithful play.
By the end of the regular season, McDuffie was already drawing grand comparisons for his impressive performance. In the final game of the regular season against Washington State, McDuffie recorded his first collegiate interception, returning the ball back for 29 yards in an Apple Cup win.
Two years later, it remains McDuffie's favorite memory at Washington.
"After the Apple Cup game, and seeing how the city loves UW football and the energy they brought and everything that just played out and unfolded in the Apple Cup, it just solidified that this is where I'd like to be," McDuffie said.
Now in his third season in the purple and gold — and possibly his last if NFL projections remain on track — his time at Washington may be coming to a close.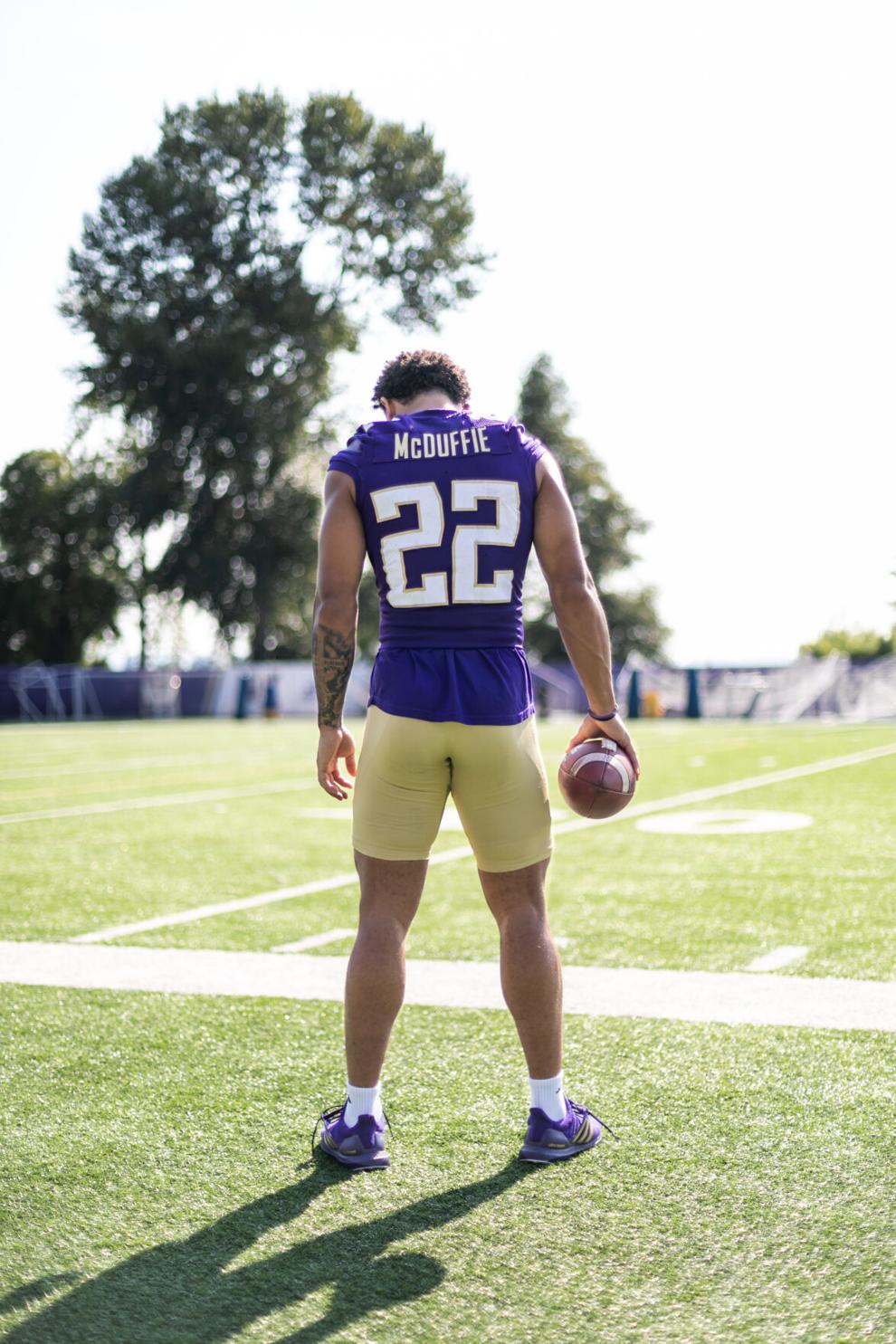 But this season, McDuffie is not only letting his play speak for itself. He is also emerging as one of the key leaders of the Washington defense.
"He's an incredible athlete," sophomore defensive back Asa Turner said. "He came in confident, but he's become a confident and vocal leader, not just for the defense, but for the whole team."
As Turner alluded to, McDuffie's leadership has impacted not only the secondary, but the entire defense. When asked to identify a key leader, sophomore defensive lineman Sam Taimani was quick to point out three: junior Brendan Radley-Hiles, sophomore Edefuan Ulofoshio, and McDuffie.
"Trent, that dude is a beast," Taimani said. "Those guys, the energy they give off, it just makes us want to play our best game."
Similar to how he makes his teammates play their best game, it's McDuffie's brother that makes him play his. Along with the number plastered across his jersey, McDuffie honors his brother with a number 22 chain and tattoo on his arm.
What's next in line for McDuffie is embracing that leadership role, as the Huskies look to emerge from the depth of a disappointing 2-3 season, and passing on what he's learned, both from family and football.
"The kids that are most successful in life are the ones that allow themselves to be educated and coached in a hard way," Negro said. "Trent's family has done a phenomenal job on raising a very good young man. The way that he operates and performs in his life is the same way that he operates and performs on the field. And that, ultimately, what is most impressive to me, is how willing he is to learn and take to teaching."
Reach Sports Editor Anthony Edwards at sports@dailyuw.com. Twitter: @edwardsanthonyb
Like what you're reading? Support high-quality student journalism by donating here.