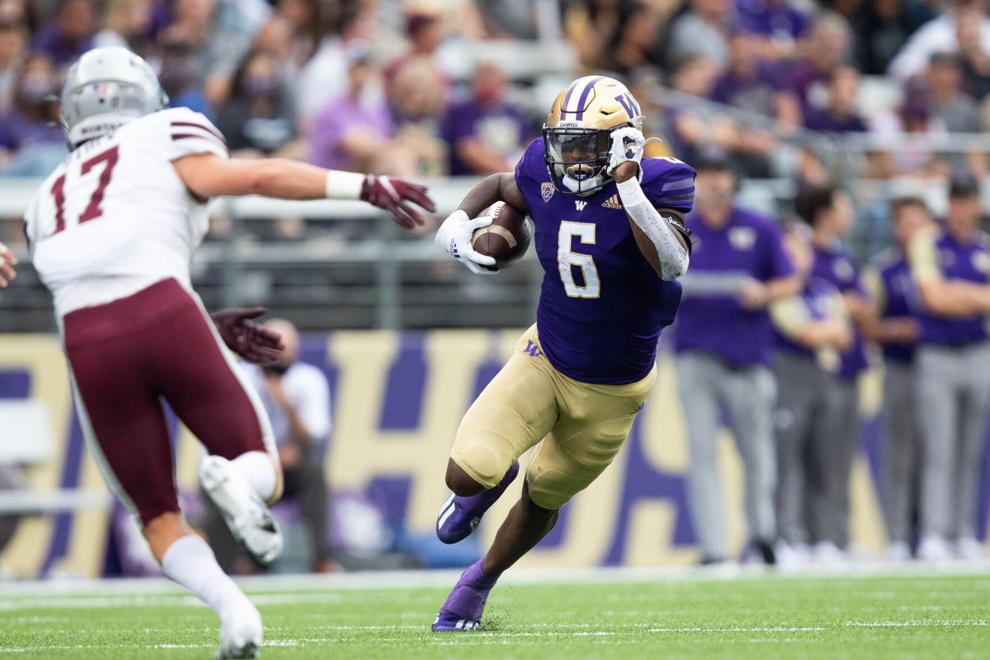 If the Washington football team is going to salvage this already disastrous season, the time is now.
The fan base has already lost all confidence in the program and has been calling for Washington to fire everyone from head coach Jimmy Lake to offensive coordinator John Donovan, all the way up to the athletics director Jennifer Cohen.
What the Huskies can't afford to happen is for their players to lose confidence. However, Lake doesn't believe the team is even close to that happening.
"We have a bunch of tough football players on our team," Lake said. "Their confidence level is high because they know they haven't played their best football yet. They've watched the film… Our best football is still yet to come. I know they're excited to go out there and show what they got."
Lake is right; the coaches and players understand the best is yet to come and have not been deterred by the poor start.
"I feel like we will be alright and everyone has strong mindsets and no one's given up on us, as far as the team," sophomore running back Richard Newton said. "It's only up from here, it's only up from here."
In order to improve and start winning games, the first thing that the Huskies must do is figure out how to fix their struggling offense.
Across two weeks of play, Washington has put up only 17 points and has had a run game that's been ineffective, running the ball for 65 yards against Montana and 50 yards versus Michigan. To fix this, the Huskies are going back to the drawing board.
"Obviously when things don't go the way you want, you get back to the drawing board, you figure out where you made your mistakes or what we can tighten up and go from there," wide receivers coach Junior Adams said. "Also when there is some form of struggle, there's positives that do come out of it and build on that."
The offense isn't the only issue, as the Washington run defense has also been an area of concern, not just this season, but  last season as well, where the UW allowed three opponents to rush for more than 167 yards.
Clearly Washington didn't fix that in the offseason, as Montana rushed for 127 yards in the season-opener, while Michigan ran for 343 yards most recently.
Overall, the Huskies haven't played their best football and will be looking for ways to improve. 
Unlike the run defense, the pass defense has played stellar football through two games. The UW defensive backs will need to keep that up, with their biggest test so far against Arkansas State coming up.
The Red Wolves have the No. 1 ranked passing offense in college football, averaging 460 yards per game. Looking at Washington's pass defense, they are ranked No. 1 in college football, allowing an average of only 74.5 yards per game.
Something is going to have to give, and if it's the Huskies pass defense, then the UW offense is going to have to keep pace — something Lake feels could happen any time now.
"It could happen right now," Lake said, in reference to how close the offense is to reaching its full potential. "There's no question, because we were just doing it coming out of training camp. It should have happened two weeks ago and it didn't, and that's on me."
One thing that has been blatant in the press conferences following the loss to Michigan is that everybody is taking responsibility for themselves and no one is pointing fingers.
"It's not just on [Donovan], this is on us as an offensive staff," Adams said. "We collectively got to get these guys some momentum going into this game and momentum coming out of this game and have fun. We're gonna stay positive and we're going to stick to the process… I'm very confident we'll figure this thing out."
A focal point for the Huskies has been trying to up the energy on the sideline. Washington has come out flat to start this season and a major reason for this has been traced to a lack of energy.
Against Arkansas State, Washington is going to want to create an atmosphere similar to the one in Ann Arbor, Michigan.
"It was a great atmosphere as you guys who attended could see," Lake said. "It probably would have been a lot better if we had made a few more plays and then it could have been a quite 100,000-plus. But we definitely didn't give them any reason to stop."
Now playing back home on Montlake in Husky Stadium, the Huskies will hope to give their fans something to finally start cheering about this Saturday when they host the Red Wolves at 1:15 p.m.
Reach reporter Nathan Mathisen at sports@dailyuw.com. Twitter: @NathanMathisen
Like what you're reading? Support high-quality student journalism by donating here.