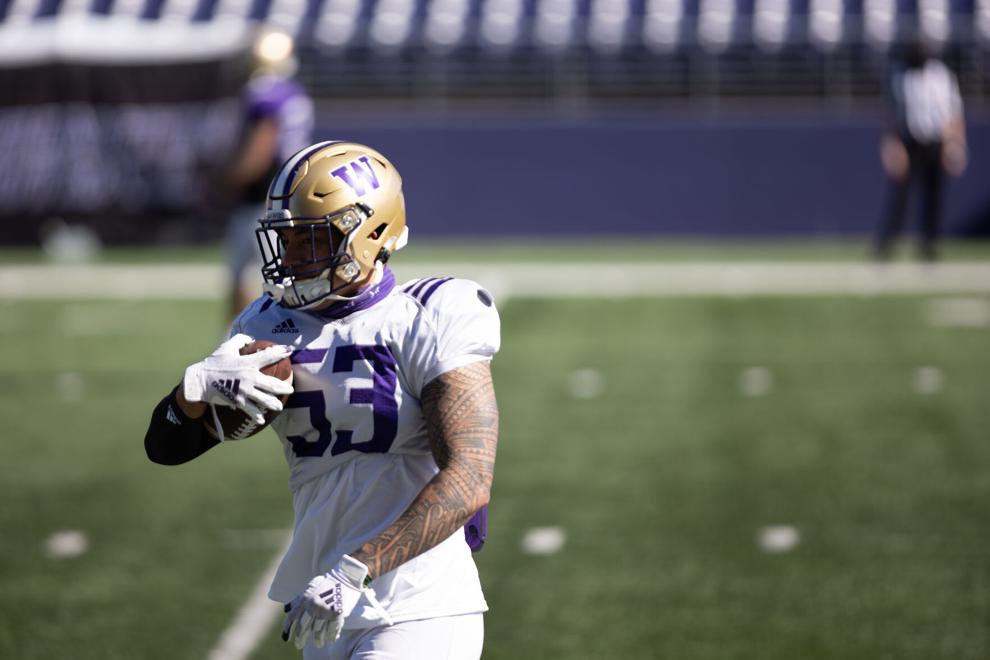 MJ Tafisi remembers Oct. 12, 2019, vividly.
The Washington football team was in Tucson to take on Arizona; midway through the third quarter, outside linebacker Laiatu Latu sprinted to his right in pursuit of Arizona running back Michael Wiley.
Lunging at Wiley's waist, Latu grasped his body, then landed on the ground in a heap.
But Wiley wasn't the only body that Latu landed on.
After the play, Latu stood up, immediately realizing that something wasn't right.
His friend and Washington teammate Tafisi lay motionless on the turf.
It would be the last football action the linebacker would take part in for the next six months.
Tafisi was knocked unconscious and transported to a local hospital, where he was diagnosed with a stinger, a common football injury caused by a pinched nerve that can vary in severity.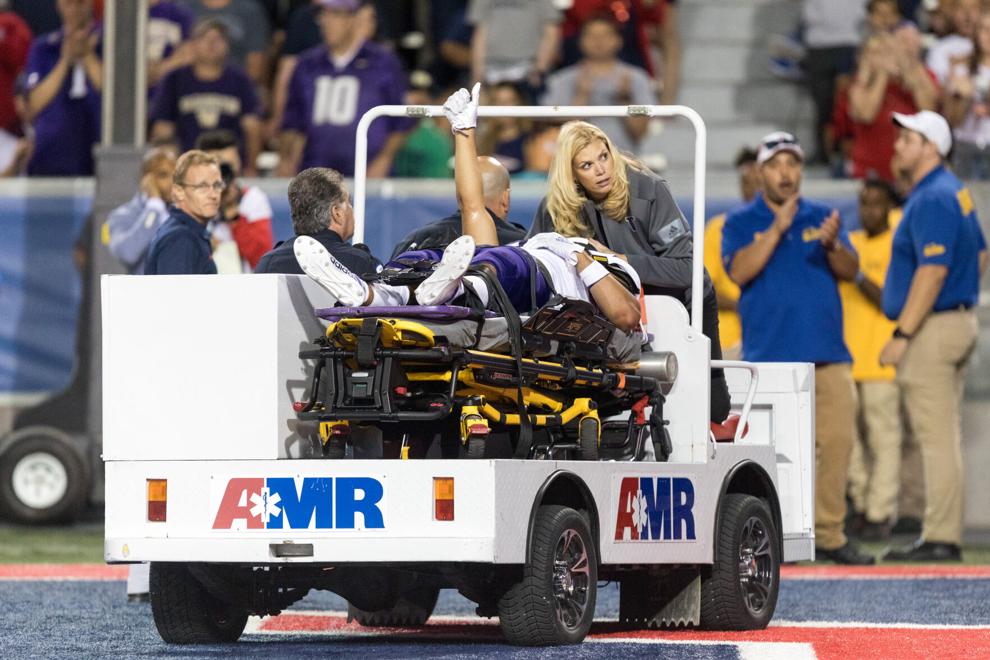 "I was terrified," Tafisi said. "I didn't think I was going to see the field again. I didn't have feeling at all — I lost all sensation in both my shoulders and my neck area for three or four months."
Nearly two years later, Tafisi is back on the field playing for the Huskies as they open their 2021 campaign. In preseason practices, Tafisi took reps with the first team on and off, displaying the confidence he has regained during his recovery. 
But this wasn't the first time Tafisi has had to overcome an injury during his football career.
During his junior season at Alta High School in Utah, Tafisi was on a tear. He recorded a career-high 200 tackles, 16 of which went for loss, as Alta made a deep run in the postseason.
Leading into the playoffs, Tafisi dislocated his shoulder just four days before Alta took the field. An injury that would normally take months to overcome, there was no doubt in the minds of both Tafisi or head coach Alema Te'o that he was going to miss the big game.
"Within four days he had it strapped up and he was out there ready to roll," Te'o said. "[He] played through the pain and helped us to a big win. He didn't want to come off the field and we needed him on the field to get it done."
Tafisi's efforts on the field helped Alta win the game and make it to the state semifinals, where they finished with an 11-2 record.
Following Tafisi's junior season, Te'o sent out the star linebacker's highlight film to his friend, then-UW defensive coordinator Pete Kwiatkowski. The Huskies, along with several other teams, began to take note, as Tafisi became one of the top 25 inside linebacker recruits in the country.
"What separates [MJ] is his willingness to get better every week," Te'o said. "Whether it is film study [or] technique, he was always willing to do everything physically, mentally, academically to make sure he was playing at a high level. That's what separated him, his work ethic, his attitude, and his approach toward the game; it was easy for me to identify him as a guy who was going to be a Division I player."
Following an impressive senior campaign, Tafisi took his recruiting trip to Washington, signing with the Huskies over offers from California, BYU, Boise State, and Colorado State.
Despite the relatively late commitment to the UW — just one month before he enrolled — Tafisi knew that he belonged at the UW, and Te'o's connection with the Washington coaching staff certainly helped Tafisi cross the finish line.
"Some guys think they love the game, but they don't know it till they get there, whether they love it or not," Te'o said. "MJ, he's loved being at UW since day one."
After playing sparingly during his true freshman year, Tafisi began to see more significant playing time in 2019, including a five-tackle performance in the season opener against Eastern Washington. Multi-tackle performances in four more games had Tafisi on his way to potentially earning a starting role, especially considering the struggles of other Washington linebackers — that is before his injury derailed everything.
Unlike his strap-up fix in high school, the road to recovery for Tafisi at Washington has been a long one.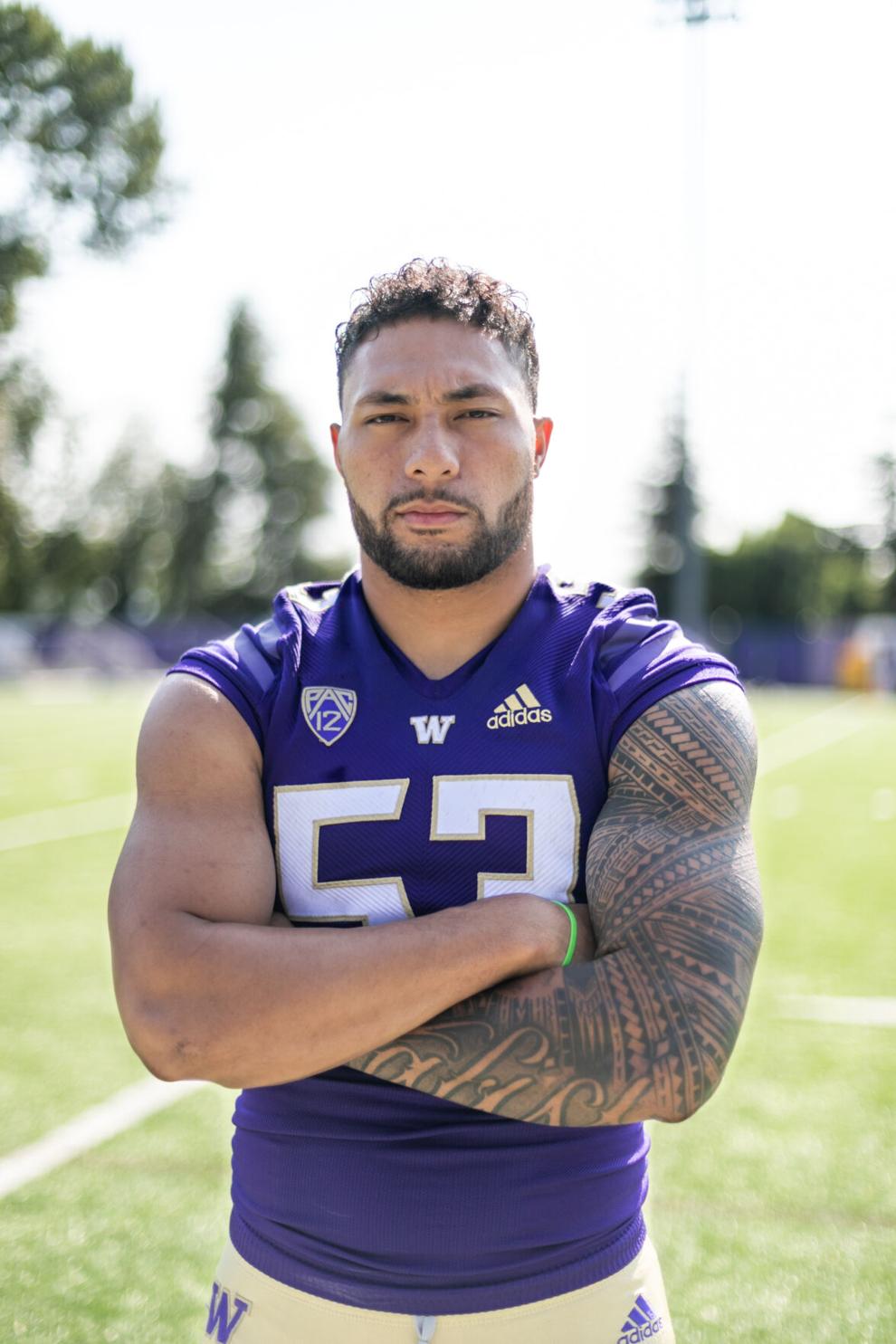 At first, he could barely lift any weight. Then Tafisi began trying to lift five-pound dumbbells over his head, slowly moving up in weight as the months went on, setting goals for himself as the rehab process progressed.
Even last season, when Tafisi played in all four of the Huskies' games, he didn't feel like his old self.
According to Tafisi, just a few weeks before the 2021 season during training camp was when he finally realized he had made it back to where he hoped to be.
"I threw my whole weight, testing if I could take it or not, and I hit him," Tafisi said. "It felt really good, and after that hit it made me feel like I could start doing it more and more."
But Tafisi isn't the same player he was before the injury; he's better, in the eyes of Washington head coach Jimmy Lake.
"He's flying around, he's fast, he's physical," Lake said. "I'm so proud of him, man. I still remember that play a couple years ago; you never want to see something like that, someone laying on the field like that. He's even faster now because he knows the defense better and he reacts better. He's like he was pre-injury, and then some."
If there's a player on the Huskies that displays the qualities of a hard-working football player, Tafisi may be the first person that comes to mind for Lake, who has continuously repeated his favorite phrase, "Practice execution becomes game reality."
All of that work Tafisi has put in has paid off, as he is one of the leading Washington defenders through two games, with six tackles. 
While some may have quit after their football career nearly came to a scary end, Tafisi's injury shone a light on the work ethic he has always displayed, both on and off the field.
"He's the kind of kid you want to coach," Te'o said. "You hope you get more kids like him. He had a great attitude, never missed a workout, never missed a practice. Talking about a guy who loves football, he loved to practice. That's one dude that, he just loved to practice, and it carried over to the game."
Reach Co-Sports Editor Anthony Edwards at sports@dailyuw.com. Twitter: @edwardsanthonyb
Like what you're reading? Support high-quality student journalism by donating here.