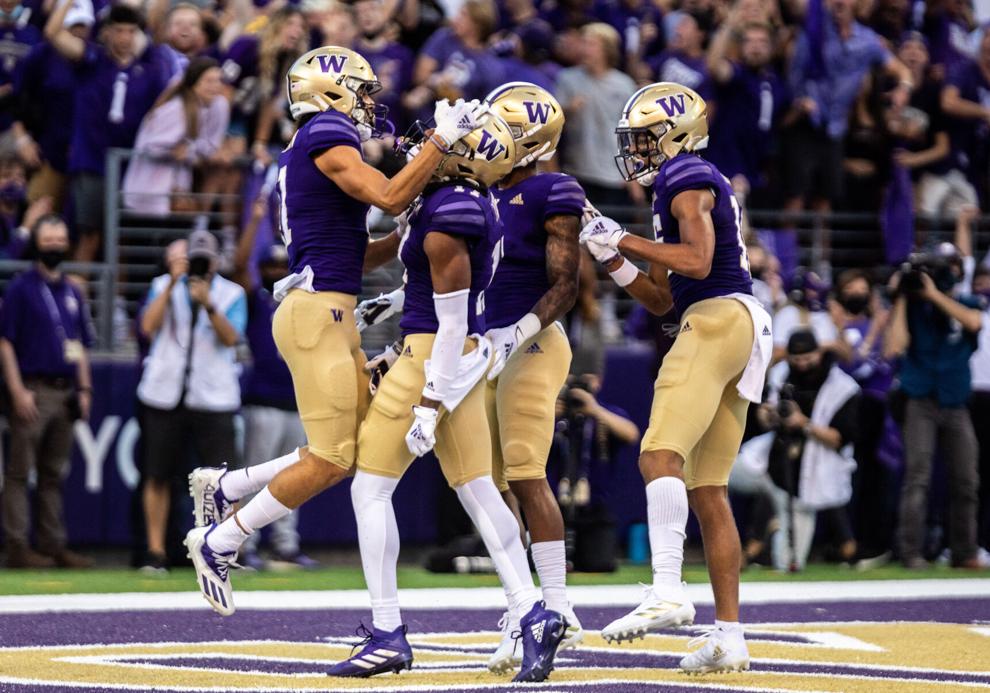 From redshirt to medical leave to starter in three seasons, the path of redshirt freshman wide receiver Taj Davis has been nothing short of unconventional.
As a three-star prospect out of Upland High School in California, Davis didn't see the field during his first two years with the Washington football team. But his patience has paid off in a big way through the first five games of the 2021 season.
The fireworks for Davis this season got underway in the very first week against Montana, where he racked up six catches for 59 yards in what was his first-ever start. With fellow wide receivers Rome Odunze, Terrell Bynum, and Jalen McMillan all missing at least one game this season, Davis took advantage of the increase in snaps, hauling in 17 catches through the first three games.
This year, the Washington wide receiver room has demonstrated the ability to respond to adversity and has shown that they possess a depth that many teams may not have.
"Look at Taj Davis right now, really consistent, playing hard, playing tough," wide receiver coach Junior Adams said. "In that room, it's not about one person, it's about the group and all those guys buy in. There's a lot of depth, a lot of competitive depth, and they compete with each other, they're very positive, they push each other, and it's a brotherhood in there."
A word that the wide receiver room has adopted under Adams is "ubuntu." Ubuntu means "I am who you are." All the wide receivers take it very personally and it is very strong within their position room.
During spring ball, however, Adams was not sold on whether Davis would be able to play a large part in this offense and be one of those players capable of finding their way onto the field during Saturdays.
"If you were to ask me after day eight of spring ball, I'd be like, 'I don't know how this is going to go,' I really didn't," Adams said. "I held him after a meeting and we had a good conversation. I told him what I saw and seriously on day nine, he's been rolling since day nine. He's gotten better every single day. He's taken the next steps as far as what we work on, as far as the drills and applying it to the skill portion of the game."
After that meeting, Davis felt like he flipped a switch inside his mind and really started to work harder and prepare in order to reach his full potential.
A big emphasis on the part of Davis following the meeting with Adams was setting goals for himself to strive to reach each day. By setting these goals, Davis has been speaking them into reality, as he continues to improve each and every day.
"It was [about] setting a goal for myself," Davis said. "I would just set a goal, if it was me being able to start running with the ones at fall camp then that was the goal. If it was me getting over five catches in the first game, or whatever the goal was at hand, I just set it, and everything I did I just put all my energy [into it] to accomplish that goal."
One goal that Davis is still trying to reach is having a 100-yard receiving game. Davis has gotten close, but through five games his highest yard total was in the game against Arkansas State where he had five catches for 94 yards.
But it wasn't just about setting goals; it was also about doing the work behind the scenes, whether it's going to the gym for longer periods of time, studying the playbook, or watching tapes more often.
"When you're a young guy, you have to learn the college game, not only physically, but mentally and learn a new system," offensive coordinator John Donovan said. "It just took him a minute and once he got it, now he's able to play fast and make the plays and allow his ability to take over. Him staying at it and grinding at it helped him."
With Davis opting out from the program in the 2020 season, he not only wasn't playing in games, but wasn't even around the team, as he was back in California with his family.
His time away from the team, though, helped him find who he was off the field. Davis credits that as something that has helped his performance on the field, as he can completely focus on football and block out all of the other noise and distractions.
"He's bigger, he's stronger, you can see he's more confident, he knows the plays, he's able to go out there and execute them," head coach Jimmy Lake said. "You can just see the growth and development that Taj has had since he's arrived on campus and we're really excited about his trajectory here moving forward."
Reach reporter Nathan Mathisen at sports@dailyuw.com. Twitter: @NathanMathisen
Like what you're reading? Support high-quality student journalism by donating here.