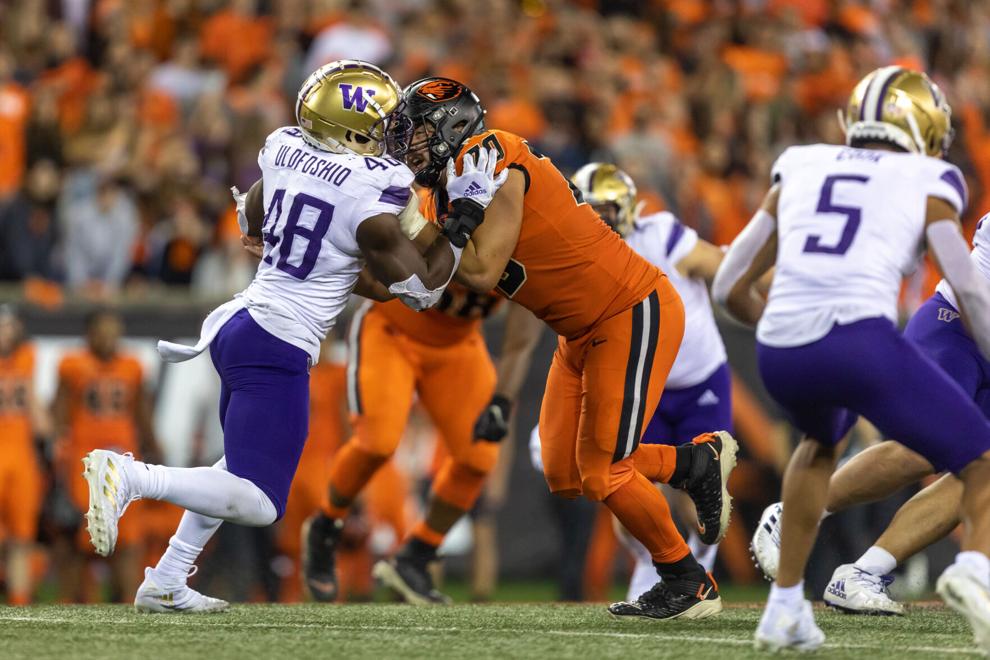 All season, the Washington football team has been unable to stop the run.
The Huskies' run defense is the third-worst in the Pac-12, giving up 179.6 yards per game. 
Saturday against UCLA might be UW's toughest test yet. The Bruins are one of the best rushing teams in the Pac-12, running for 217.3 yards per game this season, good enough for second-best in the conference.
"They've done a lot different, they're doing some different things schematics-wise that cause defenses problems," head coach Jimmy Lake said. "They have talented players, and a quarterback who can also hurt you with his legs, they present a lot of challenges."
UCLA also poses more of a challenge to Washington, given how dynamic the Bruins' ground attack is. Not only do the Bruins have two running backs that have each rushed for more than 400 yards this season, but they also have a dynamic dual-threat quarterback in Dorian Thompson-Robinson, who has accumulated 242 yards with his legs. 
"This week we're playing a really good quarterback, he's talented, he can run, and he's an athlete," sophomore defensive lineman Sam Taimani said. "We just have to stay in our rush lanes, not doing extra stuff, and covering each other when we have to." 
The Huskies have already faced multiple mobile quarterbacks this season, with differing results. The game against Cal was Washington's worst performance against a rushing quarterback, as they allowed Chase Garbers to run for 71 yards and a touchdown. 
Thompson-Robinson will be the best running quarterback the Huskies have faced so far this season and the most dynamic given the fact that he has also thrown for over 1,100 yards and 11 touchdowns.
"We've seen some mobile quarterbacks this year, with Cal and Arkansas State so we're kinda ready for that," sophomore defensive back Asa Turner said. "This is probably the best week of practice we've had this season from a defensive standpoint, we're continuing to grow this week, that's all we can do."
The Huskies have shown improvement in their run defense, but still have a long way to go as they face their biggest test yet against the Bruins. After giving up 242 yards on the ground against Oregon State two weeks ago, the message from the coaches has remained the same — execute and stay disciplined against the run.
Both coaches and players alike believe that if the Huskies are able to execute their defensive game plan and stay disciplined, they will not only see improvement in the run defense this week but will also be able to slow down and contain the Bruins' vaunted rushing attack.
Return of ZTF
The biggest news from Lake this week is that sophomore outside linebacker Zion Tupuola-Fetui returned to practice for the first time since receiving surgery on an achilles injury in April. While there is no official word whether "ZTF" will play against UCLA this weekend, signs — including social media posts from Tupuola-Fetui — seem to indicate a return is more than possible.
While outside linebackers coach Ikaika Malloe wasn't transparent about whether Tupuola-Fetui would be playing this weekend or not, he did acknowledge the ambition.
"I'll be happy if he does," Malloe said. "He's making progress, the trainers are doing an awesome job, I'm looking forward to when he can get back but I don't have that answer. It's just based on him and how much he can get going."
Tupuola-Fetui was the breakout star for the Huskies in 2020's pandemic-shortened season, recording seven sacks and 13 tackles in just four games. This type of production in such a short season was good enough for Tupuola-Fetui to receive First-Team All-Pac 12 and Second-Team All-America honors in 2020. 
Even if he does play Saturday against UCLA, do not expect 2020-like production from Tupuola-Fetui right off the bat. He will likely see the field for a limited number of plays as he adjusts to playing in a full-speed game for the first time in 10 months.
"It's going to be more evaluating rep-wise and stamina-wise," Lake said. "That's the balance right now with what he's going to be able to [do] here without just throwing him in there and saying, 'Hey, here you go. Let's go play 100 plays after you haven't played football in months.'"
No matter how much –– or if –– Tupuola-Fetui plays Saturday, his imminent return is a welcome sign for a Washington defense and pass rush that is in dire need of reinforcements. The Huskies only have nine sacks in five games, a number Tupuola-Fetui came close to in the first three games last season.
Tupuola-Fetui's energy both on and off the field will also be an energy boost for the entire Washington locker room as they try and salvage the season after a 2-3 start to 2021.
"We're all excited for him. We know how much work he's put in," Lake said. "For him to move around out there in full dress and make some plays, it definitely gave a boost of energy to our team."
Tupuola-Fetui or not, Washington will take the field Saturday, Oct. 16 at 5:30 p.m. for its homecoming game against UCLA, looking to pull off a big win and turn the tides of its season.
Reach writer Nick Lombroia at sports@dailyuw.com. Twitter: @lombroia
Like what you're reading? Support high-quality student journalism by donating here.