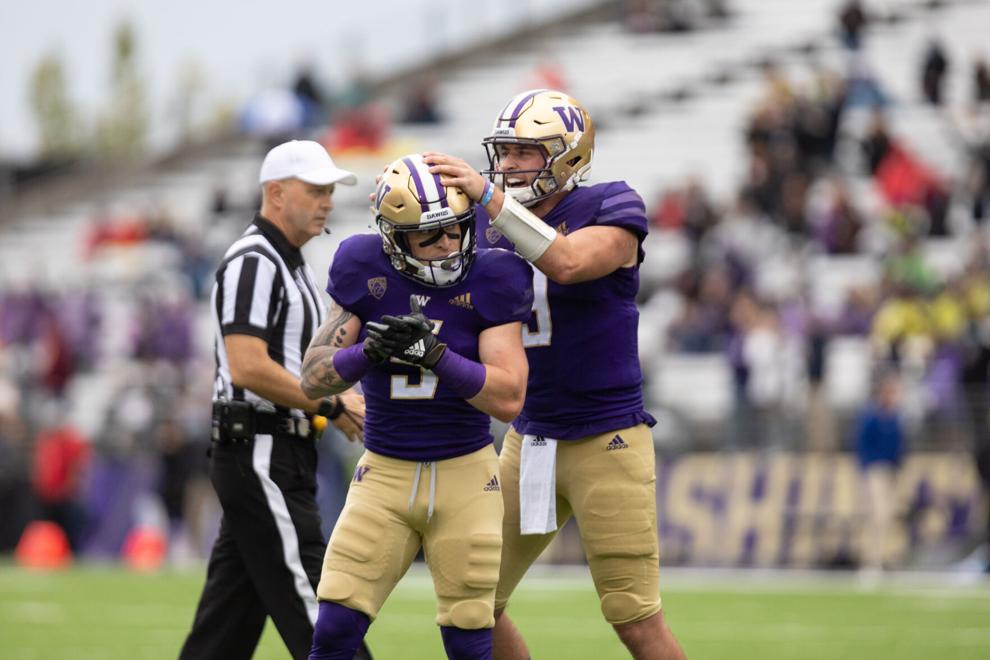 120 minutes of torture. 120 minutes of urge. 120 minutes of waiting on the sidelines.
After leading the Washington football team in rushing during 2020, all Sean McGrew could do for the first 120 minutes of the 2021 season was watch his team fail to do the seemingly simplest of tasks, such as scoring more than a single touchdown in a game.
But when he finally heard his number called against Arkansas State last weekend, McGrew made the most of the opportunity, scoring on just his third carry of the game, letting out an emphatic scream as he hit the end zone.
"There's times when you're playing football where you get into the zone and you're a whole different person," McGrew said. "I feel like that was just one of those moments when I just had a lot of pent-up emotions and energies and a lot of things inside me. Just getting to the end zone and letting it out, I honestly don't really know what I said or was doing, it all just came out of me."
McGrew wasn't done there. He scored yet again, finishing the game with 31 yards on six carries. The two touchdowns tied him for the team lead of the season, despite playing only one-third of the games.
Why wasn't McGrew playing in the first two weeks? According to Washington head coach Jimmy Lake, playing time is earned in practice. Either McGrew wasn't demonstrating enough to play in games, or fellow running backs sophomore Richard Newton and redshirt freshman Cameron Davis — who received the bulk of the touches in weeks one and two — were doing more.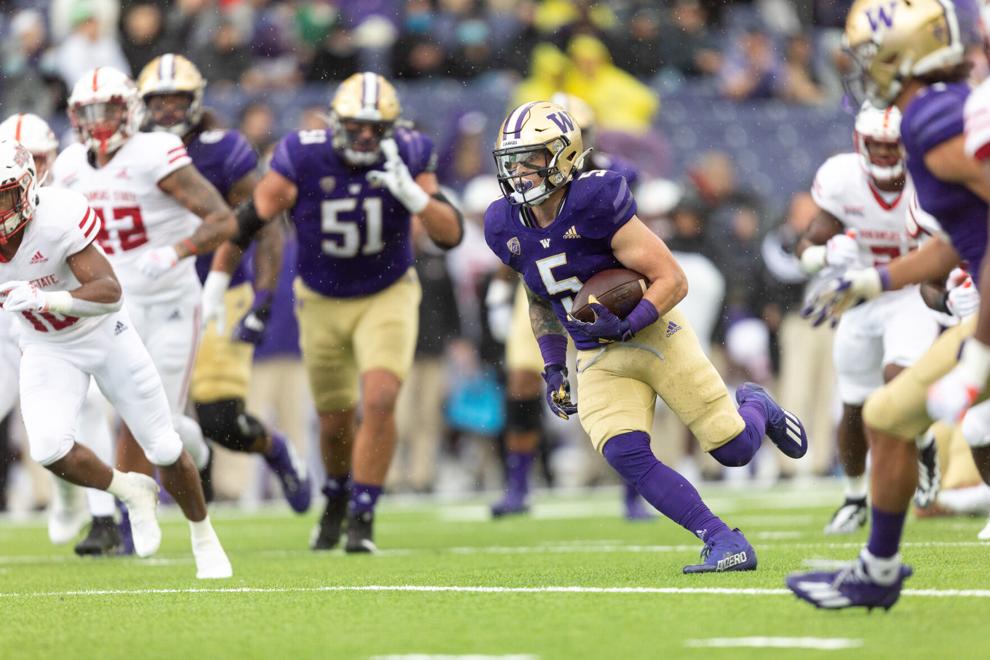 But after the UW running game struggled to generate any rhythm throughout the first two weeks, as the Huskies were without a touchdown rush and averaging just 1.9 yards per attempt, something needed to change.
Before the Arkansas State game, Lake said that McGrew had his best week of practice so far, standing out in something that was new for the 5-foot-7-inch running back: special teams.
"Sean went out there on Tuesday and he was easily one of the toughest, physical guys during that segment of practice we did," Lake said after the Arkansas State game. "[I] wrote him higher on the depth chart — and you see what he did on special teams and on offense."
McGrew enjoyed the challenge as well. Outside of kickoff returns, the senior hadn't played special teams since he arrived at Washington. But when the opportunity came to earn some playing time, McGrew did his best to stand out.
"I was a gunner on punt — one of the end guys," McGrew said. "My job was to fly down there and make a tackle; on my first one, I actually overran the punt because I got there too fast. He didn't have the ball yet and I didn't know what to do. I actually stopped, got blocked a little bit, but came back and still made the tackle from behind."
The speed displayed in practice was evident in McGrew's first touchdown run of the game.
The Huskies had numerous inside zone runs early in the game, but McGrew noticed that if he bounced the run outside, he would have a chance to reach the end zone with his speed.
With four minutes left in the first quarter on second and 4, McGrew reentered the game in the place of Newton, who started the game, and the Huskies called the play again. McGrew worked his magic.
Taking the handoff, McGrew chopped his feet, made a jump cut to evade a swarm of Red Wolves defenders, and was then off to the races for the 14-yard touchdown.
"Once we called that play, I was like 'Alright, this has gotta be a touchdown, this is gonna be a touchdown,' and then it all happened after that," McGrew said.
That speed has been obvious in McGrew ever since high school, when he finished second in the California state championships for the 100-meter dash with a time of 10.56 seconds.
It translated over to the football field, where McGrew ripped off an 80-yard touchdown run in only his second start on the varsity team at St. John Bosco High School as a sophomore.
"Everybody in the stadium was like 'Oh my gosh, this kid is blazing fast,'" St. John Bosco coach Jason Negro said.
To this day, that speed still blows the audience and defenders away. McGrew's trainer Ayinde Bomani knows that his elite speed and jump-cut make McGrew a head-scratching case to defend.
"He's not really going to break your ankles, but he will make you run past him and fly," Bomani said.
Now that the senior has proven himself on the field, it would be in the best interest of the UW to get him more involved in the offense, especially in the passing game, where he can utilize his speed.
"I feel like it's definitely a mismatch, me against any linebacker," McGrew said. "I will take me every single time, 10 out of 10 times — they can't guard me out of the backfield. It's definitely fun, and [redshirt freshman Dylan Morris] and the quarterbacks are trusting us more [with] catching the ball out of the backfield, just showing that we can do it."
With the trust of Morris and Lake, McGrew will be able to show what he can do more frequently. That continues this Saturday when the Huskies take the field at Husky Stadium for the second consecutive game.
And much like last weekend when McGrew first jogged out onto the field, he will most certainly be greeted by the roar of the Husky faithful who have patiently awaited his return.
Reach Co-Sports Editor Anthony Edwards at sports@dailyuw.com. Twitter: @edwardsanthonyb
Like what you're reading? Support high-quality student journalism by donating here.