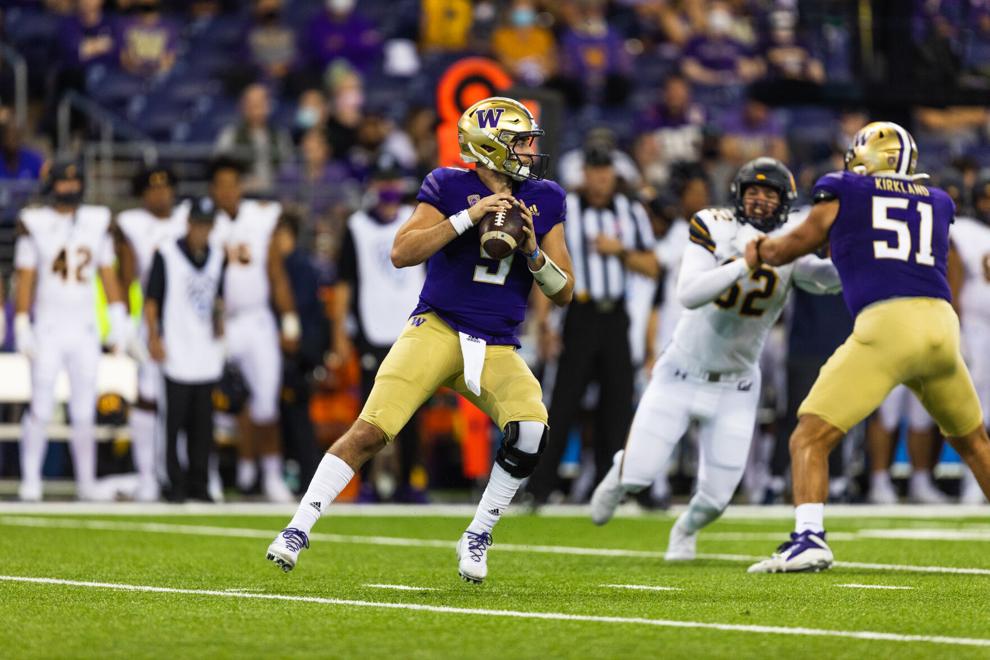 6-6. 
That's the record the Washington football team will likely need to be eligible for bowl contention this season. 
As the Huskies (2-3, 1-1 Pac-12) head into week seven of the college football season, head coach Jimmy Lake perfectly summed up his team's position. 
"Got a lot of football left to play," Lake said. "And a lot of things can happen."
Despite how long the season may already feel, Washington has seven conference games left, giving it plenty of opportunities for the four wins needed to break .500 to finish the conference season. With the Pac-12 North shaken up, nothing is really out of the question. 
Oregon State, which Washington lost to during its last game, currently leads the division, while No. 9 Oregon, which is the only Pac-12 North school within the national Top 25, has the same conference record as Washington. 
In a year where upsets and confusing games have become the norm, here's a look into the best and worst cases for Washington football as it heads into the rest of the season. 
Absolute best case
Really, the best case for Washington is a complete turn around in seven straight. If Washington could win every game left, as long as Oregon State doesn't as well, it would take the Pac-12 North.
Although that might be unlikely, nothing is out of the question at this point. If Washington could take down Oregon, it would have a serious run at taking the conference. Washington would have to beat the currently-undefeated No. 18 Arizona State on Nov. 13 to run the table — but who knows, the UW has shown flashes. 
In addition to straight wins and losses, Washington would want to start keeping up with its opponents in the middle of games. Although it has usually done well in opening drives, and recently managed to rally in the final quarter, offensive production slows so much in the middle of the game that Washington can't establish sturdy leads.
It would be much less stressful to maintain production throughout the entire game, regardless if the Huskies win or lose.
Ideally, Washington would have a healthy roster for the rest of the season as well. So far, it looks like Saturday's game will feature the most formerly-missing players since the season began, which bodes well for the UW.
A plausible case
A very likely situation is that Washington wins three or four more games. Four wins, which the Huskies could manage to pull off, would likely mean bowl consideration.
This theoretical would likely have Washington losing to No. 9 Oregon and No. 19 Arizona State, and likely put the conference title out of conversation. Considering the UW's strange start to the season, this seems like a fair situation. 
There is a really good shot that Washington can beat both Colorado and Arizona, neither of which have won a conference game yet. With a little turnaround, Washington can manage two more wins, possibly in big upsets, but more likely in games against Stanford and Washington State. 
An eighth-consecutive Apple Cup win could be the perfect end to Washington's season. 
Worst case
Worst case, Washington will drop more than three games, keeping it away from bowl eligibility and a shot at the Pac-12 Championship.
It'd be especially painful to continue losing games like it did against Oregon State, where Washington proved that it is good enough to win tight games, but struggles to execute when needed.
If Washington continues with uncertain offensive production and a less-than-perfect defense, the worst case might really come true. If the UW can only pull wins off teams at the bottom of the conference, it won't secure a record that can take it to the postseason.
A mid-season turnaround will have to happen soon to avoid this worst case scenario from becoming a reality. Saturday's game will be a good test as to what is possible with a rested and healthy Washington football team.
​​Reach Sports Editor Sydney Nash at sports@dailyuw.com. Twitter: @sydneym_nash
Like what you're reading? Support high-quality student journalism by donating here.