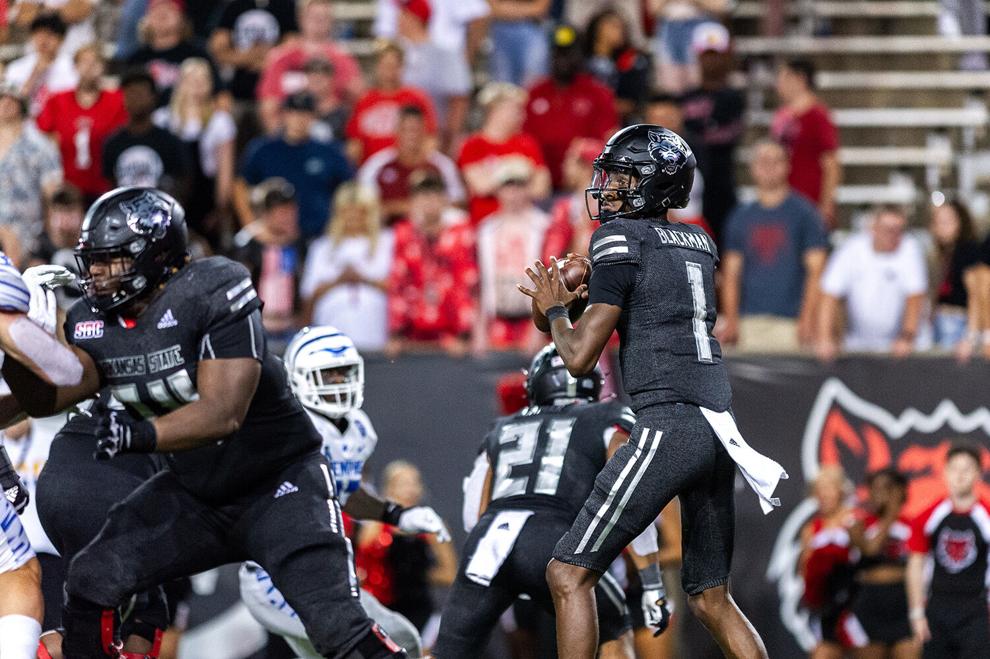 Following its loss to Michigan, the Washington football team is back home this weekend against Arkansas State. Before the Huskies take the field Saturday let's take a look at the Red Wolves.
3 numbers to know
595.6: In the first two games of the season the Arkansas State offense has averaged 595.6 yards per game. A majority of these yards have come through the air, as the Red Wolves have over 900 passing yards and just under 300 yards rushing. In their opening two matchups, the Red Wolves have scored 90 points; in comparison, the Huskies have only scored 17 points in their first two matchups.
55: Last week against Memphis, Arkansas State gave up 55 points. The Red Wolves surrendered more than 650 yards in their narrow loss to the Tigers. Memphis was able to throw for 417 yards and five touchdowns. The Tigers also added three touchdowns on the ground against the Red Wolves' defense.
3: In just two games the Red Wolves already have three receivers with more than 200 yards receiving. Sophomore Jeff Foreman leads the trio of receivers with 251 yards and a touchdown on 13 receptions. Freshman Corey Rucker has 14 receptions, 214 yards, and four touchdowns, and junior Te'Vailance Hunt has 15 receptions, 219 yards, and two touchdowns.
2 Names to Know
Head coach Butch Jones
Arkansas State is in its first year under the Butch Jones regime. Jones was most recently an offensive analyst at Alabama under Nick Saban, but he is most known for his time as the Tennessee head coach from 2013 to 2017. At Tennessee Jones had a record of 34-27 and led the Volunteers to three straight bowl wins.
Prior to Tennessee, Jones was the head coach at Cincinnati, where he won two conference championships. Jones has been an offensive coach his entire career and brings an SEC pedigree to Arkansas State.
Quarterback James Blackman
Quarterback controversy has been the theme of Arkansas States' first two games. Right now it appears that redshirt junior James Blackman has the upper hand over redshirt sophomore Layne Hatcher in the quarterback battle.
Blackman, who transferred from Florida State, currently has more yards than Hatcher but has one less touchdown. The two are basically even in the amount of playing time they have seen, each playing around a half in their opening two games.
Blackman has had the most recent success, throwing for 306 yards and four touchdowns in the second half against Memphis, leading a comeback that just fell short.  
1 recap of last week
Last weekend Arkansas State lost to Memphis in an absolute thriller 55-50. It was an offensive battle from the start, with Memphis jumping out to an early 13 point lead in the third quarter. Despite multiple Hatcher touchdowns, including a 53-yard bomb to Hunt, the Red Wolves were only able to close the lead to 11 before half as they trailed the Tigers 34-23. 
The offensive fireworks continued in the second half, as Blackman came into the game to relieve Hatcher. After a slow start to the third quarter, the Red Wolves' offense came alive as they scored touchdowns on four consecutive drives, all of them Blackman touchdowns. The highlight of this stretch — and the game for that matter — came on an 89-yard Blackman bomb to Foreman, which cut the Memphis lead to twelve.
Arkansas State was able to narrow the Memphis lead to five with just under two minutes left, but it was ultimately too little too late as the Red Wolves ran out of time on the final drive of the game and came up short.
Reach reporter Nick Lombroia at sports@dailyuw.com. Twitter: @lombroia
Like what you're reading? Support high-quality student journalism by donating here.