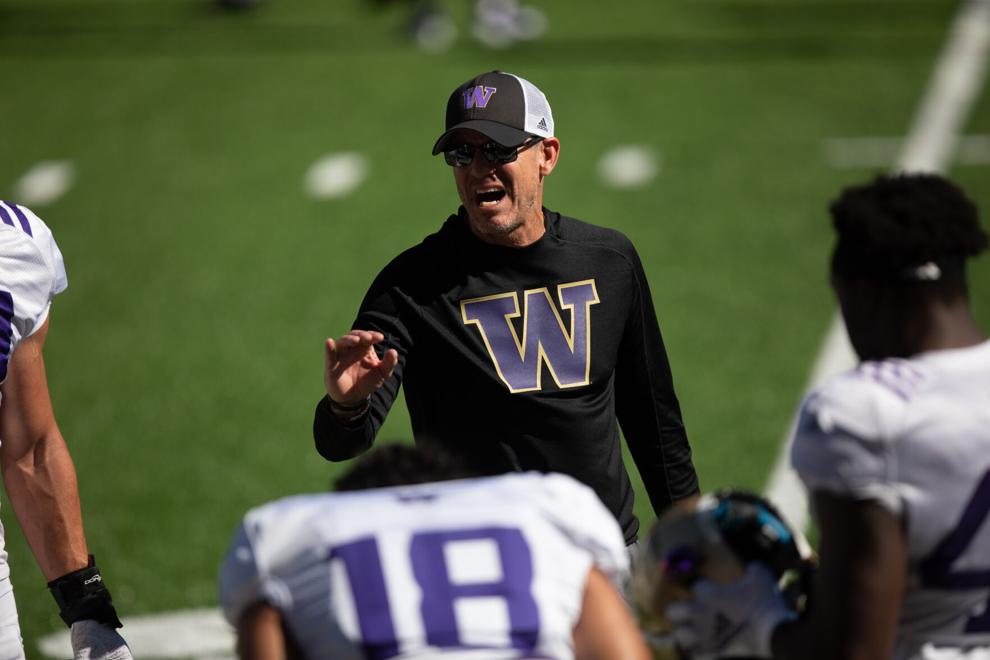 In his 35 years as an assistant football coach, Bob Gregory has served as the head man in just one game.
That will change this weekend when Gregory steps in as acting head coach for the Washington football team's game against Arizona State.
Head coach Jimmy Lake was suspended by UW Director of Athletics Jennifer Cohen on Monday for his actions on the sideline during last weekend's game against Oregon, in which he struck and shoved a student-athlete. Lake may return to the program Sunday, Nov. 14.
Gregory was unaware of the incident until he got home from the game and received a text from a friend.
On Monday, Cohen called to inform Gregory of her decision to suspend Lake without pay for the team's game against ASU and asked if Gregory would be willing to take over head coaching duties.
"I'd do anything for the team, anything for [Cohen]," Gregory said. "We've gotta move forward and practice, [I'm] happy to do it."
The only other time Gregory has served as acting head coach also involved Washington, as Gregory coached Boise State in its 2013 bowl game after Chris Petersen was hired away from the Broncos by the Huskies. A few weeks later, Gregory joined Petersen's staff at UW.
In his six years as a member of Petersen's staff at UW, Gregory coached linebackers. Following defensive coordinator Pete Kwiatkowski's departure for Texas after the 2020 season, Gregory was promoted to defensive coordinator.
Now Gregory is under the biggest spotlight that he has faced as a coach at UW, and he's up for the challenge.
"I'm excited, we're all excited," Gregory said. "It was a great team meeting we had, our guys are gonna be energized, we're ready to go, we play a great opponent. There's no quit in this football team, that is not happening. We've had a lot of adversity this year, we've had some tough times, but our team has fought the entire time. We've been close, we just gotta get over the hurdle."
Gregory is in a unique scenario not only because he is stepping in as head coach, but also because he must deal with an offense that just lost its coordinator. John Donovan was fired Sunday, leaving wide receivers coach Junior Adams to call plays for the remainder of the season.
Although Adams assumes play-calling duties, that doesn't mean every decision involving the offense runs through him.
Asked who would make a game-altering decision, such as going for it on fourth-and-1, Gregory and Adams both chuckled during their combined press conference Monday.
"We're still working through that," Gregory said laughingly. "It depends where we're at on the field."
Adams deferred to Gregory.
"Bob Gregory is," Adams said with a smile.
Perhaps by game time that decision will be made, as Gregory has many mentors to reach out to leading up to the game for advice, including Petersen.
"I have not talked to coach Pete this week," Gregory said Monday. "But he is always a good mentor and friend and always has good advice. Probably at some point I'll give him a holler."
Despite the circumstances and the outside noise, Washington still has a game to play this week. Gregory recognizes that he must gather the Huskies (4-5, 3-3 Pac-12) and prepare for the Sun Devils (6-3, 4-2 Pac-12) like usual if they want to avoid falling into a further spiral.
"They're kids, they're college kids, they hear all of the outside noise," Gregory said. "They know this is a challenging time for us. I'd be lying to you if I said they didn't know that, of course they do. But they also are competitors and they want to go out and practice and win. All of that being said, I'm not sure if it matters that I'm the interim guy, or whoever it is, these guys are going to compete and play hard."
Reach Sports Editor Anthony Edwards sports@dailyuw.com. Twitter: @edwardsanthonyb
Like what you're reading? Support high-quality student journalism by donating here.