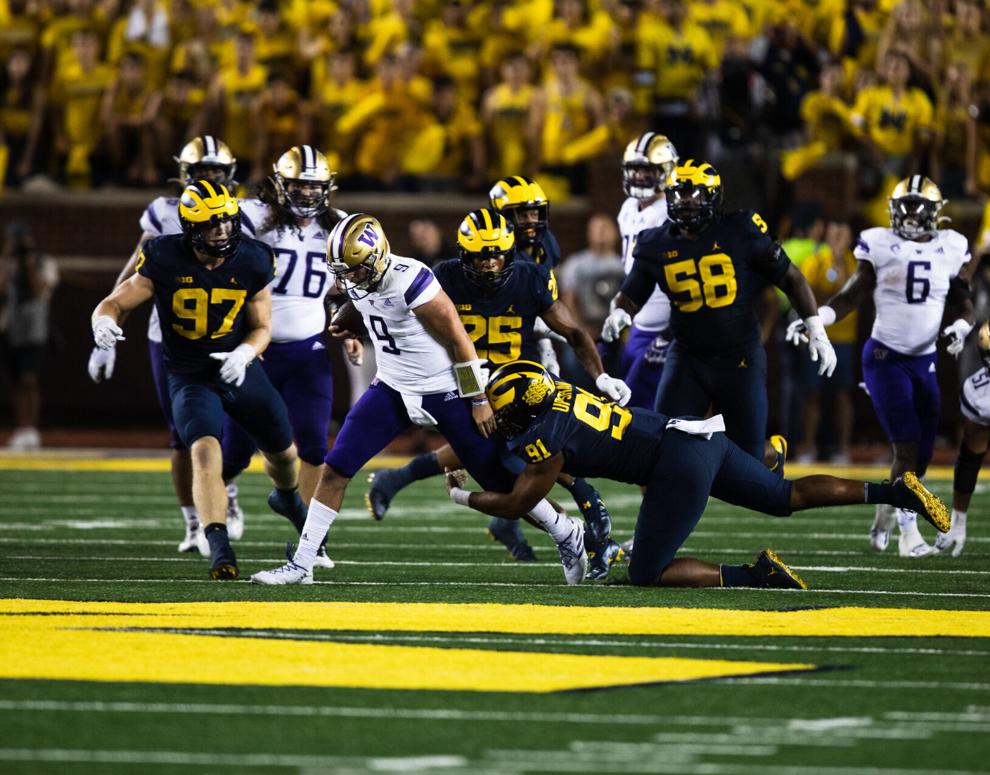 The Washington football team wants to grind out long drives on offense, control the clock, and win close, low-scoring games. Through two games, the Huskies have done almost everything wrong offensively, scoring just 17 points and rushing for just 115 total yards, to set themselves last in the Pac-12. To fix these problems, here are five things the UW might want to try.
Play Sean McGrew
Last season, running back Sean McGrew had 227 yards and four touchdowns, leading Washington in nearly every rushing statistic. This year, McGrew has yet to step foot on the field at the running back position.
Washington is 0-2 and one of the major points of blame is the lack of a run game.
Through two games, Washington has run the ball 59 times and has a measly total of 115 yards for a 1.9 yards per carry average. Does the blame for the disastrous run game lie completely on the running backs? No, the offensive line and coaching staff also must shoulder some of the responsibility.
When you're struggling this badly, maybe a back with a different running style can spark something and get them going. That back would be McGrew, who at 5 feet, 7 inches possesses his own unique style.
Go with less two and three tight end sets
This is not the 1980s.
College football in 2021 is full of teams spreading the field with three and four wide receiver sets and it makes sense. Why wouldn't you want more of your fastest and most athletic players, with the best hands, on the field?
For whatever reason, Washington doesn't want this. The UW wants to have multiple plays with tight ends Cade Otton, Devin Culp, and Jack Westover on the field at the same time. Even if all three of those players had the best hands on the team, they aren't the fastest of players, putting this offense at a disadvantage.
You wonder why Washington has an inability to make the big play this year; maybe it's because they aren't employing enough wide receivers where the defense has to honor more than one deep threat on a play.
Perhaps with receivers like Terrell Bynum, Jalen McMillan, and Rome Odunze returning to the field, Washington will employ more four wide receiver sets.
Be aggressive
When you get punched in the face like Washington did against Michigan, you've got to go off-script sometimes sooner than you would've preferred. Washington opened the game against Michigan with three straight three-in-out punts.
Two of those three drives opened with two straight runs. Washington's offense was too predictable and allowed Michigan to bottle up running back Richard Newton.
At first glance, Washington's plan to go for it on fourth-and-4 from Michigan's 31-yard line looked aggressive; however, it really was just a head-scratching move in terms of the plays called.
On third-and-5, the Huskies elected to run the ball, essentially showing that they were already planning on going for it on fourth down and just didn't want to lose any yards. Newton gained only one yard. On fourth-and-4, Washington handed the ball off to Newton again, who went nowhere and ended up fumbling the ball.
When teams run the ball as often and as poorly as Washington did against Michigan, they're not playing aggressive, they're playing safe. At this rate, playing safe will not win the Huskies many games this season.
Start Sam Huard at quarterback
In 2020, Washington starting quarterback Dylan Morris showed that he can be a successful college quarterback, guiding the Huskies to a 3-1 record in his first season under center with a 61% completion rating, 897 yards passing and a touchdown to interception rating of 4-to-3.
Despite the success, Morris had some shortcomings that seemed to be resolved during training camp heading into year two.
But through two games, Morris has continued to look uncomfortable in the pocket and has lacked the ability to throw an accurate deep ball, and it's showing up on the stat sheet much more blatantly.
Through two games, Morris has a 57% completion rating, 519 yards, and a touchdown to interception ratio of 1-to-3. His one touchdown on the year passing was also a pointless time throw against Michigan, meaning he has not thrown an impact touchdown through two games.
Morris dinked and dunked his way to respectable numbers last year, however that same dink and dunk strategy this season has not worked out too well for the redshirt freshman quarterback, as Washington is currently sitting at 0-2.
When nothing's working on offense, something needs to be switched up, and for Washington that something should be giving former five-star recruit Sam Huard the start at quarterback.
Morris has given the Huskies plenty of chances to prove himself, and he certainly hasn't played poorly with a 3-3 career record, but in a season that is already lost, why not trot out a quarterback that has a higher ceiling such as Huard?
Fire offensive coordinator John Donovan 
The issue for the Huskies' offense is not that they don't have good players, it's that the offensive scheme and play calling does not work with their personnel. The only way to really change that is to fire offensive coordinator John Donovan.
Since day one, Donovan was not a popular hire and with rightful reason.
In Donovan's final season as offensive coordinator at Penn State in 2015, the Nittany Lions offense ranked 100th out of 128 FBS teams, finished 82nd in passing yards per game, and 107th in rushing yards per game.
That Nittany Lion team also had talent that, to be frank, this Washington team can't match. On that 2015 Penn State team were two names that NFL football fans recognize, Saquon Barkley and Chris Godwin.
This NFL talent puts Donovan's failure at Penn State in an even brighter light. No running back on Washington's roster is as talented as Barkley was in college, and no wide receiver on Washington's roster is as good as Chris Godwin was at Penn State.
When Donovan was hired, the fan base questioned it, and for good reason. In his six games coaching at the UW, Donovan has given the fans no reason to not continue questioning his hiring.
Firing a coach mid-season may not be the most ideal of situations, but if the Huskies do not show significant improvement soon, the only option may be to cut ties with Donovan.
Reach reporter Nathan Mathisen at sports@dailyuw.com. Twitter: @NathanMathisen
Like what you're reading? Support high-quality student journalism by donating here.