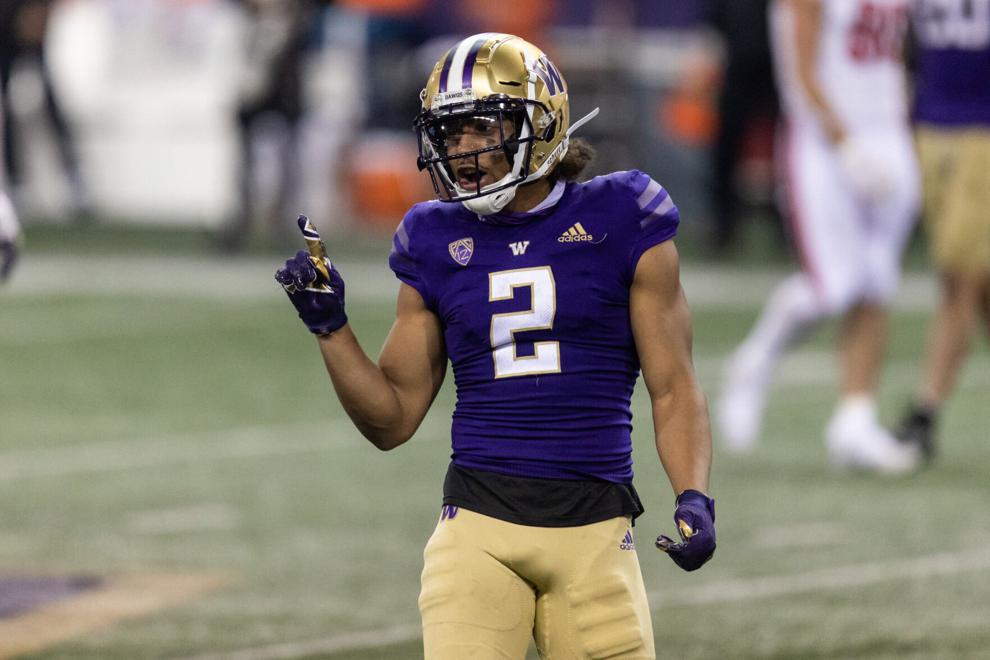 Since he was a kid, sophomore Kyler Gordon has been attending games at Husky Stadium with his dad.
Growing up in Mukilteo, Gordon knew about the culture of Washington football for much of his life. A talented defensive back at Archbishop Murphy High School, there was no doubt in Gordon's mind where he was going to take his talents upon graduation, despite receiving offers from Oregon, Notre Dame, and Stanford, amongst others.
"That's the reason I wanted to come here and be one of the best defensive backs — because that's what they produce here," Gordon said about choosing Washington. "I feel like coming here allowed me to hone in on all those techniques and put me to the best of my ability."
But joining such a talented ground of defensive backs meant that Gordon had to display tremendous patience.
In his first year on the Huskies, Gordon played sparingly, spending most of his time on the sidelines, waiting his turn behind five future NFL starters on defense.
Gordon started at cornerback the first three games of 2019 but then lost the starting job for the remainder of the season to now-sophomore Trent McDuffie.
Washington was not about to waste Gordon's talent though. He found the field in all 13 games in 2019, starting when the Huskies played with six defensive backs, excelling throughout the season in special teams coverage. 2020 was no different. Gordon started only one game but was still named All-Pac-12 Honorable Mention for the second straight season for his versatility.
But now, with Keith Taylor departed to the NFL, Gordon finally has his chance at cornerback in 2021. So far, he's seized the opportunity.
"Taking a step back [in 2019], I was able to see my weaknesses," Gordon said. "After I was able to recognize that, I went back and fixed all of those things, such as technique. I had to learn how to use that to better my play. Doing that on top of watching film, I'm getting smarter and being able to anticipate what the offense is running; that all makes the game way easier."
Two years after McDuffie earned the starting spot over Gordon, the two have locked down both of Washington's cornerback spots, a duo that has made it hard for opposing teams to throw the ball.
Through three games, Gordon and the Huskies' secondary are the fourth-best in the nation in passing yards against, allowing just 123 yards per game. This past weekend, Arkansas State came in as the nation's leading passing team but was completely shut down by Washington, throwing more interceptions than touchdowns.
Gordon did his part, breaking up a pass for the second straight game and contributing to a fumble that was credited to fellow defensive back and junior Brendan Radley-Hiles.
"He's settled in nicely at corner," head coach Jimmy Lake said. "It's awesome watching his technique get better every year and being on top of the details at that position. He's right where we want him to be. Now we just have to go out there and do a good job on defense stopping the run and [getting] into some passing situations and [letting] Kyler do his thing when the ball comes his way. Hopefully, it's getting some interceptions."
Lake isn't the only one hoping for some takeaways.
Gordon and McDuffie have a running bet on who will intercept a pass for the first time this season. If Gordon gets his hands on a ball first, McDuffie must buy him a new video game. If McDuffie gets a pick first? He'll steal one of Gordon's games.
It's part of the friendship that has budded between the two, both of who are going into their third season playing together in the purple and gold. Sometimes that friendship turns competitive in practice as the duo push each other to do their very best.
"I look at [Trent], he looks at me, we see what each other [does]," Gordon said. "We're always trying to do that and [get] better. It's a friendly competition all the time, trying to make a crazy play, make a great play — anything we can do to compete while making our team better and each other better. It's a great friendship … [where we] have to push each other and do better all the time."
The two teammates will get to push each other all year, as the Huskies gear up for nine conference games through December. The Washington defense will need McDuffie and Gordon both, as the team looks to change the course of the season, beginning this Saturday at Husky Stadium against a Cal team that has given the UW fits as of late.
Reach Co-Sports Editor Anthony Edwards at sports@dailyuw.com. Twitter: @edwardsanthonyb
Like what you're reading? Support high-quality student journalism by donating here.