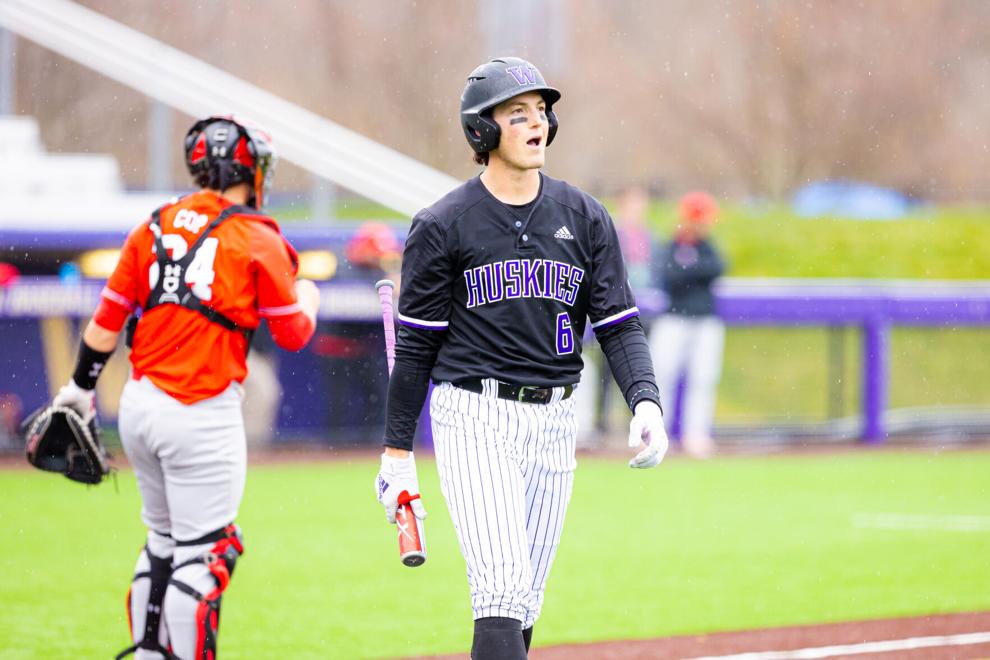 After a long winning streak spanned into mid-March, the Washington baseball team will now have to start a new one.
UW's offense failed to gain traction, sloppy fielding led to runs, and an 11-game winning streak came to an end in a 3-0 loss to Utah Sunday afternoon.
After a red-hot start to the season, the bats for the Huskies (12-3, 2-1 Pac-12),  fell silent, as they mustered just seven hits against the Utes' (7-8, 1-2 Pac-12) pitching staff. UW was shut out for the first time since April 23, 2022, dooming its chances of a series sweep to open up Pac-12 play.
Despite many opportunities, the Huskies' hitting couldn't break through and take advantage of the strong outing from their pitchers. UW hitters went just 7 for 34 in the game, including 0 for 6 with runners in scoring position. On a positive note, sophomore infielder Cam Clayton was once again a bright spot at the plate for Washington, as he went 3 for 4 with a double.
Utah struck early after a sloppy opening from Washington, as a late throw and missed tag put runners on first and second base with no outs. Then, an error from freshman infielder Sam DeCarlo allowed a runner to score, giving the Utes an early 1-0 lead.
Utah tacked on another run in the top of the third, courtesy of a two-out home run from DJ Clarkson. Clarkson's seventh homer of the season just cleared the outfield wall to give the Utes a 2-0 lead early in the contest.
Redshirt junior pitcher Jared Engman and Washington's fielding settled down after the shaky start, holding Utah to just four hits over the last six innings. After a few rough outings to start the season, Engman turned in his best outing yet, giving up three earned runs on four hits in 4.2 innings of work.
Washington nearly responded with two runs of its own in the bottom of the frame, with Clayton's second hit of the day keeping the inning alive. But a pop-out by redshirt junior infielder Will Simpon fell just short of the wall to leave the Huskies empty handed.
In the fourth, UW once again put up a serious fight, but couldn't bring anyone home. Back-to-back singles from sophomore outfielder AJ Guerrero and junior infielder Michael Brown put runners on first and second, and gave the Huskies a chance to get back into the game. But a soft groundout by redshirt junior infielder Michael Snyder ended the threat and preserved a 2-0 lead for Utah.
After a walk and sacrifice bunt put a runner on second for Utah, head coach Jason Kelly went to the bullpen, putting in junior reliever Gianluca Shinn to try and close out the inning. But a two-out double by Elijah Hammill split the outfield gap to instead add another run to Utah's lead. 
The Utes threatened to blow the game wide open in the sixth, with their first two runners reaching base, and a sacrifice bunt advancing the runners to second and third with just one out. Snyder prevented the threat, though, with a great catch and force out resulting in an inning-ending double play to keep the score at 3-0. Washington was inches away from making a dent into the deficit, but a leaping catch at the wall by Dakota Duffallo robbed UW of a chance to get a much-needed run.
Washington finally chased Utah's starting pitcher in the bottom of the seventh after leading the inning with a hit-by-pitch on Brown.  A new pitcher then produced the same frustrating results for UW. After having runners on first and second with one out, back-to-back strikeouts doomed another opportunity for the Huskies to get on the scoreboard.
UW had one last chance to make a comeback, with Brown's one-out single getting the game-tying run on deck. Redshirt junior infielder Christian Dicochea came in as a pinch-hitter with two outs, but struck out to end the series finale.
Washington has a short break before hosting a four-game series against Rhode Island, starting Friday, March 17 at 6:05 p.m.
Reach reporter Andrew Sousa at sports@dailyuw.com. Twitter: @andrew_sousaUW
Like what you're reading? Support high-quality student journalism by donating here.