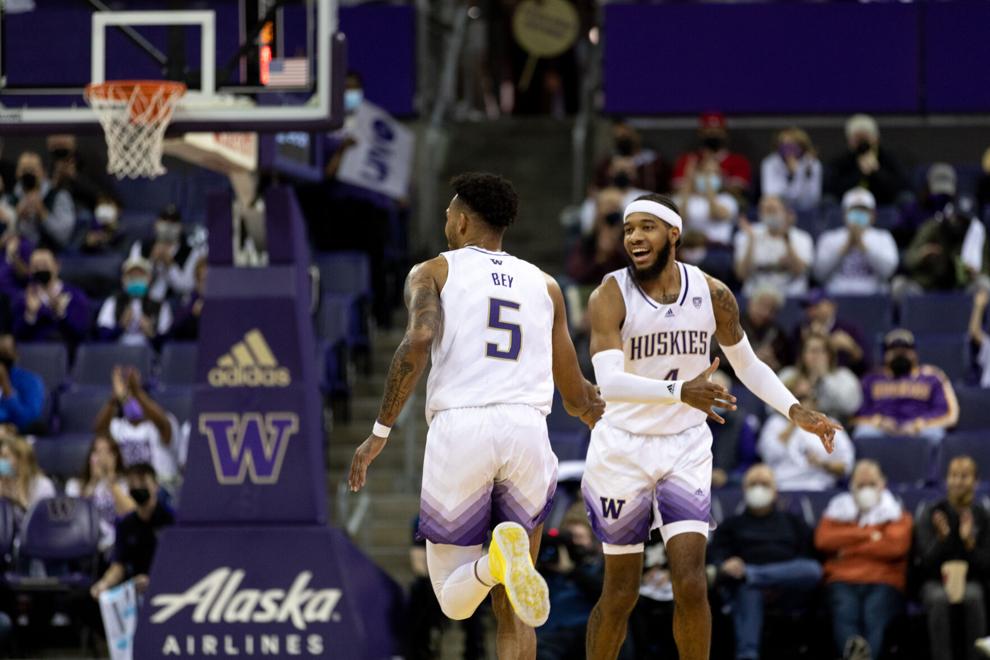 There was a sense of nervousness around Alaska Airlines Arena as Stanford's Brandon Angel threw down a dunk to cut the Huskies' lead to just four points with 1:18 left in the game. Despite building a commanding 21-point lead, a second-half shooting cooldown allowed the Cardinal back into the game.
However, a first-half offensive barrage from the Washington men's basketball team overwhelmed Stanford, leading the Huskies to a 67-64 victory.
"It shows a lot of mental toughness, it shows a lot of resilience, and it shows a lot of togetherness," head coach Mike Hopkins said. "I love [the team's] huddles. Sometimes when I go into the huddles, it's like, 'coach get out of the huddle, this is our fraternity.' It's then executing what we practice and being able to go in there."
The Huskies (8-7, 3-2 Pac-12) flew out of the blocks, stunning a Cardinal (10-5, 3-2 Pac-12) team fresh off an upset win over No. 5 USC. Hot shooting from Washington early was the key, with senior guard Jamal Bey and senior forward Emmitt Matthews Jr. splashing in threes. UW made 7-of-15 first-half triples on its way to an 18-point lead at the break. 
"We hadn't had a great shooting performance [at Alaska Airlines Arena] yet, but I thought, in the first half, that we shared [the ball], we were locked and loaded, and it started with our defense," Hopkins said. "When you have guys that can shoot it like Jamal… I mean how good was Jamal Bey in the first half."
Bey, who led the Huskies in scoring, had a breakout performance, shooting confidently from beyond the arc, an area where he led the Pac-12 in the previous season. The senior guard was 4-of-8 from deep, making timely shots that got the crowd into the game. 
"Man, [Bey] was hitting threes left and right in that first half," graduate transfer guard Terrell Brown Jr. said. "[Bey] knows he can shoot, he's one of the best shooters in the conference and in Division I basketball to be honest. [Bey] knows I tell him to shoot every time he catches the ball. When he passes the ball up, I'm mad at him because I just know he puts the work in… I just want the world to see how good of a shooter and how good of a basketball player he is."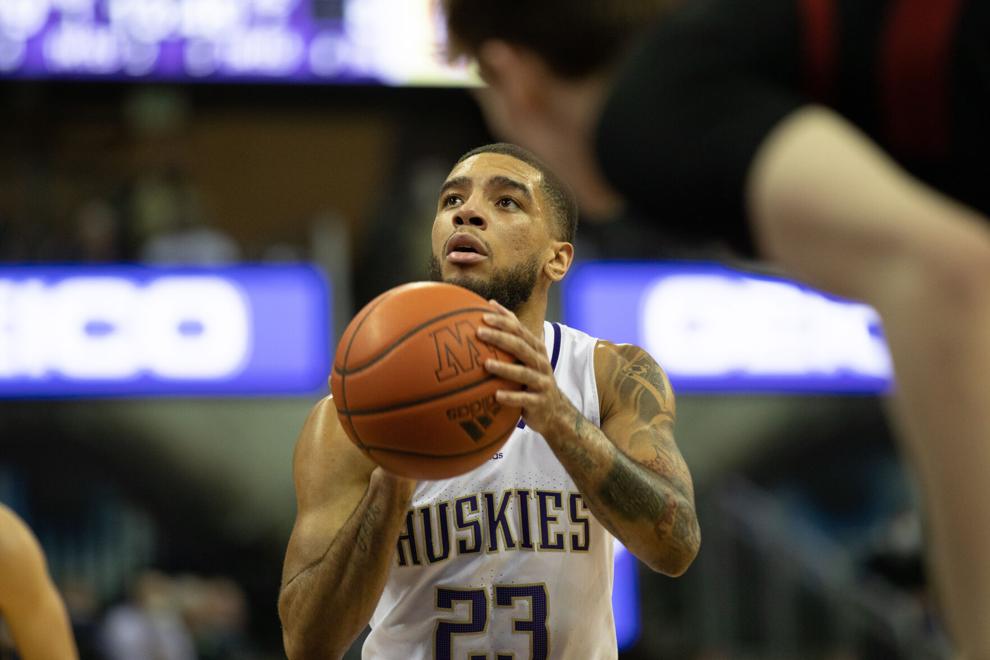 Bey's impact was not limited to shooting as he made an assertive block at the rim while maintaining active hands to force turnovers. The Las Vegas native had three steals to go along with his two blocks.
Bey cooled off in the second half, failing to register a single point. However, the Huskies found offense through Brown Jr., who has often been the closer for UW this season. The graduate transfer was able to stay aggressive and get to the line, making 8-of-11 free throws. Brown Jr. led the Huskies in scoring with 25, 15 of which came in the second half.
"[Brown Jr.] carries that [swagger] every day," Bey said. "When he practices, when he plays, doing drills, he's trying to win everything. He's a monster and when he gets in that mode, it's pretty hard to stop him."
An area of strength for Washington this season has been turnover margin. In Saturday's matchup against the Cardinal, the Huskies were yet again causing a nuisance for their opponents. UW forced 13 first-half turnovers, converting them into 19 points. In contrast, Stanford only created one point from the five Washington giveaways.
Playing with high energy from the opening tipoff, redshirt junior forward Nate Roberts was a catalyst for the Huskies defensively, limiting Stanford's bigs in the paint. The Washington big man led the Huskies in rebounds for the fourth time this season, registering eight in Saturday's game.
Despite cruising through most of the first half, a Cardinal surge midway through the second half caused some nervous moments for the Huskies. As Washington's offense cooled down, Stanford heated up, with the Bay Area team scoring 10 straight points to cut the lead to just six. However, the Huskies' early lead was enough of a cushion to ensure Washington's third Pac-12 victory of the season.
"From the beginning, we believed in ourselves no matter what anybody said about us," Bey said. "We didn't care about the rankings, we know we're a good team. We knew what we were, we just had to prove it and that's what we've been doing."
Reach senior staff reporter Luka Kučan at sports@dailyuw.com. Twitter: @luka_kucan
Like what you're reading? Support high-quality student journalism by donating here.