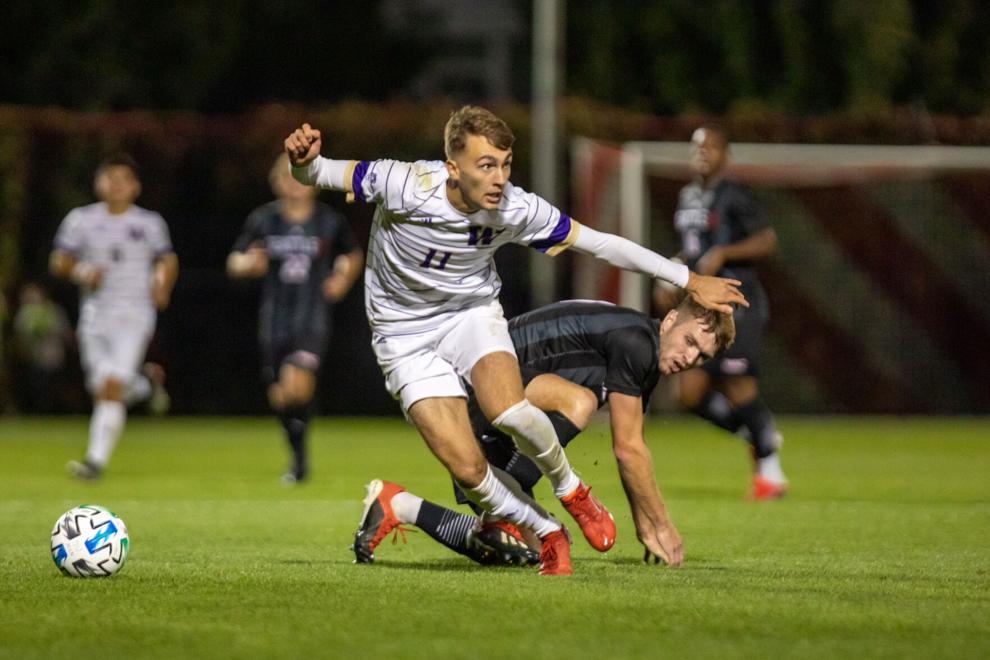 After another week in the win column, the No. 1 Washington men's soccer team has found itself atop all of the major national polls.
UW is the only Division I team to have won all its matches this season, highlighted by the team's impressive victories over two ranked Pac-12 opponents, UCLA and SDSU. Washington will face its biggest test of the season to date in a Friday night showdown at Husky Soccer Stadium against No. 8 Oregon State.
The Beavers have been building a strong program, achieving three consecutive winning seasons. This season, Oregon State is undefeated in conference, challenging Washington for the Pac-12 title. While the Huskies will be favored to win on Friday night, the Beavers, currently on a seven-game unbeaten run, have been difficult opponents. 
They're very opportunistic," head coach Jamie Clark said. "They'll turn the ball over three times, but on the fourth time they'll hurt you, so you have to make sure you're very good when you do win it."
In the past three seasons, Washington has lost twice to Oregon State, including a 2-1 loss in the most recent meeting at Husky Soccer Stadium. 
"Last year, I thought we were very good at home," Clark said. "Glorie Amanda, who was the national player of the year, scored two wonder goals so credit to him. Thankfully, he's now playing professionally in Austria. That said, [Oregon State] asks you a lot of questions. They put themselves in a building formation that is big and open. In situations where other teams would feel rushed and the pressure would get to them, they have players that can find the holes that you've left."
While Top 10 matchups are often cagey affairs characterized by strong defensive structure, both teams come into this match with strong offensive records. Washington will have to watch out for the Pac-12's top three scorers, led by forward Adrian Molina-Diaz, who have combined for 17 Oregon State goals. 
"They have a couple of guys in the front third. They're shifty and you think you have them in a bad spot, but all of the sudden they get out of pressure," Clark said. "Doubling down will be key because when they wriggle out of pressure, there'll be another layer catching up with them."
The Huskies have also put up strong numbers on offense, averaging 2.5 goals per game, good for 11th in the nation. However, Washington's scoring has been more balanced with seven players scoring at least three goals this season. 
On the defensive side of the ball, both teams have been solid, conceding less than a goal per game. However, the Huskies hold a substantially more impressive record, only conceding five across the course of the season. Only Kentucky and Northern Illinois have better defensive records. However, Clark needs his team to be focused for the full 90 to shut out Oregon State's dangerous front three.
"Adrian Molina Diaz is one of those tricky guys because all the other guys do all the fancy stuff and he's a true number nine who doesn't do much but wins games for them," Clark said. "Those guys are hard to stop because you think you're doing well for 70 minutes, but all of the sudden, in the 71st, he appears and gets on the end of something. You just have to continually [stay focused] until the 90th minute."
Although Friday's match will see two of the nation's best face off, there will also be added significance due to the first DP open night. This event honors former UW soccer alum Daniel Phelps, who passed away due to sudden cardiac arrest. Raising awareness for an important cause, Phelps' impact has certainly helped prevent sudden cardiac arrests.
"I hope we get a great fan base together, a great game, and for a great cause," Clark said. "I know we'll have a lot of good alumni who Daniel Phelps meant a lot to and we're looking forward to welcoming them back. I think that [with our play], we're earning good crowds and good atmospheres."
Fighting for the top spot in the Pac-12 standings, the Huskies and Beavers will kick off Friday, Oct. 22 at 5 p.m.
Reach senior staff reporter Luka Kučan at sports@dailyuw.com. Twitter: @luka_kucan
Like what you're reading? Support high-quality student journalism by donating here.