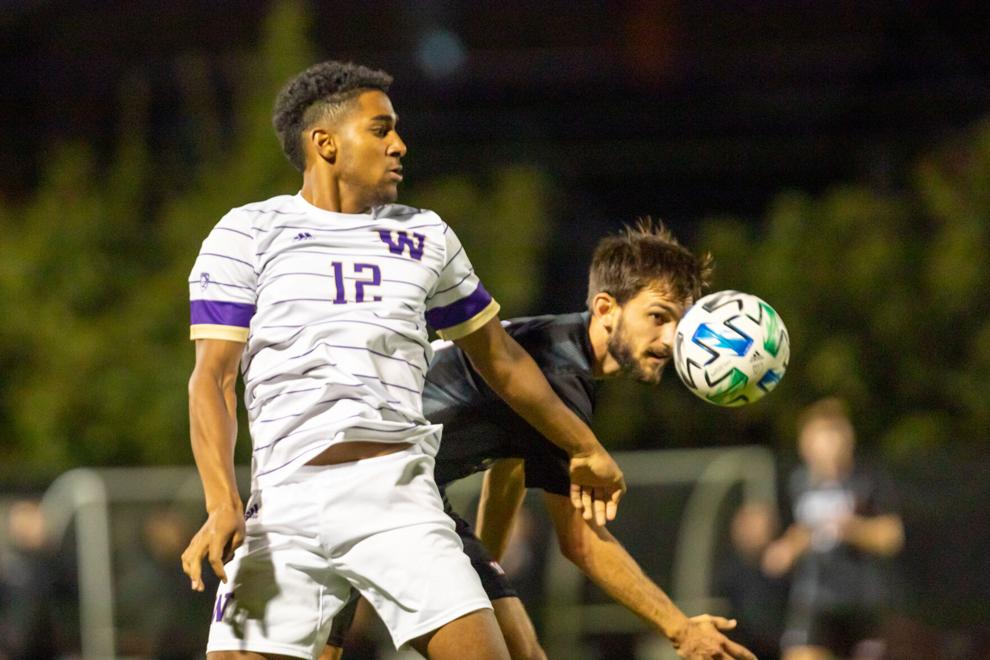 The Washington men's soccer team's season has been predicated on mental toughness and grinding out results.
Although the Huskies (11-0-0, 4-0-0 Pac-12) have yet to lose this season, five of their 11 victories have come by a one-goal margin. The UW has also been lethal in overtime games this season, scoring the golden goal within the first 10 minutes of the additional period in three of their four OT victories. 
Ranked as the No. 1 team in the nation in the NCAA RPI Rankings, the Huskies have become the team to beat in the Pac-12 this season. Washington's closest challenger in recent years, Stanford, was swept aside by the Huskies in a statement win which took them eight points above the Cardinal.
While the results have created high expectations for head coach Jamie Clark's team, the emphasis has been on taking the season match-by-match.
"I think where things start to go off the rails a bit is when people start worrying beyond what you can control," Clark said. "As coach-speak as it sounds, my expectations are that we play hard and impose our style of play in every game. We've played in a lot of tight games that can go either way, but we put ourselves in a position to win if we do the right thing. That's what we can control, and once we start talking larger than that, I think we get away from who we want to be."
The UW's biggest threat in the Pac-12 this season comes in the form of Oregon State. The Beavers have won three and tied one in the conference, leaving them just two points from the top of the table. The Huskies and Beavers are the only two Pac-12 teams in the Top 10 of the RPI rankings, adding significance to their upcoming match in Seattle next Friday. 
"On the whole, I think the collective group [has been impressive]," Clark said. "There hasn't been a day where they haven't been ready to train or play, and that makes us hard to beat and makes us a team that's going to keep getting better."
Washington has come out on top in both of their matches against ranked opponents, but needed the full 90 against UCLA and OT against SDSU to come away with slender victories. In their previous campaign, the Huskies went 2-2 against ranked opposition, splitting the season series with both the Cardinal and the Beavers.
Despite dealing with an injury that has sidelined star redshirt junior forward Lucas Meek just three games into the season, Washington's squad depth has allowed it to maintain its quality in attacking areas against the Pac-12's best defenses.
"I think the opportunity presented itself when Lucas Meek got hurt and we needed a few guys to step up," Clark said. "We've always known Imanol [Rosales] is incredibly talented, and he still hasn't reached his potential, because it's a mile high. All of the sudden he's really started to show who he can be. Nick Scardina has made such positive strides throughout the course of the year. To add to that, Chris Meyers has chipped in with some timely stuff." 
After making the Elite Eight of the NCAA tournament in the spring, the Huskies will be looking to build on their progress. Washington returned all of its key starters from the spring while bolstering the defense with the addition of senior Achille Robin, who has started nine of 11 matches this season.
UW's record-breaking 11-game win streak is the best start in Pac-12 history and means it is one of two teams in the Top 10 of the national rankings to remain undefeated after at least 10 matches.
A key feature of the Huskies' record-breaking season has been their defense. Cornerstone redshirt senior defender Ryan Sailor has been named in the national team of the week for the past two weeks. Sailor and the UW defense have the fifth-best goals against average in the nation, allowing .441 per game. Additionally, the stout defense has shut out their opponents on six occasions this season.
"Teams are looking for marquee wins, and this would be a real big one for [Gonzaga]," Clark said. "We know we're going to get their best shot, we know we're going to get a great crowd. To our team, we keep describing it as 'You're earning this.' Our team is earning the very best other teams can throw at us and I think it's making us better and I think it's something we enjoy."
Washington's next test will be in Spokane on Saturday, Oct. 16 at 7 p.m. The Huskies, in search of their 12th win, will take on a solid Gonzaga team that has won six of 11 games this season.
Reach senior staff reporter Luka Kučan at sports@dailyuw.com. Twitter: @luka_kucan
Like what you're reading? Support high-quality student journalism by donating here.