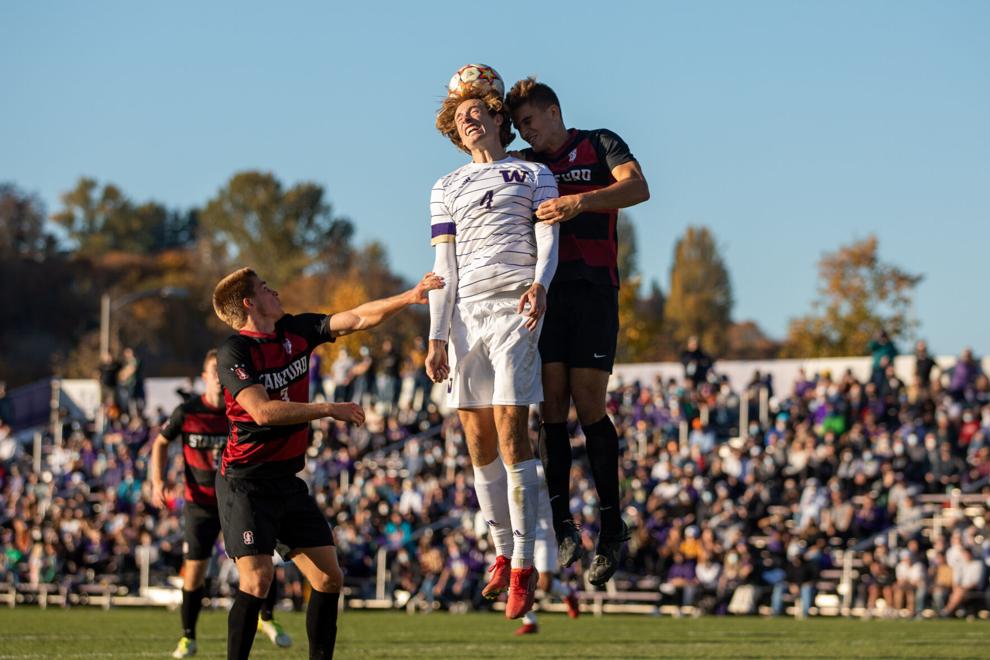 Struggling to apply the critical touch in the final third, the No. 4 Washington men's soccer team went the distance against Stanford in a double overtime 0-0 draw Sunday afternoon at Husky Soccer Stadium.
After winning each of the season's first 12 matches, the Huskies have suddenly lost their magic, without a Pac-12 victory since Oct. 10.
"First of all, I want to give credit to Stanford," head coach Jamie Clark said. "I think they're the toughest team in the country and I respect what they do. They make it really hard to score goals on them. While their record might not be what it is in some years, they're still just as dogged and just as good of a team."
While the Cardinal (5-6-5, 2-4-3 Pac-12) have already lost six matches this season, they've been a tough team to break down. Stanford has taken teams to overtime on five occasions prior to Sunday's match, all of which required double overtime.
On the other hand, the Huskies (12-1-1, 4-1-1 Pac-12) have been clinical in overtime this season, scoring the golden goal within the first 10 minutes of the additional period three times. Sunday's match marked the fifth overtime game and first draw of Washington's season.
"Some days it doesn't quite work out for you and some days it does, but I'm proud of the margins we created for ourselves," junior midfielder Lucas Meek said. "We created the margins to win, but that's just how soccer goes. I'm proud of us and the way we performed. I know we can be better, but at the end of the day we're still tying a great team like Stanford."
The tone was set early in a fairly quiet first half that ended scoreless, with the Huskies outshooting the Cardinal. Only a single shot on goal was registered in the opening period. However, Washington came closest to breaking the deadlock when junior defender Charlie Ostrem swung in a corner which was palmed onto the crossbar by Stanford goalkeeper Matt Frank.
As has been the theme this season, the Huskies looked threatening from wide areas, swinging in crosses for players to get on the end of. While UW was not able to test Frank in the Stanford net very often, Ryan Sailor had a series of headers in dangerous positions float harmlessly past the post.
"We created a good amount of chances," Sailor said. "I think we just got a little unfortunate to not knock one in. Overall, I don't think we can be too unhappy about that. We know we have goals in us."
The Cardinal, who had only won one of their past six heading into Sunday's game, looked organized in defense, repelling the Huskies attack, looking to take advantage of the counterattack when turning over possession.
After a first half stalemate, the match picked up pace in the second. In the 53rd minute, Dylan Teves found some space down the left-hand side and fired a low cross into a dangerous area. However, Meek, who is normally lethal from the six-yard area, saw his effort sail over the frame of the goal. The Cardinal would march back down the field and create their first big chance of the match when Carlo Agostinelli's driven shot was turned past the near post by Washington goalkeeper Sam Fowler.
"Defensively, we handled their front three … which is pretty lethal at times," Clark said. "I was, strangely enough, really happy with the performance. There's never going to be huge margins, but I think we created enough opportunities where we just need to be better in those moments."
Both teams found it difficult to break each other down, often lacking quality on the final ball. Additionally, both defenses didn't leave many gaps, getting in front of shots and marking tight in the box. Sailor, who has been the cornerstone in the Huskies' defense this season, made two crucial blocks in the 64th minute, throwing himself at the ball as the Stanford attackers frantically attempted to get a shot on goal.
"We just know that they're going to be a pretty direct team every time," Sailor said. "So just covering runs in behind and everyone putting in a good team effort and having everyone's back really helps in games like that."
Although both teams managed to generate 20 shots collectively in regular time, there was a lack of conviction in many of the chances, with only two shots hitting the target. This was to be expected considering UW vs. Stanford has traditionally been a low-scoring fixture with three of the past four meetings ending 1-0.
UW remains in the hunt for the Pac-12 title, but will need to get back in the win column to catch OSU, who has extended its lead to six points.
Washington will travel to California next week to take on UCLA on Thursday, Nov. 4 and San Diego State on Sunday, Nov. 7.
Reach senior staff reporter Luka Kučan at sports@dailyuw.com. Twitter: @luka_kucan
Like what you're reading? Support high-quality student journalism by donating here.