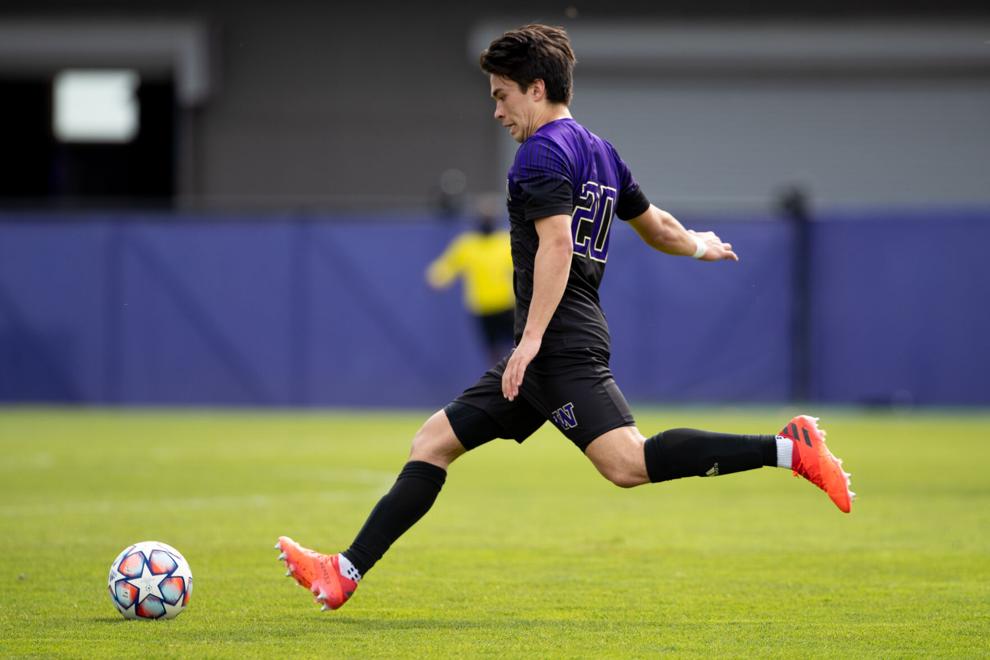 After a determined journey to the Elite Eight last season, the Washington men's soccer team is dead-set on a return to the heights of college soccer, with nothing less than championships on its mind.
In its final match of last year's postseason run, the UW fell to a high-octane No. 2 Pittsburgh side, as the Panthers hung three goals on the Huskies' defense. 
Washington doesn't have to wait long to get back on the field, opening its season at 7:30 p.m. on Thursday, Aug. 26 against UC Davis at Husky Soccer Stadium less than four months after a unique spring season concluded. As the countdown shortens, the squad begins to take a more solid shape as to what names will be filling the team sheet.
Goalkeepers
Beneath the crossbar, the Huskies return two confident goalkeepers in redshirt junior Adam Morrison and sophomore Sam Fowler.
Fowler has played 28 games in his young career. He saw the field in 15 of the 16 regular season matches in the spring, winning 10 of those 15.
"We want to be confident out of the back, and experience gives us that," head coach Jamie Clark said. "You got a really great talent with a good bit of experience in Sam and then you've got a really veteran head in terms of Andrew, who has played second fiddle so well."
Washington adds one freshman to its goalkeeping room in Spokane native Jadon Bowton.
Defense
The UW welcomes back the majority of its regular back line. Juniors Charlie Ostrem and Kendall Burks return alongside redshirt senior Ryan Sailor.
Ostrem comes off a marvelous season, providing the most single-season assists in school history while securing honors such as Pac-12 Defensive Player of the Year, Third Team All-American, and First Team Pac-12.
One name to watch for this fall is sophomore Khai Brisco.
"Khai is back, last year he was hurt most of the season but he played, just never playing the way he is," Clark said. "Him being back and being Khai will really help us, I mean he's just so physically gifted."
Additions to the squad include senior transfer Achille Robin from Bowling Green and two freshmen in Uli Esquivel and Keegan Yorke.
Midfielders
Last season's dominant performances were driven by the ability of the side to maintain control of the ball through the middle of the field. An ability spearheaded by the likes of sophomore Christian Soto and redshirt junior Ryan Crowley.
This year, coach Clark hopes to add freshman Kalani Kossa-Rienzi to the mix following a strong offseason. 
"We've talked to them about who's best opening games and closing games but nothing's set," Clark said. "Kalani's the one who took the biggest strides this offseason, he looks really good, to the point that he'll turn a lot of heads."
A lot of fresh blood is also arriving with three freshmen midfielders in Sean Sent, Cooper Brunell, and Jonah Kawamura.
Forwards
Washington returns a lot of firepower from last season up top, with the biggest name being junior All-American first teamer Dylan Teves, who fits in alongside redshirt junior Lucas Meek, and junior Gio Miglietti.
"I believe we're not gonna give up tons of goals, that parts more straightforward, but goalscoring is a more mercurial trait that comes and goes, and I couldn't be more confident in our ability to create chances," Clark said.
"Once you get going, the goals will start flowing".
Reach writer Rajan Hans at sports@dailyuw.com. Twitter: @RajanHans14
Like what you're reading? Support high-quality student journalism by donating here.