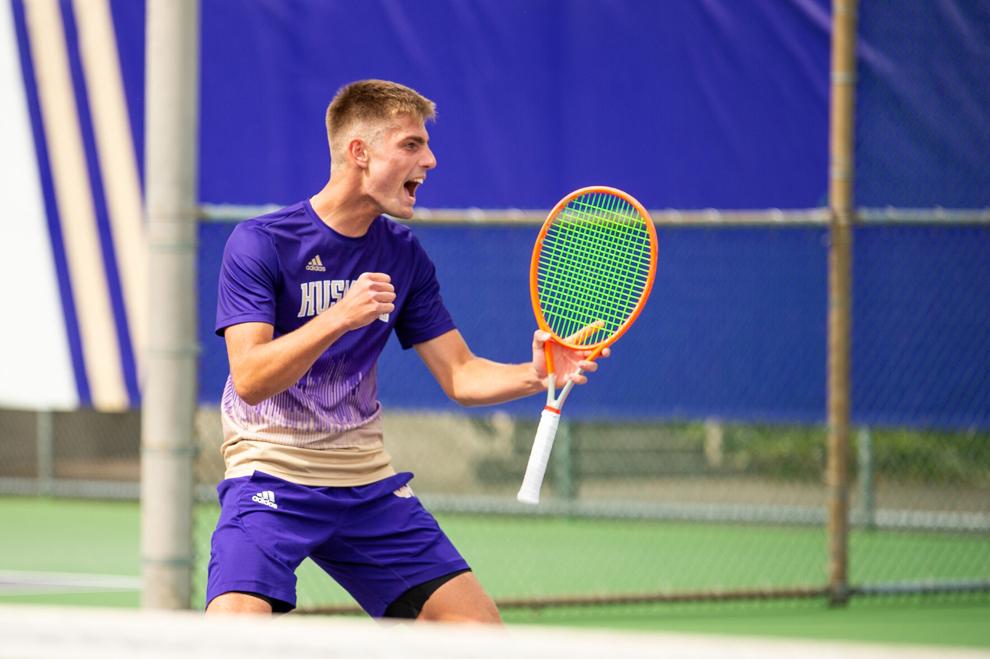 The No. 8 seed Washington men's tennis team entered Wednesday's opening round of the Pac-12 Championships on a four-match losing streak, its longest drought of the season thus far.
Having defeated ninth-seeded Oregon twice already this season, UW was in search of its third straight victory over the Ducks, and a chance to move into the quarterfinals of the championships.
The Huskies did just that, adding a third win against the Ducks for the season to their resume with a 4-2 victory Wednesday afternoon in Ojai, California.
Freshman Ceasar Bouchelghem and sophomore Han-Chih Lin set a precedent early on, clinching the first doubles set on Court 3 with a 6-2 win.
Following suit, junior Clement Chidekh and freshman Nedim Suko earned a 6-3 win, clinching the overall point.
Having earned their first doubles point since April 9, the Huskies (16-10, 2-6 Pac-12) gained an early lead over the Ducks (14-13, 2-6 Pac-12).
Court 3 with senior Ewen Lumsden was the first singles match to finish. He was defeated 6-3, 6-4, making the score 1-1.
Following Lumsden was Court 2, where another UW senior fell to their respective Oregon opponent. Jack Davis lost in three sets and Oregon took a 2-1 lead.
It was not long before UW regained momentum.  
For the third time this season, Chidekh was paired against the No. 92 ranked player Joshua Charlton at singles No. 1. 
In their first meeting of the season Chidekh lost the first set, forced a third, and won the overall match. In their second meeting of the season Chidekh won in straight sets. 
Their third meeting Wednesday was much like the first, being forced to a third set. Chidekh began with a shutout 6-0 win in his first set. Charlton forced a tiebreaker second set and clinched a 7-6 win. Chidekh then won the third set 6-1, leveling the overall match score at 2-2 and going undefeated against Charlton for the season.
Suko was next on Court 6. After losing his first set, Suko won 6-3, 6-4 in his next two, earning another point for the Huskies. The straight-sets win snapped Suko's four-match losing streak.
Singles No. 4 with Lin clinched the overall match for UW. Lin also lost his first set and won the next two, adding the final point to the score.
Washington will take on Arizona on Thursday, April 21 at noon in the quarterfinals of the Pac-12 Championships. The Huskies fell to the Wildcats 4-1 last Sunday in the only meeting between the two sides this season.
Reach reporter Tess Kadian at sports@dailyuw.com. Twitter: @tkadian21
Like what you're reading? Support high-quality student journalism by donating here.