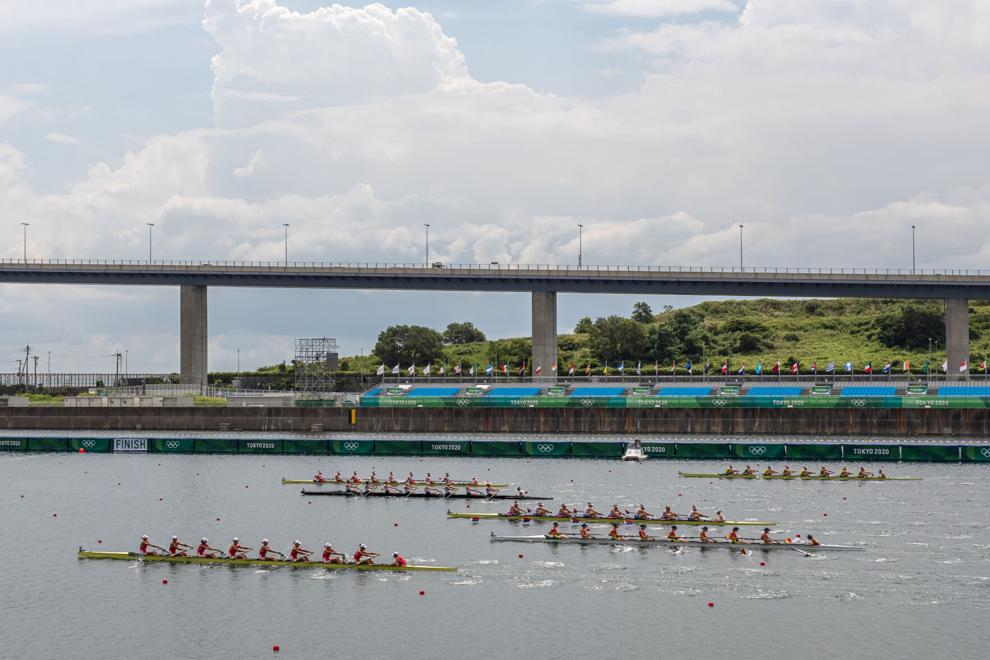 The University of Washington has acted as a pipeline to the 2020 Tokyo Olympics, with dozens of former and current Huskies in Japan for this summer's games. Tokyo Dawgs highlights the recent performances of Huskies as they compete for gold.
Rowing (UW alums: Jacob Dawson, Ben Davison, Simon Van Dorp, Bram Schwartz, Stuart Sim, Jessica Thoennes, Brooke Mooney, and Katelin (Snyder) Guregian)
As the rowing competition officially comes to an end at Sea Forest Waterway, a UW alumni brought home a medal. Jacob Dawson of Great Britain, a first-time Olympian and the first former Husky crew member to medal in Tokyo, clinched the bronze title in the men's eight final. Ben Davison and the United States followed behind in fourth place, Simon Van Dorp and Bram Schwartz and the Netherlands finished in fifth, and Stuart Sim and the rest of the Australian team in sixth. Dawson and his team finished the race with a final time of 5:25.73, less than half a second behind second-place Germany, and about a second behind gold medalists New Zealand.
Katelin Guregian, Jessica Thoennes, and Brooke Mooney of the United States had a chance to medal themselves in the women's eight final, but fell short of third place by almost two seconds, with an official time of 6:02.78. Canada claimed first place, followed by New Zealand in second, and China in third.
Golf (UW alums C.T. Pan and Carl Yuan)
The men's gold tournament continued with Round 2 ensuing on Day 7 of the Olympics. Carl Yuan remains ranked 20th, with a total score of 127, four under par. C.T. Pan improved on his performance from yesterday, emerging from Round 2 one under par, and moving up in the rankings from 57th to 39th place, with a total score of 130.
The men's tournament will continue on the next day at Kasumigaseki Country Club.
Reach reporter Evie Mason at sports@dailyuw.com. Twitter: @eviesmason
Like what you're reading? Support high-quality student journalism by donating here.