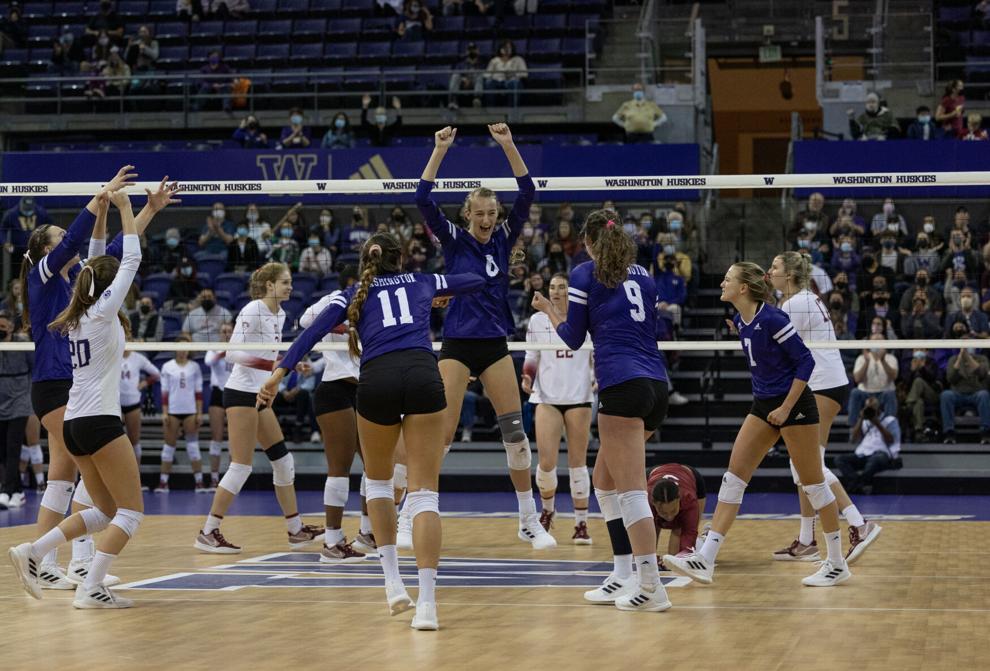 After sweeping No. 20 Stanford earlier this season, the No. 13 Washington women's volleyball team proved its consistency with another victory over the Cardinal on Thursday night, 3-1 (25-22, 25-20, 23-25, 25-19).
In the first set, the Huskies (19-4, 12-3 Pac-12) started out strong and seemed destined to take the early lead with the score at 19-13. However, the Cardinal (13-10, 8-7 Pac-12) fought back and scored five points in a row to bring the score within one point at 19-18. 
From then on, Washington took the lead at 24-22 where a kill by senior outside hitter Samantha Drechsel gave it another first set win.
The second set was another battle between the two teams, as they found themselves tied 17-17. However, the Huskies once again performed under pressure, as two kills by junior middle blocker Marin Grote finished off the 25-20 win. In this set, it was the offense that carried the Huskies to their win, as the team recorded 20 kills and hit .514.
In the third set, Stanford was determined to deny the sweep, as it came out on top of a narrow set with a 25-23 win. Despite five kills in the set by Drechsel, the Huskies were unable to finish off the match in three sets.
However, they were able to finish off the match in four sets.
Washington simply had too much in store for Stanford to handle in the fourth set. Combining for 11 kills in the set, Drechsel and junior outside hitter Claire Hoffman led the Huskies to a 25-19 victory.
The 3-1 win over Stanford was Washington's third victory in a row, as it sits in second place in the Pac-12 standings behind No. 12 UCLA. Serve-receive played a crucial part in Thursday's win, as the Huskies recorded four aces and held the Cardinal to just one ace.
Drechsel, Hoffman, and Grote created an offensive barrage, as they combined for a total of 52 kills while hitting .333, .382, and .444, respectively. Drechsel also contributed on the defensive end, leading the team in digs with 15. 
Freshman outside hitter Emoni Bush entered the line-up today after being unavailable due to injury last week and finished with seven kills.
Washington will look to continue its winning streak when it heads across the Bay to face Cal on Sunday, Nov. 14 at 12 p.m.
Reach reporter Spencer Smith at sports@dailyuw.com. Twitter: @spencerssmith24
Like what you're reading? Support high-quality student journalism by donating here.