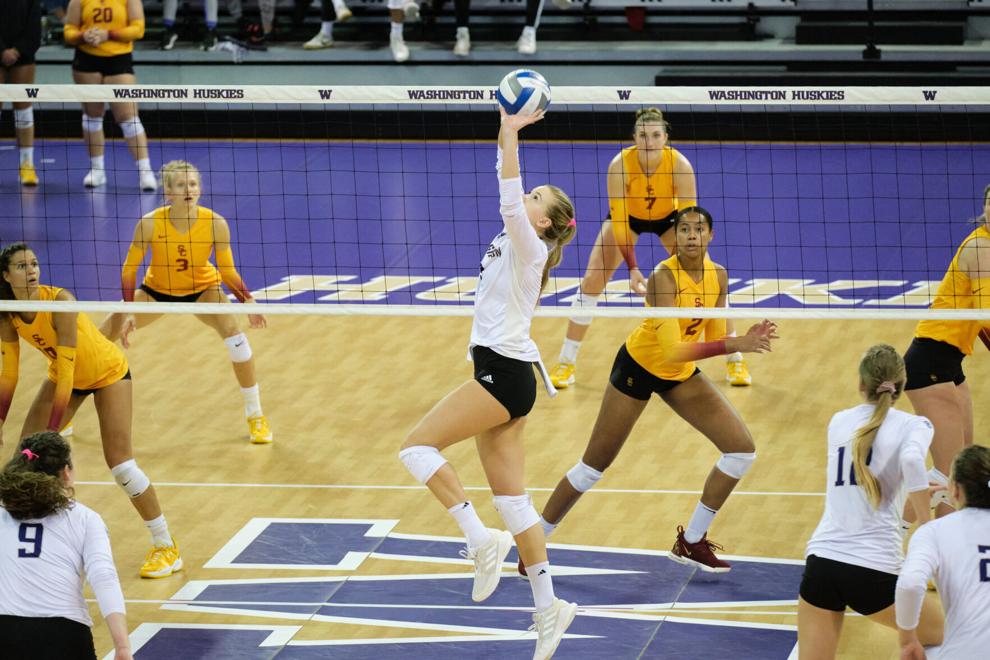 The No. 10 Washington women's volleyball team has proven time and time again that it is fully capable of a comeback, winning its last four matches after facing a deficit. But after five first-set losses in a row, it's time for Washington to focus on coming out strong.
This past weekend continued the success and momentum for the Huskies (11-3, 4-2 Pac-12), as they returned from their road trip with two out of two wins.
Not only did this put them on a four-game winning streak, but it also moved them up to third place in the Pac-12 standings. It's hard to believe that only two weeks ago, Washington was sitting at ninth place in the Pac-12 standings with a conference record of 0-2.
Facing Arizona and Arizona State, the Huskies hit .203 and .315, respectively, and earned a total of 16 aces. Head coach Keegan Cook believes this is a major reason for their recent success. 
"Our offensive efficiency has really gotten up there," Cook said. "Even in some matches where it hasn't started out great, it's finished relatively high."
But just because the Huskies have won four games in a row doesn't mean there isn't room for improvement. In fact, there's one recurring issue that Washington just can't seem to solve. 
Despite the last four matches being victorious for the Huskies, they have continuously struggled to come out strong and win the first set. Heading into this past weekend, Cook emphasized that they wanted to improve their first set performances.
However, the first set struggles only continued. While overall offensive efficiency may have improved, it's clear that the Huskies don't hold the same efficiency in the first set.
Against Arizona State, Washington's hitting percentage in the first set was .000 with nine kills and hitting nine errors. The first set against Arizona was an improvement, but still not good enough for Washington's standards, as it hit .136 and allowed Arizona to come back from a large deficit and win the first set.
Coming out of this past weekend, the Huskies have now lost five first sets in a row and are actively seeking a solution for their early struggles.
"It feels like it's taking us a little too long to play clean," Cook said. "What was even more disappointing this past weekend was that we gave away big leads in the first set."
This upcoming weekend, Washington hits the road again where it will face both Oregon and Oregon State, hoping to come out strong and continue its winning streak.
"It's never hard to show up to play a great opponent and Oregon is a strong opponent," Cook said. "Right now, we're resting and recovering and I know by Thursday we'll be fired up to play a good team."
Washington will face Oregon on Thursday, Oct. 14 at 7 p.m. before facing OSU on Sunday, Oct. 17 at 1 p.m.
Reach reporter Spencer Smith at sports@dailyuw.com. Twitter: @spencerssmith24
Like what you're reading? Support high-quality student journalism by donating here.