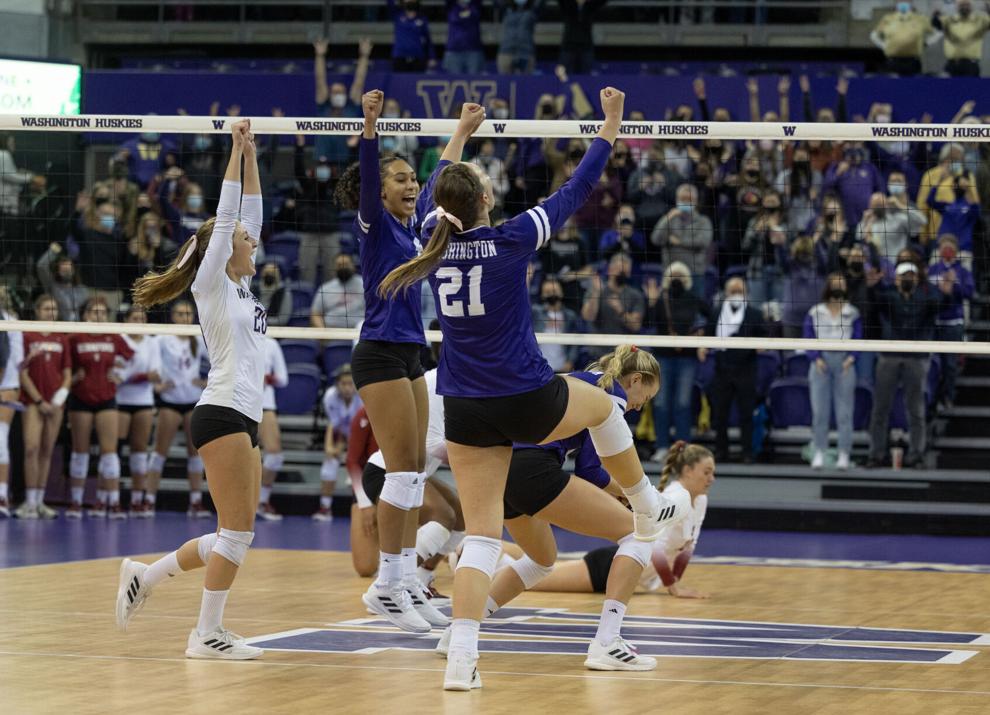 The No. 10 Washington women's volleyball team came prepared to battle it out to the end in a close, long match with No. 15 Stanford. 
However, things didn't go quite as expected — the Huskies (15-3, 8-2 Pac-12) performed even better — blowing out their opponents with a 3-0 sweep.
The Huskies, who are ranked 10th overall, overcame the Cardinal (12-6, 7-3 Pac-12) in a tough three set match Sunday (25-22, 25-23, 25-17), exiting the game hitting .348 with an overall 45 kills and 43 digs. Stanford only managed a .194 average, 37 kills, and 28 digs. 
Head coach Keegan Cook noted postgame that he was particularly pleased with the high amount of quality touches at the net and the defensive touches behind it.
"This is certainly the match we've been looking for for a while now, just in terms of defensive execution, and being good at all phases of the game," Cook said. "As equally frustrated as we've been at times, we just want the athletes to be as equally proud." 
The match started off close, with the Huskies and Cardinal consistently within a point of each other for the brunt of the set. UW was finally able to capitalize toward the end with help from freshman outside hitter Emoni Bush, who led the way with six kills.  
The lead again shifted back and forth for most of the second set, but the Huskies were able to pull away as they neared the end, winning by two points after being tied at 23. Junior outside hitter Claire Hoffman stepped up, racking up eight kills overall at the close of the set. 
Washington handled the third set easily, claiming victory over Stanford, 25-17. Junior setter Ella May Powell tallied up an impressive 37 assists in total, and both freshman libero Lauren Bays and Hoffman finished with 11 digs a piece, all contributing massively to the Huskies' winning drive. 
"We got a little bit of everything from everyone, a lot of players came in and made plays, and that's usually when we're at our best, when we're not having to just lean on one or two players," Cook said. "I thought we got something from every single person on the team." 
Senior middle blocker Lauren Sanders left the Hec Edmundson Pavilion on Sunday with over 600 career blocks, totaling seven overall for the match.  
"The kid has been working really hard day in and day out, [and] not every day has been easy, and she certainly showed the best of what she can do on both sides of the ball today, even though it didn't start out great," Cook said about Sanders. "She's a tough kid, and I really love this match for her."  
Washington will look to prolong its eight-game winning streak this Friday in Los Angeles as they take on USC at 8 p.m.
Reach reporter Evie Mason at sports@dailyuw.com. Twitter: @eviesmason
Like what you're reading? Support high-quality student journalism by donating here.