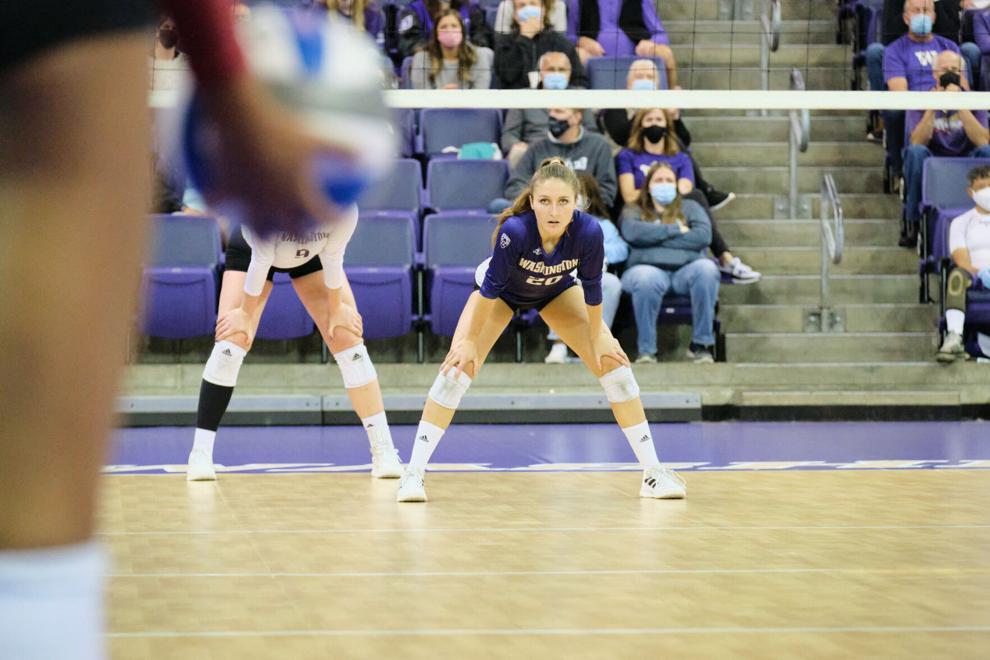 After struggling at the start of the Pac-12 season, the No. 10 Washington women's volleyball team has found the answer to its problems: its youth.
This past weekend, UW came home with two road wins, including an incredible comeback from a two-set deficit against No. 16 Oregon. After starting the Pac-12 season 0-2, the Huskies (13-3, 6-2 Pac-12) have now won six consecutive matches and are tied for first in the conference standings.
While the more experienced players are playing well in the Huskies' turnaround, it's the youth that have shown to be an important factor in its recent success. Freshmen Emoni Bush and Lauren Bays both started off the season with limited playing time but have recently become a crucial part of this Washington team.
Bays joined UW as a libero after building an impressive resumeduring her high school career in Orange County, California.
Her impressive high school career has translated into the collegiate level. In fact, it's no secret that Bays filling in at the libero position has contributed to Washington's recent success.
"We're receiving the ball [at] the highest that we have in three [or] four years and [Bays] is a big part of that," head coach Keegan Cook said. "She's certainly getting more and more comfortable and definitely hasn't reached her ceiling yet."
In the past six matches, Bays has averaged approximately 3.85 digs per set, including a career high of 23 against Arizona State. In the match against Oregon State this past weekend, Bays managed 18 digs in only three sets, averaging six digs a set. With her at the libero position, Washington's defense has excelled and has been a huge part of its six-game winning streak.
Meanwhile, another young freshman on the team has continued to get more playing time and has also stepped up to the challenge. Playing at outside hitter, Bush has shown maturity and confidence as she continues to improve and impress. 
In UW's match against Arizona, Bush wasn't able to get into her rhythm, recording three kills and hitting -.125. However, her maturity and poise came into effect as she learned from her struggles and came back stronger than ever this past weekend. 
"When I have an off-day, I just keep putting in the work," Bush said. "Coming off of that weekend against Arizona, I knew I had to make a lot of improvements in practice to get back to where I was."
After facing a two-set deficit against Oregon, Bush took matters into her own hands. She finished the match hitting .500 with 11 kills, including five kills in a critical fourth set. 
But her dominance didn't stop there. In the next match against Oregon State, Bush once again hit .500 and finished with eight kills, playing a crucial role in the Huskies' two away wins.
"What she found in the Oregon match is that she has to be assertive and aggressive," Cook said. "It's a hard thing to learn for a younger player."
With the younger players beginning to adjust to the collegiate level, the Huskies have been on a rampage and have shown their potential.
Washington returns home and will face Cal on Friday, Oct. 22 at 7 p.m. where the team strives to continue its impressive win streak on the backs of some key freshmen.
Reach reporter Spencer Smith at sports@dailyuw.com. Twitter: @spencerssmith24
Like what you're reading? Support high-quality student journalism by donating here.