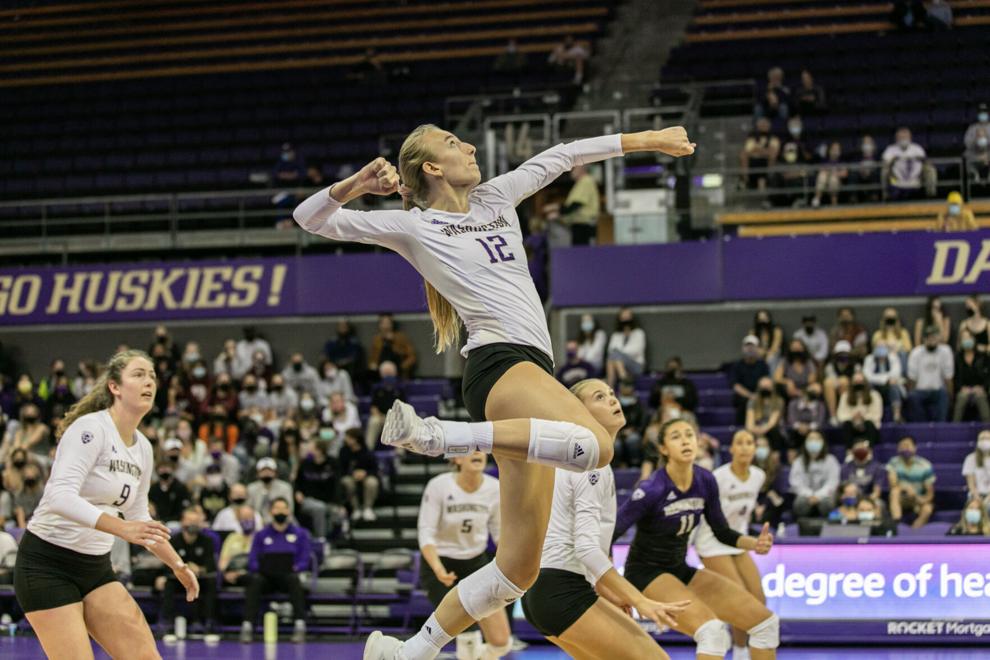 After an inconsistent match earlier Thursday morning, the No. 7 Washington volleyball team was nothing but consistent in a 3-0 (25-23, 25-17, 25-17) sweep of Fresno State in the evening at Alaska Airlines Arena.
In the first set, the Huskies (7-1) started off slow, as the Bulldogs (3-4) took an early 6-1 lead. However, the lead didn't last long for Fresno State, as a hard-fought battle brought the score to 22-22. With calm and precision, the first set ended in a 25-23 victory for the UW.
The second set started off close between the Huskies and the Bulldogs. This wouldn't continue, as Washington went on a 7-1 run, setting the score to 19-12.
Washington continued its dominance in the set, finishing with a 25-17 win. The success in the set can be attributed to the team's three aces and senior Samantha Dreschel's six kills.
In the third set, the impressive performance only continued for the Huskies. Eight kills and one ace from freshman Madi Endsley in the third set helped result with a 25-17 win, giving Washington its seventh victory in a row.
Throughout the match, freshman Emoni Bush struggled, finishing with a hitting percentage of -.100. Her other teammates were able to make up for it, as Dreschel and Endsley finished with a combined 25 kills and both hit over .320.
Junior Marin Grote and redshirt freshman Sophie Summers provided precision and accuracy once again, both hitting over .610.
Washington will attempt to continue its dominating win streak against Utah on Wednesday, Sep. 22 at 8 p.m at Alaska Airlines Arena.
Reach reporter Spencer Smith at sports@dailyuw.com. Twitter: @spencerssmith24
Like what you're reading? Support high-quality student journalism by donating here.