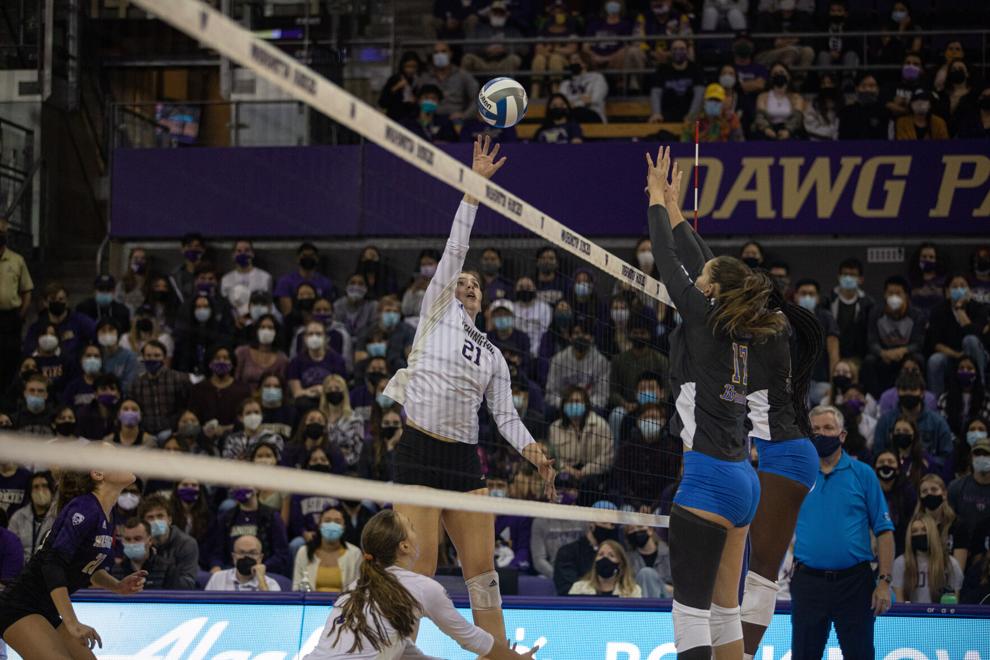 Offensive efficiency has played a huge part in the No. 12 Washington women's volleyball team's success during the past month, as the team holds the third-highest percentage in the Pac-12 Conference at .272.
It's clear that there's two individuals at the helm of this compelling offense: junior Claire Hoffman and senior Samantha Drechsel.
Having joined the team as a freshman, Hoffman has grown year after year. As part of the team that reached the Final Four last year, she was able to finish the season with 314 kills and an average of 3.31 kills per set. On top of that, Hoffman was named to the AVCA All-America Second Team that year.
"I think what impresses me most about [Hoffman] is her durability and decision making," head coach Keegan Cook said. "Usually you take a couple steps back to take a couple steps forward, but [Hoffman] just seems to be getting better every year."
Hoffman has only continued to get better, and is arguably having her best season yet. This season, she has already recorded 277 kills, including a career-high 25 against Arizona State and 20 to spark a recent comeback win against Oregon. 
A current hitting percentage of .298 shows an improvement of over .06 compared to last season. Hoffman also currently has an average of 3.79 kills per set, which is the sixth-highest out of all the Pac-12 players. 
Not only has Hoffman been executing her kills with pinpoint accuracy, but her serving has also been a crucial part of her game this season. With 24 aces already, Hoffman is averaging 0.33 aces per set, the fourth-highest percentage in the Pac-12 conference.
However, Hoffman can't do it alone. With the help of Drechsel at the opposite outside hitter position, the two have formed a duo that seems to be unstoppable for the Huskies (16-4, 9-3 Pac-12).
"They do a nice job of recognizing when one person is struggling and carry the load for each other," Cook said. "Having two options like that is a big deal, as they each have had their moments."
Drechsel also played a massive part in the Final Four run last year, as she averaged 3.52 kills per set and hit a career-high .280. She was named to the 2020-2021 AVCA All-America First Team and won the Pac-12 Offensive Player of the Week twice last season. 
This season, Drechsel only continues to put up impressive performances. While she has the second most kills on the team, Drechsel has recently been stepping up her game massively.
In the past five games, Drechsel has averaged a hitting percentage above .420 and combined for a total of 68 kills. Included in this impressive run is a season-high 22 kills and a hitting percentage of .404 in the Huskies' 3-1 win against USC.
With the 14th highest kills per set and 12th most kills in the conference, it would be no surprise if Drechsel started to improve these statistics considering her recent performances.
As the season nears the NCAA Tournament, Drechsel continues to improve her game and is looking for another deep run in the tournament.
"We want to get right back where we were last year and take it a little further and get to the finals," Drechsel said. "To do that, we have to keep grinding and getting better."
Washington's two leaders will look to help the team bounce back from an uncharacteristic loss when it hosts Arizona State on Friday, Nov. 5 at 7 p.m.
Reach reporter Spencer Smith at sports@dailyuw.com. Twitter: @spencerssmith24
Like what you're reading? Support high-quality student journalism by donating here.