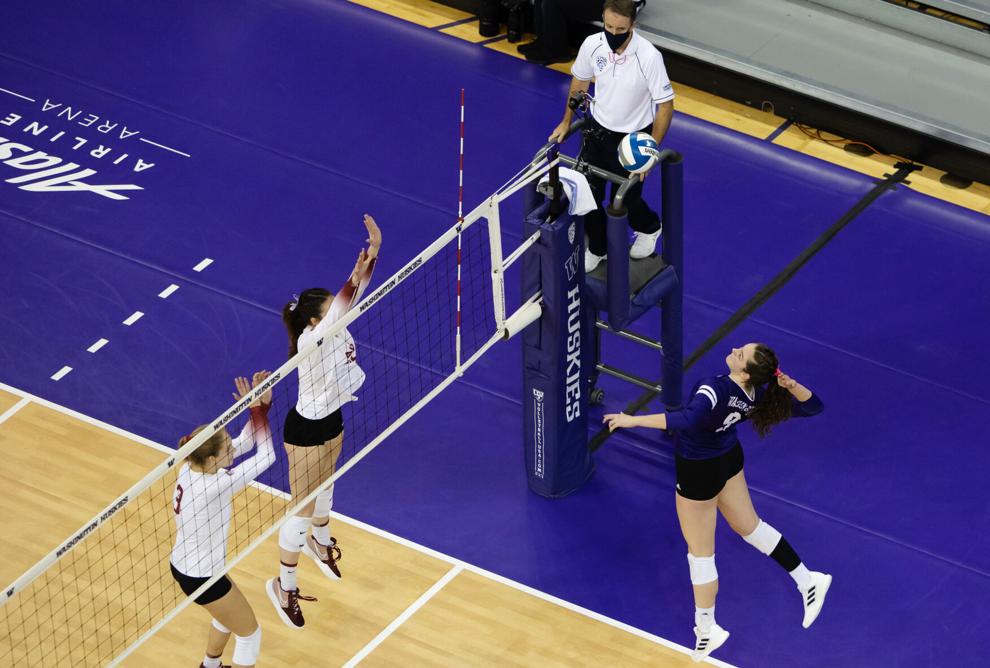 The No. 8 Washington volleyball team proved its ability to perform under pressure Friday night, winning a close road match against USC in four sets. 
Starting off behind, the Huskies (16-3, 9-2 Pac-12) found themselves down 4-9 in the first set against the Trojans (10-10, 6-5 Pac-12). This wasn't enough to stop Washington, as it gained ground in the opening set to tie the game at 20. Back-and-forth between the two teams lead to a score of 26-26.
A service error by the Trojans followed by a kill by junior Claire Hoffman gave the Huskies an early 1-0 lead. After losing six first sets in a row previously in the season, the early match struggles have seemed to dissipate for the Huskies, who have now won three consecutive first sets. 
The second set proved to be just as close as the first. With the help of seven kills by senior outside hitter Samantha Drechsel, Washington found itself in a familiar position with the score tied at 26-26. Once again, the pressure didn't seem to phase the Huskies, as an ace by Hoffman ensured a commanding 2-0 lead.
The Trojans came to play in the third, and after taking an early lead, the Trojans were able to maintain an advantage throughout the set. With a hitting percentage above .400, USC forced a fourth set with a strong 25-19 win.
With momentum heading the way of USC, Washington had to step up in order to finish off the match. And that's exactly what it did.
With 15 digs and four block assists in the set, the Huskies' defense played an important factor in closing out the match. Not only that, but the UW also gained three points from aces in the fourth. Serving was a highlight for the Huskies who recorded eight serving aces and just five errors. 
With the score tied at 23-23, Washington once again remained calm and collected, closing out the set with a kill by Hoffman and an ace by sophomore Sianna Houghton. 
Drechsel was on a rampage Friday, as she found a season-high 22 kills and just three hitting errors, hitting over .400. Hoffman had an impressive overall night, securing 13 kills, three aces, 11 digs, and hit .211. Freshman Madi Endsley also contributed, getting seven kills. Junior Marin Grote had a rare off-night, hitting .000 off five attempts and five errors.
Washington will look to get it's win streak into double digits Sunday, getting back at it against UCLA at 4 p.m.
Reach reporter Spencer Smith at sports@dailyuw.com. Twitter: @spencerssmith24
Like what you're reading? Support high-quality student journalism by donating here.